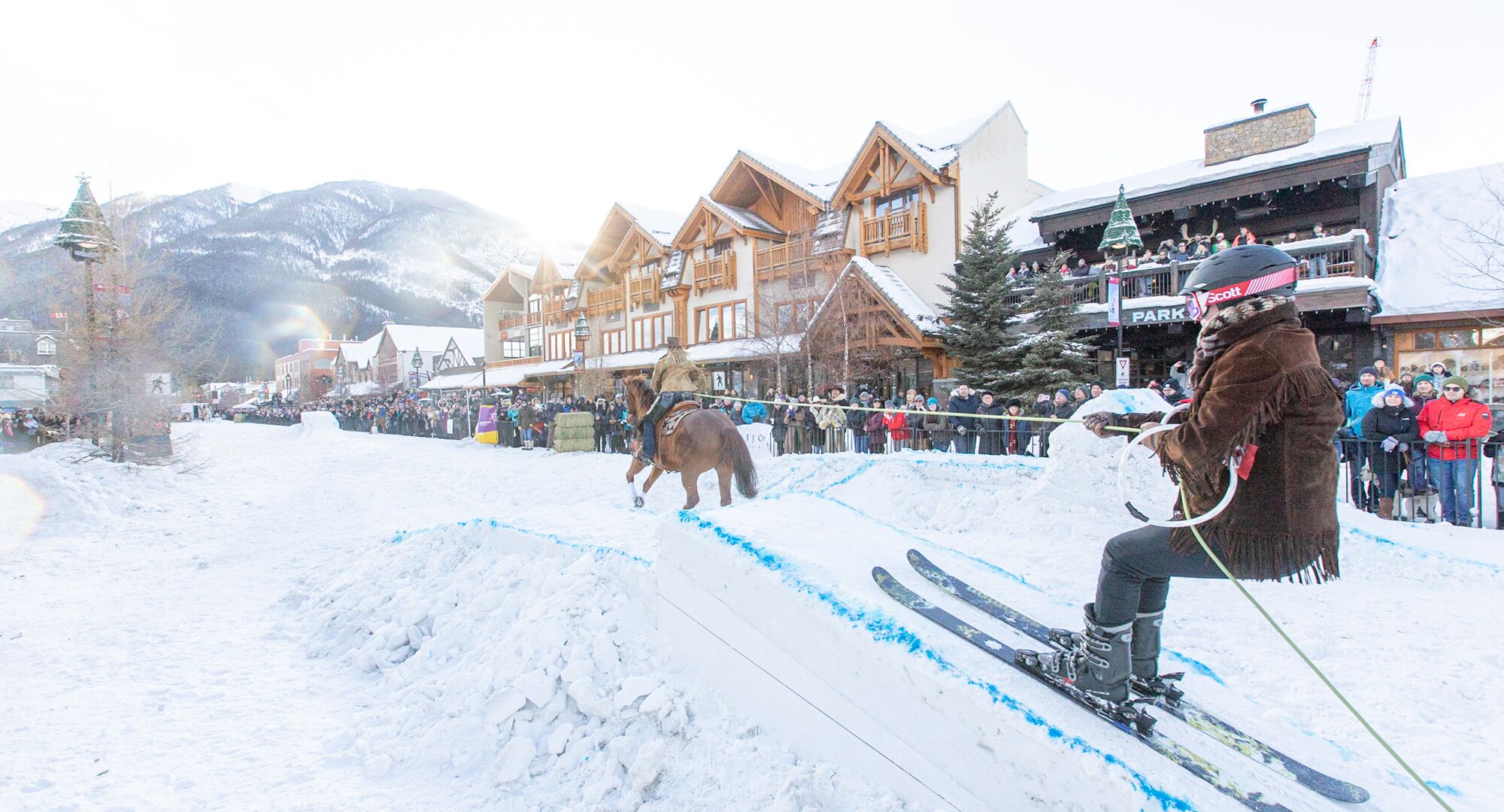 Events
Skijoring
Skijoring is coming to Banff! Teams of athletes and horses from Skijor Canada will descend on the town of Banff for a breath-taking exhibition of horse-riding, trick-riding, and ski stunts. Join us to watch Alberta cowboys, cowgirls, and their horses, partner with trick skiers to thrill and entertain the crowd.
Le skijoring débarque à Banff! Des équipes d'athlètes et de chevaux de Skijor Canada viendront à Banff pour présenter un spectacle époustouflant d'équitation, de voltige et d'acrobaties à ski. Admirez des cow-boys et des cow-girls de l'Alberta, et leurs chevaux, faire équipe avec des skieurs acrobatiques pour épater et divertir la foule.
Event Overview
Jan 27, 2024

Multiple shows

Free Event

100 Block Banff Ave
More Info
Enjoy additional entertainment including a Skijor Style Fashion Show and a meet & greet with the horses. Spotters at the event will select the top 10 attendees in costume to participate in the half time show.
Profitez d'autres divertissements comme un défilé de mode Skijor Style et une rencontre avec les chevaux. Des guetteurs choisiront dix spectateurs costumés pour participer au spectacle de la mi-temps.
Live Streaming in Local Restaurants
Several restaurant venues will be live streaming the event including Banff Avenue Brewing Co., Bear Street Tavern, Canadian Brewhouse , The Eddie Burger, High Rollers, Melissa's MisSteak , Park Distillery and Three Bears Brewery.
Plusieurs restaurants diffuseront l'événement en continu, soit Banff Avenue Brewing Co., Bear Street Tavern, Canadian Brewhouse, The Eddie Burger, High Rollers, Melissa's MisSteak , Park Distillery et Three Bears Brewery.
Please note: This event is weather dependent. Skijor Canada's first priority is the safety of horses, riders, sliders, and spectators. In the event of adverse weather, including extreme cold or rain, Skijor Canada may need to modify or cancel all or part of the event. If that happens, we'll provide the latest updates on our Facebook and Instagram or you can also contact our Visitor Services team directly via LiveChat.
Veuillez noter : Cet événement dépend des conditions météorologiques. La priorité de Skijor Canada est d'assurer la sécurité des chevaux, des cavaliers, des skieurs et des spectateurs.En cas de mauvais temps, y compris un froid extrême ou de la pluie, Skijor Canada peut modifier ou annuler l'événement, en tout ou en partie. Le cas échéant, nous publierons les dernières mises à jour sur Facebook et Instagram.
Event Location
Parking at the Train Station
Free public parking is available at the Banff Train Station for up to 9 hours per day. Located at 327 Railway Avenue.
Walking from the Train Station
It is approximately a 10 minute walk to the start of the skijoring track located at the intersection of Banff Ave and Caribou St.
Event Viewing
Standing room and limited bleacher seating is available at the event site on the 100 block of Banff Avenue. We recommend arriving early to get a good spot!