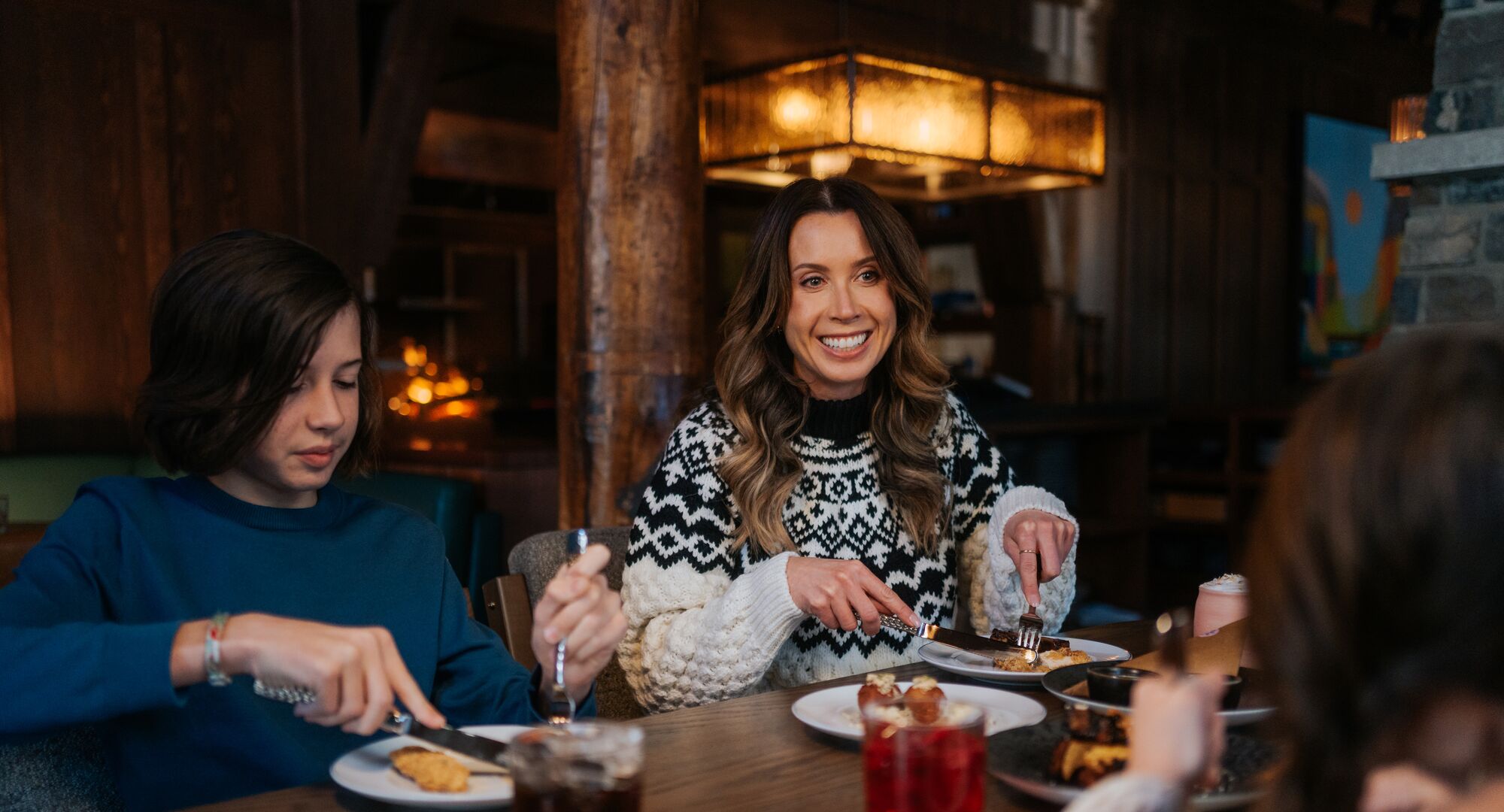 Events
Taste for Adventure
Indulge your taste buds and spoil your senses with the flavours of Banff National Park. The region's top chefs and restaurants have cooked up exclusive menus, unique dishes, and irresistible foodie events in honour of the Taste for Adventure celebration.
There's two weeks to sample Taste for Adventure's many enticing offers, so why not make the most of it? Plan ahead, stay a while, and let your appetite guide you through the ultimate mountain getaway.
Event Overview
Oct 26 - Nov 9, 2023

Times vary by restaurant

Multiple Locations

Multiple Restaurants
Taste for Adventure Menus
Anejo

Mexican Inspired 3 Course Fiesta $40 + taxes & gratuity

As soon as you walk in, our bright, unique décor will have you feeling miles from home. We have over 200 tequilas that pair perfectly with your Mexican-inspired cuisine.

The Balkan Greek Restaurant

3 Course Menu$49 + taxes & gratuity

Fresh Greek in the heart of Banff. Our family recipes honour the traditions of the Mediterranean, including a wide range of lighter vegetarian options and mindful halal meats.

Banff Ave Brewing Co.

Stout Comfort 2 Course Menu + Beer$39 + taxes & gratuity

Get comfy and hunker down for apres-whatever in Banff's almost-secret hideaway. Enjoy great craft brews and all your pub favourites in a casual room!

The Bison Restaurant & Terrace

3 Course Menu$65 + taxes & gratuity

Named in Tripadvisor's top 10 Canadian fine dining restaurants, we proudly feature regional, seasonal, Canadian cuisine.

Bluebird Wood-fired Steakhouse

3 Course Menu + Happiness is Fondue$55 + taxes & gratuity

A wood-fired steakhouse with a love for cocktails and dinner parties. Specializing in prime rib of beef, comfort foods to fit the mood, well-loved boozy cocktails, and wine to compliment the cuisine.

Brazen

Alberta Inspired Lunch at Brazen $30 + taxes & gratuity

Honouring the spirit of Banff's mountaineers and explorers, we serve contemporary takes on classic cocktails, seasonally inspired Canadian fare and a taste of old-world style.

Canadian Brewhouse

3 Course Menu for 2 People47.99 + taxes and gratuity

Our one-of-a-kind Canadian-themed sports bar & grill has an extensive menu of appetizers, entrees, drinks, and amazing specials every night of the week.

Chili's Grill & Bar

$40 Feeds 2$40 + taxes & gratuity

Family-friendly restaurant serving classic Tex-Mex & American fare in a Southwestern-style setting.

Chuck's Steakhouse

3 Course Menu$80 + taxes & gratuity

Chuck's features an exclusive collection of the highest quality, locally sourced Alberta beef served up in a stylish ranch-inspired dining room with panoramic mountain views.

Coyotes Southwestern Grill

3 Course Menu$45 + taxes & gratuity

Coyotes is a locally owned and operated restaurant. We have been in business for 30 years and take pride in offering our diners meals made fully from scratch with the freshest ingredients.

The Den and Meadow

3 Course Meal for Everyone$47 + taxes & gratuity

Gastro style pub in the heart of downtown Banff. Live entertainment every night with the bow valleys only regular burlesque show and home made food that will satisfy the largest appetites.

Elk & Oarsman

Taste OF Elk$17 - $19 + taxes and gratuity

Lodge-style sports bar offers familiar pub grub, drink specials and a rooftop patio with 360° views.

El Toro Restaurant

4 Course Dinner$39 + taxes & gratuity

Influenced by the flavors of Mexico and Spain and prepared by chefs with a passion for good food made from the freshest ingredients.

Evergreen Restaurant

Chef Inspired Surf & Turf$48 + taxes & gratuity

The Evergreen Restaurant and Lounge is tucked inside the Royal Canadian Lodge. All of the beef and elk are sourced from Alberta, and the ultra fresh vegetables are often from local farms.

Farm & Fire

2 Course Sharing Dinner Menu For Two$80 + taxes & gratuity

Farm fresh. Wood Fired. Good food doesn't have to be complicated. Our menu features only the freshest ingredients from local Canadian farmers.

Grapes Wine Bar

3 Course Spanish Tasting Menu$59 + taxes & gratuity

Enjoy the entertaining, interactive atmosphere of Grapes Wine Bar, a dining experience like no other.

Hello Sunshine Japanese Restaurant

3 Course Menu$60 + taxes & gratuity

A Banff sushi restaurant with private karaoke rooms! Menu highlights include bar bites, sushi, maki rolls, ramen, and crispy fried dishes paired with handcrafted cocktails, sake and Japanese Whiskey.

Juniper Bistro

Juniper Bistro Elemental Adventure: 3 Dishes$45 + taxes & gratuity

Gather here, wrapped in uplifting mountain views. Share a variety of delicious dishes, inspired by the elements of nature. Connect to our surroundings and each other.

La Terrazza

3 Course Dinner$65 + taxes & gratuity

Enjoy an authentic Italian restaurant, featuring locally sourced and inspired cuisine with spectacular mountain views.

LUPO Italian Ristorante & Patio

3 Course Menu$60 + taxes & gratuity

Ranked 6th in Canada's 100 Best Top 10 New Restaurants in Canada, 2023. Friends and family unite in Little Banff Italy! Lupo captures the bustle and vibrancy of a traditional Italian marketplace.

The Maple Leaf Seafood & Chophouse

3 Course Menu$49 + taxes & gratuity

We feature Canadian-inspired cuisine including Alberta beef & game, fresh fish and west coast seafood paired with an extensive Canadian wine list.

The Meatball Pizza & Pasta

Italian Inspired 3 Course Meal$40 + taxes and gratuity

The Meatball Pizza & Pasta delivers the fun experience that dining should be. The restaurant offers great Italian inspired food, attentive servers, coupled with a relaxed, friendly atmosphere.

Pacini

We Love Fall!27% off Alcoholic Beverage and Mocktails

We love authentic Italian cuisine – from the quality ingredients, intoxicating flavors and inspiring aromas to the textures and appetizing presentations.

PARK Distillery

Distillery TourFree

We are the only distillery located in a Canadian National Park so don't miss our distillery tours for an exclusive look into our boutique distillery.

PARK Distillery Restaurant + Bar

3 Course Menu$49 + taxes & gratuity

A craft distillery in the heart of Downtown Banff. Gather 'round for campfire-inspired cuisine and wood-fired rotisserie specialties paired with award-winning small-batch spirits distilled in-house.

The Prow

Modern Rocky Mountain Cuisine$45 + taxes & gratuity

A modern interpretation of our rocky mountain cuisine including cult classics that pay homage to some of our favourites as they were originally presented as well as shareables for après adventure.

Three Bears Brewery & Restaurant

3 Course Menu$49 + taxes & gratuity

Open Table Top 100 Restaurants in Canada. A craft brewery in a National Park, in a restaurant, in a forest. Our menu features tasty chef-inspired food meant to be enjoyed with beer made here.

Tooloulou's

Breakfast, Lunch & DinnerSee details for pricing

Locally owned and operated, Tooloulou's is a casual restaurant that offers a Cajun Creole inspired flair alongside a touch of Canadian Rocky Mountain infusion.