5 Reasons to Visit Taste for Adventure 
Aug 22, 2023

|

Food & Drink, Events & Festivals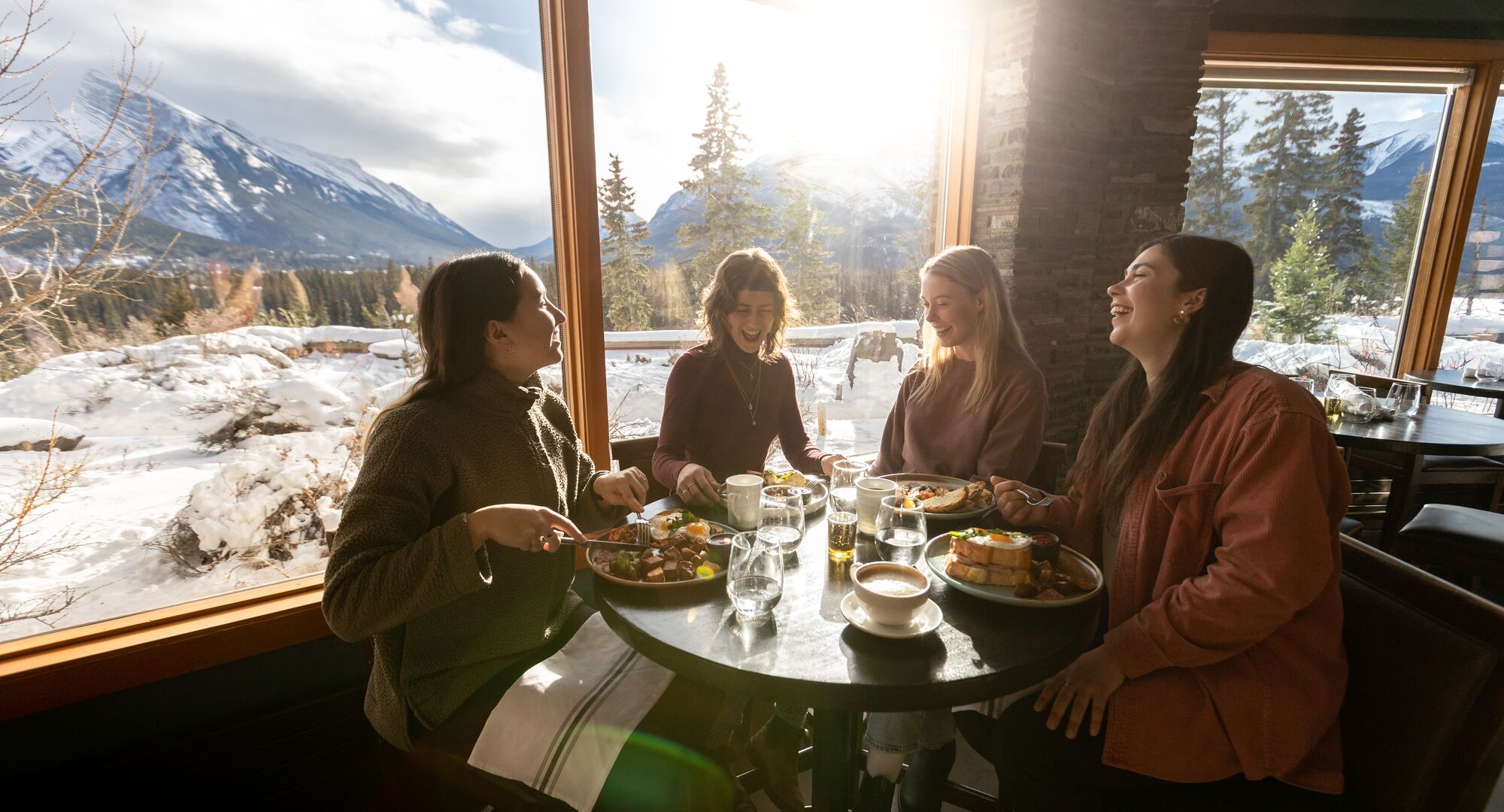 Banff and Lake Louise are brimming with ways to pair dinner and adventure this November. Whether your idea of the perfect Fall activity is reaching the summit of a mountain or relaxing in a natural hot spring, all are best enjoyed by indulging your taste buds with a comforting local meal at day's end.
From October 26 to November 19, Taste for Adventure is back at participating restaurants in Banff National Park. This unique foodie event elevates and celebrates the cuisine of your favourite local restaurants in the heart of the Canadian Rockies. From classic restaurants that have become trusted culinary staples over the years to trendy locales newer to the Bow Valley dining scene - all will be serving up mouthwatering and unique dishes in Canada's first national park.
Get a taste for our vibrant food scene here in Banff and Lake Louise - where world-class dining meets world-class adventure.
1. Discover Exclusive Menus
From contemporary farm-to-fork recipes at Farm and Fire to beautifully crafted table dishes at Hello Sunshine, Taste for Adventure offers the whole gamut of cuisine. No tastebud will be left unsatisfied. In the past, exclusive menus have featured elk sliders, full 3-course meals, classic Canadian in the form of AAA Alberta Beef, and handcrafted pasta. Find menus intentionally crafted just for the event as well as favourite signature dishes that have locals and visitors coming back time and time again.
Find all of the exciting menus here.
2. Try Local and Canadian Favourites
Taste for Adventure in Banff is the perfect time to try some local favourite dishes and staples, including Canadian favourites. Alberta is one of the world's top suppliers of world-class AAA Beef and wild-raised bison. You can also try the Calgary-born Shaft on Draft - vodka, Kahlua, cream, and a shot of espresso or cold brew. You can also try maple syrup, as lots of the dishes are made or topped off with this Canadian icon.
Try these 7 Canadian Foods in Banff and Lake Louise
Banff and Lake Louise are home to some of the very best quintessentially Canadian dishes and drinks.
Read More
3. Enjoy Après for a Fall Adventure
Banff and Lake Louise host endless ways to work up an appetite in the beautiful outdoors. Taste for Adventure is the perfect opportunity to satisfy those hard-earned cravings.
Enjoy a guided hiking tour at Johnston Canyon, hop on a fat bike and head out for a ride to Vermillion Lakes, or hike up and gondola down on Sulphur Mountain. You may even be able to get in some early-season ski laps at any of the local SkiBig3 resorts - how's that for après?
Find your Pre-Après Adventure
4. Support Local
Local tastes (and feels) better. The dining industry is full of passionate locals who love where they live and want to share it with others - from seasonal workers here for a ski season to born-and-raised Banffites. Indulge your inner foodie with the intentionally sourced ingredients that craft the perfect meal and feel good about it, too, as every night out with Taste for Adventure supports locals and local businesses.
5. Plan Ahead and Stay Awhile
With so many tantalizing menus to choose from, you'll be hard-pressed to pick your favourite in one outing. Stay longer and explore more to enjoy the full Taste for Adventure. 
November brings all you need for a mini-retreat in the Rockies with unique accommodation, invigorating activities, and charismatic restaurants to enjoy. Every night will bring a distinct experience - from a night out on the town with boutique cocktails at Brazen to comforting ranch-inspired dining at Chuck's Steakhouse..
Check out the full Taste for Adventure menu and contest prizes here.