9 Bucket List Ski Runs For a Banff and Lake Louise Ski Trip
Nov 22, 2022

|

Adventure, Sports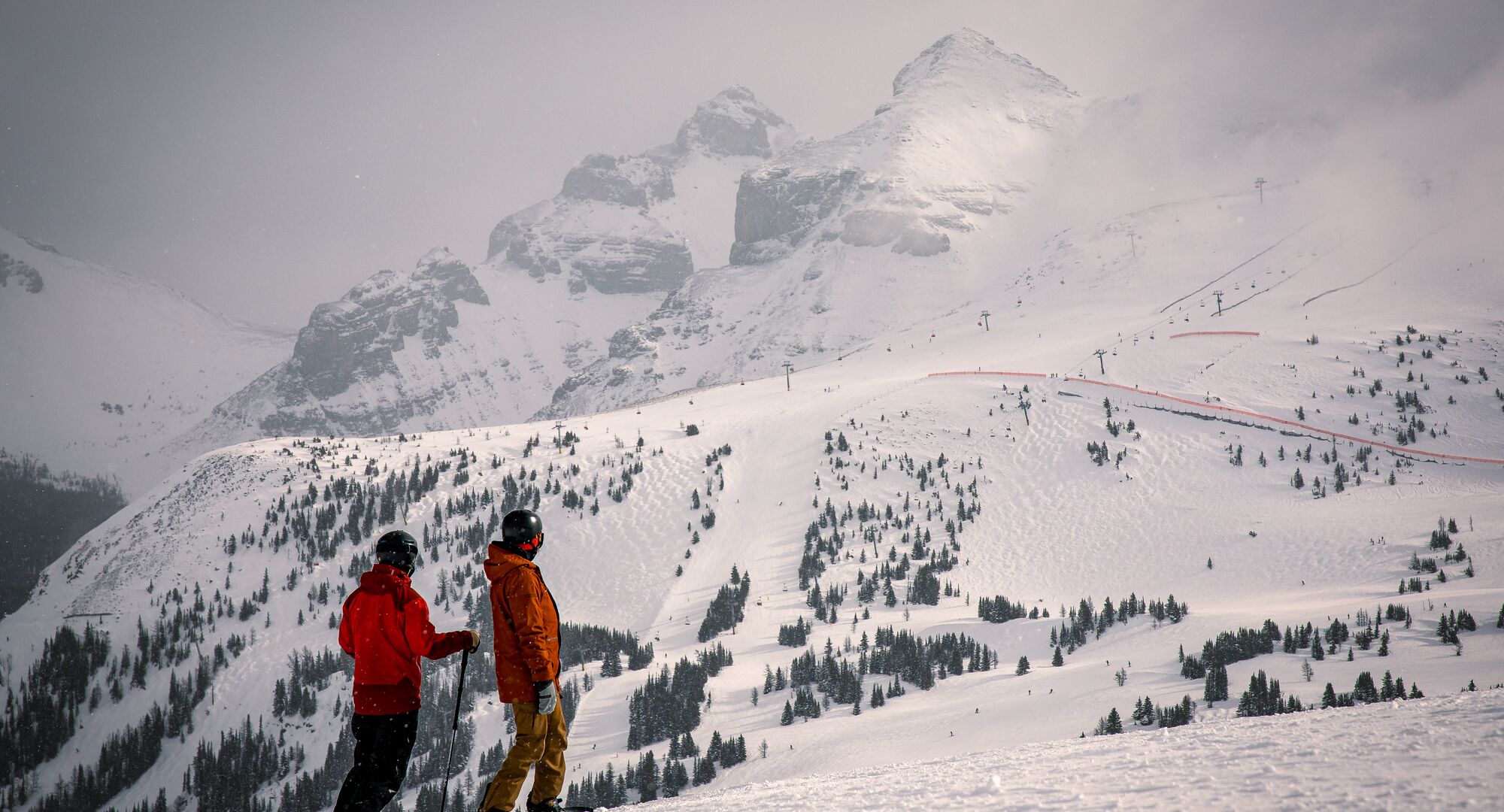 While most people flock to Banff National Park in summer to gaze across crystal blue lakes and hike through endless lodgepole pine forests, far fewer visit in winter - making it an ideal season to plan a Banff ski trip. In winter, you can expect fewer crowds, better rates on accommodation, and different outdoor experiences. Plus, for downhill skiers and snowboarders of all ability levels, Banff National Park is home to three of the best ski resorts in Canada - Banff Sunshine, Lake Louise Ski Resort and Mt. Norquay - together known as SkiBig3.
With 8000 acres (3100 hectares) of skiable terrain, 29 lifts, and 362 runs to choose from, you could spend a lifetime exploring these resorts. To save you time, we've put together a list of the best beginner (green), intermediate (blue), and advanced (black) ski runs in Banff National Park.
Banff Avenue (1)
Level: Green (Beginner)
This run, also known as Banff Sunshine's "ski out," is a 5km (3 miles) long green run under the Gondola from the upper village down to the parking lot. This run features big, fun corners and high-banked walls perfect for cutting playful turns. Beginners love this never-ending groomed run to practice linking turns, while intermediate and advanced riders love ending the day on this long ski-out back to the base.
Local tip: Test your skills and try one or two of the blue (intermediate) runs that branch off of Banff Avenue, like Rollercoaster or B-Line.
South Divide (29)
Level: Blue (Intermediate)
Pictures cannot do this run justice. You'll be pinching yourself from start to finish as you cruise down South Divide, an intermediate groomer with spectacular views across Banff National Park's snow-covered backcountry. Located directly on the Continental Divide, as you ski or snowboard this run, you'll be carving in and out of two provinces at once - Alberta and British Columbia.
Local tip: When you get to the top, look for a large, pyramid-shaped peak - that's Mount Assiniboine. At 3618 m (11 870 ft), it is the highest peak in the Southern Canadian Rockies.
South Side Chutes (82-87, 104-107)
Level: Black (Advanced)/ Double Black (Expert)
While Banff Sunshine is known for its family-friendly appeal, this resort is also known for "steep and deep" chutes, bowls, and drops you can only find on a Banff ski trip in the Canadian Rockies. One such area is the South Side Chutes, located on Goat's Eye Mountain. For those willing to do the short 5-10 minute hike, this area can offer some of the best skiing in Canada. These technical, snow-filled chutes are often untouched late into the day and offer a challenging mix of steep drops and deep powder turns.
Local tip: The farther you're willing to hike, the more empty and untouched the South Side Chutes will be after a fresh snowfall. 
Saddleback (109)
Level: Green (Beginner)
People travel from around the world to experience Lake Lousie Ski Resort's back bowls. There are few places in North America where you can access such rugged, snow-loaded bowls and chutes inside resort boundaries. Saddleback is an ideal run for beginners who want to experience the beauty of these famous back bowls on their Canada ski trip while still learning how to link turns. Sort of like "the scenic route," Saddleback winds along a gentle ridge and is the easiest way to get from the Top of the World Express to Temple Lodge.
Local tip: As Saddleback turns into Pika, make sure to snap a photo of Mount Temple. This run frames it perfectly! 
Charlie's Choice (25)
Level: Blue (Intermediate)
Named after Charlie Locke, Lake Louise Ski Resort's current owner, it's no wonder this scenic run was named "Charlie's Choice" because of its wide-open, uninterrupted views of Mount Temple, Lake Lousie, and the massive glaciated ice field of the Victoria Glacier. Starting on Sunset Terrace, winding past groves of larches and rolling down groomers, this run has a little bit of everything Lake Louise Ski Resort offers.
Local tip: Connect Charlie's Choice to Jerry's Jungle - a playful, kid-friendly green run through a magical, well-spaced grove of trees. 
West Bowl (157)
Level: Black (Advanced)
In 2020, Lake Louise Ski Resort opened new terrain for the first time in over 25 years. This area, called "West Bowl," has become one of North America's most sought-after freeride zones. With 480 acres (194 hectares) of tasty powder pockets, perfectly-spaced glades, and nicely-pitched chutes, West Bowl features some of the best skiing in Canada. The crown jewel of this massive freeride area? West Bowl itself - a wide, snow-loaded bowl that's the perfect pitch for skiers and snowboarders to bounce through deep powder turns.
Local tip: When you unload from Summit Chair, try hiking to the stairs at the top of West Bowl to get even higher, untouched turns. 
Cascade (20)
Level: Green (Beginner)
Lovingly named "Banff's Backyard", Mt. Norquay is located just 10 minutes from the Town of Banff, making it ideal for young families and beginners on a Banff ski trip. Whether you're a beginner looking for a gentle, groomed run to perfect your turns or an intermediate looking to do some warm-up laps, Cascade is nice and wide and always groomed into perfect corduroy.
Local tip: Look out for young ski racers and former Olympians and watch their technique! 
Crazy Canuck (54)
Level: Blue (Intermediate)
The Crazy Canucks was the nickname for a group of World Cup alpine ski racers from Canada who rose to fame in the 1970s and 1980s. "Jungle" Jim Hunter, Dave Irwin, Dave Murray, Steve Podborski, and Ken Read earned themselves this iconic reputation for their fast and unconventional downhill skiing style. This fast-paced blue run offers intermediate skiers and riders the chance to embody their inner alpine racer with room for wide turns and a nice, long descent that gets the heart pumping.
Local tip: Today, you can still see Ken Read (one of the "Crazy Canuck" riders and long-time local) skiing at Mt. Norquay.
Abracadabra (36)
Level: Green (Beginner)/ Blue (Intermediate)
If taking your skills from beginner to intermediate is one of your Banff ski trip goals, Abracadabra is the run for you. A unique mix of two levels in one run, this popular groomer starts blue, based on its steep top pitch, then levels out into a mellow green, ending with one or two fun rollers. This is the ideal run for beginners to lap before exploring the Mystic Express side of Mt. Norquay, almost exclusively blue runs.
Local tip: Take Spirit Traverse (30) to ski in and grab a warm lunch in the North American Cafeteria at Cascade Lodge. 
Rent Ski and Snowboard Gear
Whether you don't own gear or you want to rent equipment better suited to skiing in the Canadian Rockies, both are good reasons to take advantage of the rental shops in Banff and Lake Louise. If you start at the mountains directly, Banff Sunshine, Lake Louise Ski Resort and Mt. Norquay all offer rentals at their base areas. If you prefer to package rentals and lift tickets for a better deal, book a SkiBig3 package and rent from the SkiBig3 Adventure Hub. If you like a bit of luxury, Black Tie Rentals will bring a custom rental fitting right to your hotel room. If you're staying in the Town of Banff, Banff Adventures, Chateau Mountain Sports, Snowtips-Bactrax, and Ultimate Sports are all friendly and affordable rental options with extensive fleets. If you're already in Lake Louise, check out Wilson Mountain Sports for a welcoming, local ski shop experience. 
More Information
Learn more about the routes and lines that you can ski in Banff National Park with the SkiBig3 Trail Maps.