How to See Fall Colours Near Banff and Lake Louise
Sep 9, 2022

|

Active Travel, Nature & Wildlife, Adventure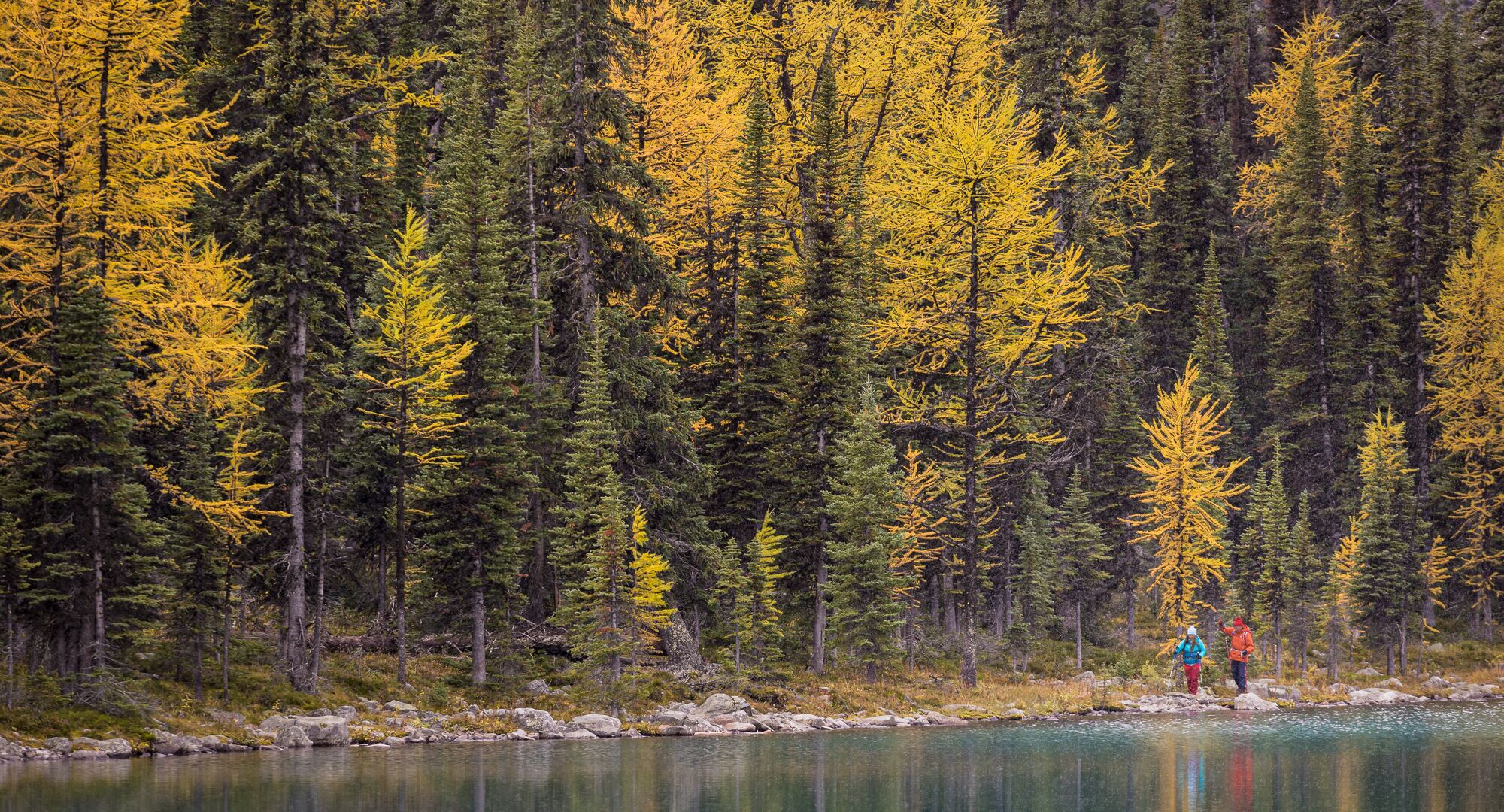 Fall is the perfect time to visit Banff National Park. The days are long and warm enough for adventures, and when the sun drops, you have an excuse to throw on your warmest, cozy clothing and curl up fireside with friends. Plus, you benefit from seeing Banff during one of its most beautiful - albeit shortest - seasons. When the forests glow with golden needles, you'll know that you have come to a special place. Read on to learn what makes Banff's fall colour season special.
When Are the Fall Colours in Banff?
The fall colours in Banff typically start around the middle of September and get into full swing by about September 23rd. Coming to Banff and Lake Louise in the last two weeks of September offers you the best opportunity to see the fall colours. Although, when the fall colours in Banff start to pop is heavily weather dependent.
What Are the Fall Colours in Banff National Park?
Two trees define Banff and Lake Louise's fall colours. The larch and the aspen.
The aspen tree is your classic leafed tree that changes colours in the fall to golden and red hues. You won't find full forests of these trees throughout the park, but you will find groves scattered along trails and roads that make for a beautiful pop of colour against the evergreens.
The classic mountain fall tree is the larch. A type of needled tree, the larch looks similar to its cousin, the evergreen, in the summer. But come fall, larches start to pop with a golden hue. There are whole forests of larches at higher elevations – as the larch is traditionally a sub-alpine plant – meaning you can walk through golden pine trees for hours. It's a magical experience to witness the sun shining through these golden hues. But you have to be quick once the larches start turning, as they usually last about 10 days at their peak, and then the needles start to fall off.
How Can I See the Fall Colours Around Banff and Lake Louise?
Hiking
The best way to see fall colours in Banff is by hiking. Our most famous tree is the golden larch tree. Banff has full forests of larches, but you need to gain some elevation to get into them. Traditionally, this means strapping on your hiking boots and hitting the trails. Many of the most popular larch hikes are very busy, so be prepared with a backup plan if the parking lot for the hike you want is full. You can get right amongst the fall colours and bask in their beauty by hiking.
Guided Hiking
Another fabulous way to see the fall colours in Banff is by taking a guided tour. Several local companies offer private guided hikes, including Banff Hiking Company, Great Divide Nature Interpretation, and White Mountain Adventures. This is the best way for you to guarantee seeing the fall colours in Banff while learning all about the trees and their habitat from a local, knowledgeable guide. 
ATV
Just outside Banff National Park in British Colombia lies a unique opportunity to see larches by ATV. Hop on these off-road machines for a 3-hour exploration with Toby Creek Adventures, which takes you right through the larch trees in Paradise Basin, and stop for a snack overlooking the trees at the historic Silver Mine.

Guided Sightseeing
Do you want to see Banff's fall in all of its golden glory and the classic sights? Take a guided sightseeing adventure with Radventures, Banff Adventures or Discover Banff Tours. These local experts will take you to the timeless views in Banff National Park, where you can learn about the area's history and see Banff's autumn, all while not worrying about navigating. 
Gondola
The Lake Louise Sightseeing Gondola stays open until early October, allowing you to ride high into the alpine to see the extensive larch forests that dot the ski resort. This is one of the most accessible ways to get right into a larch forest, as the chairlift does most of the elevation gain, leaving you with plenty of time and energy to explore the golden trees.
Road Trip
You can also view the beautiful fall colours in Banff via the road. Try driving the historic Bow Valley Parkway from Castle Junction to Lake Louise for Aspen Trees. And make sure to stop at the landmark Morant's Curve for a classic train view and the fall colours that sweep across the nearby mountains. Make sure to stock up on hot drinks, sandwiches, and pastries at Laggan's or Trailhead Café in Lake Louise.
Where can I see Autumn Colours?
The best of Banff's larches are up at higher elevations, so you'll need to view them from a distance or strap on your hiking boots and get up into the trees. Check out our 9 bucket-list larch hikes for where to put your feet on the ground.
Elsewhere, you can drive the Bow Valley Parkway for aspens and long-distance views of larches or head to a lake shore and see the bushes and native grasses as they turn a golden hue.
How Long Do I Need to Stay to See the Fall Colours in Banff?
For the best fall experience in Banff National Park, you'll want to spend at least two nights in the Park. This allows you to try a few different hiking trails, go on a guided excursion, and soak up the cozy feeling that falls on Banff once the mountains are dusted with snow. Try our Trip Planner to start building your trip to Banff National Park today.