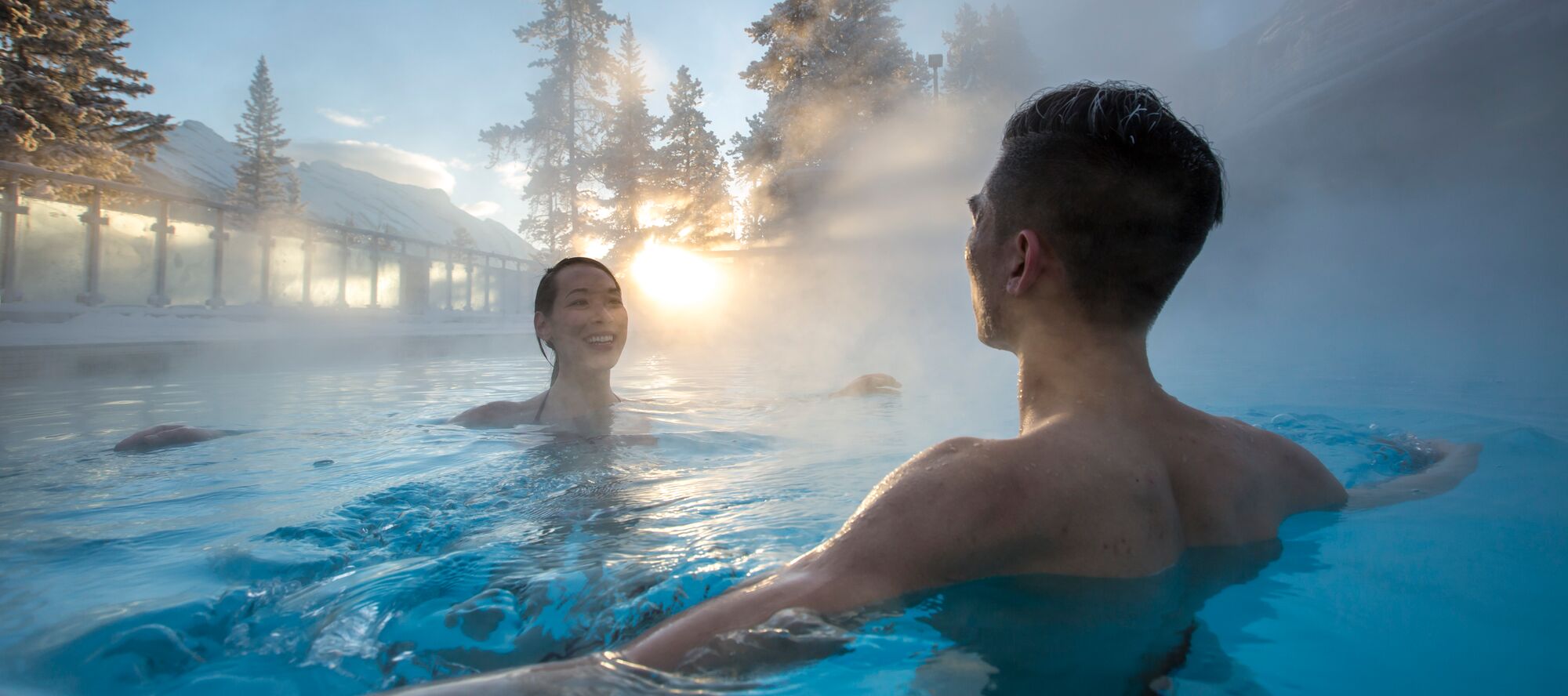 New early entry program at Banff Upper Hot Springs for Travel Trade group
One of Banff's greatest traditions is visiting the Upper Hot Springs for a soothing soak among the jagged peaks of Rundle and Cascade Mountains.
Effective February 1, 2024, Banff Upper Hot Springs will provide an early entry option for travel trade group tours. The program allows our valued travel trade partners to avoid lineups and receive expedited entry for group tours.
Program Details:
Early entry processing will be provided to travel trade groups
15 minutes prior to public opening. Facility hours are subject to change.
Expedited entry does not provide private use of the facility.
Early entries may not exceed a total of 75 visitors per day. Multiple tour groups may book to a maximum of 75 visitors per day.
A minimum group size of 15 is required. All guests must be present on entry and processed in a single transaction.
Booking does not guarantee entry in the event of unforeseen closures or delayed opening (weather, mechanical, staffing shortages, etc).
The early entry program is only available at Banff Upper Hot Springs.
Booking:
Travel trade partners should provide all reservation requests well before the upcoming season including requested date of entry and estimated group numbers. Final numbers will be recorded on entry.
Tour operators should email their itinerary a minimum of one month before the tour date: hotsprings-sourcesthermales@pc.gc.ca
Timing:
Bookings are available year-round, excluding Canadian Holidays. A blackout period applies over Christmas holidays, from approximately the Friday before Christmas to January 31.
We are able to accept booking requests for the 2024 and 2025 tour season.
Outside of the early entry program, the best time to visit Banff Upper Hot Springs during the busy summer season (May to October) is Monday to Thursday, 11:30 am to 2:30 pm.
Highlights:
Open daily, year-round
Cafe and gift shop on site
Swimsuits, lockers and towels for rent
English and French speaking staff
Hiking and walking trails nearby, level of difficulty varies
Published 2023-11-13