How to Get to Moraine Lake in Banff National Park
May 23, 2023

|

Sustainable Travel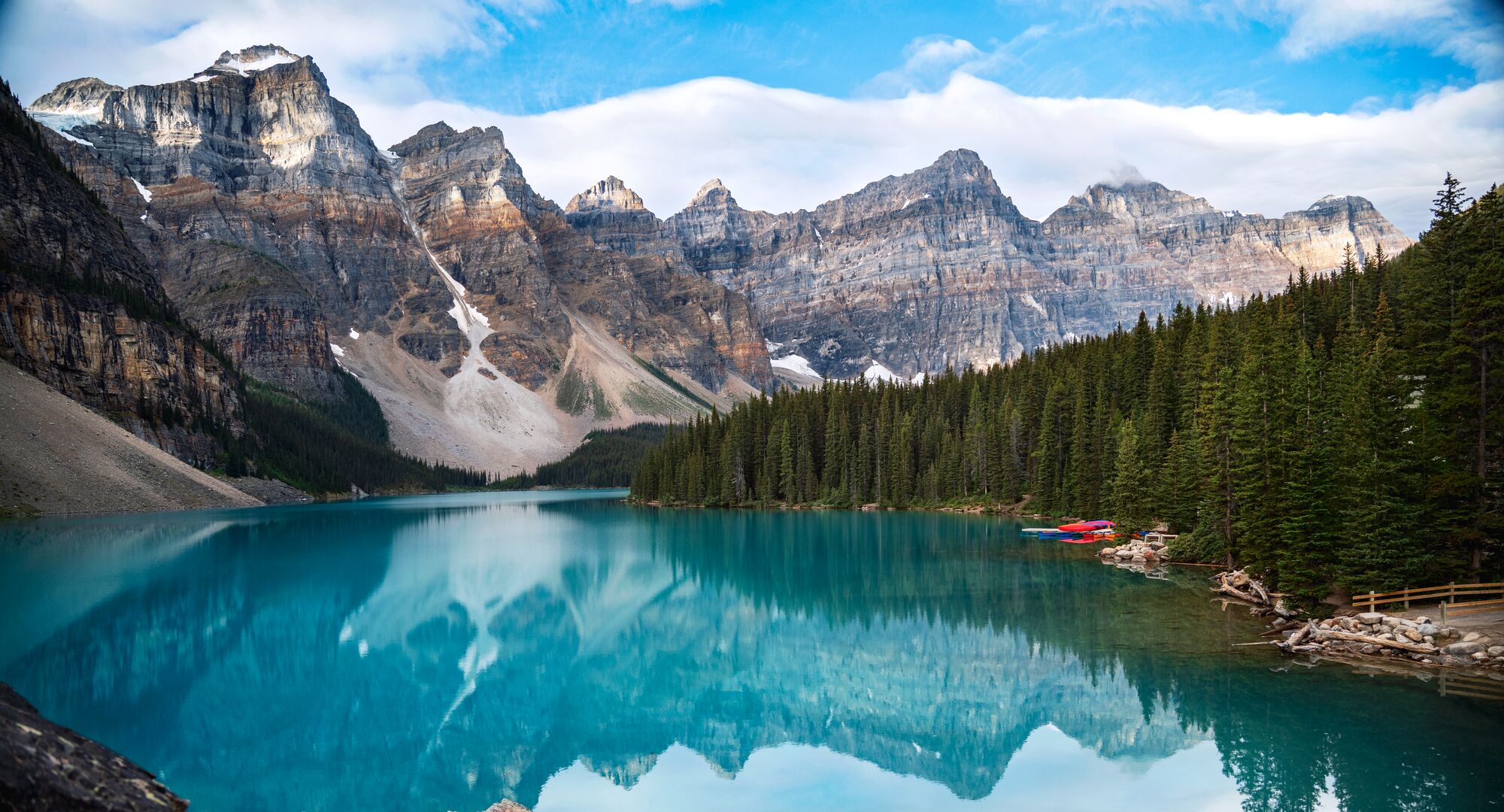 Planning on visiting Moraine Lake? Here's what you need to know to get there!
The road to Moraine Lake is closed seasonally from early October until June due to avalanche risk, and this year there are changes when the road reopens.
Due to the high demand of visitation Moraine Lake has experienced, personal vehicles will not be able to access the road. In this video, we explain the options available for you to see Moraine Lake during your visit.
If you have a car, we recommend booking a ticket on the Parks Canada shuttle. Book your seat in advance for your desired time slot, as walk-ups are not available. Park your car at the Lake Louise Ski Resort and then board the shuttle bus at your selected time slot to either Moraine Lake or Lake Louise as your first destination. You can then use the Parks Canada Lake Connector Bus to visit both lakes on the same day.
In early Spring, 40% of shuttle tickets are released for the entire season. The remaining 60% of tickets are released at 8 am MST two days before departure. Popular dates and times sell out early, so booking in advance is highly recommended.
Visit the Parks Canada Reservations page to book your ticket.
Shuttle Service to Moraine Lake
Catching a shuttle service to Moraine Lake is a great option whether you are one person or travelling with a large group. These shuttles can be booked in advance and will pick you up in Lake Louise Village and drop you off at Moraine Lake.
Catch a ride with Fairview Limousine, Moraine Lake Bus Company, or Mountain Park Transportation.
Or take advantage of being right at one of Banff National Park's gondolas, and book a gondola and shuttle package with the Lake Louise Ski Resort & Summer Gondola. You can catch a ride to Moraine Lake and look up at the mountain peaks and then ride the gondola up high to see the peaks from eye level.
Guided Tours to Moraine Lake
A guided tour guarantees your visit to Moraine Lake. Guided tours give you the opportunity to join a local expert and learn about the history and landmarks of these iconic places. Most tours will take you to Moraine Lake, Lake Louise, and other quintessential locations in Banff National Park. Check with your operator for the perfect tour for you.
Tours are available to book through:
If you are staying in Banff National Park without a car, Roam Public Transit departs from both Canmore and Banff to Lake Louise, and the Super Pass allows you to use the Parks Canada Lake Connector Bus to Moraine Lake. Reservations can be made on the Roam Transit website, and we highly recommend booking in advance to secure a seat on your desired date.
During larch season – which is late September to early October – Roam Transit operates a route directly to Moraine Lake from Banff. Seats on these buses fill up fast during the short hiking window, so ensure you plan ahead and book in advance.
Family-friendly Transportation to Moraine Lake
There are plenty of options for family access to Moraine Lake.
Youth 17 and under can ride the Parks Canada shuttle for free, while children aged 12 and under ride for free on Roam Public Transit and those aged 13 to 18 can be booked at a youth rate.
The Parks Canada shuttles can accommodate strollers and other equipment, such as large backpacks and climbing gear.
Most private shuttle and tour options are child and youth-friendly but ages for kids and youth and rates vary between providers, so it's best to check their website for full and up-to-date details.
Moraine Lake Dog-Friendly Transit
Getting to Moraine Lake with your dog or puppy is possible with these options available:
Fairview Limosine can transport larger dogs at an extra cost, while smaller dogs that can fit on your lap are free.
WowBanff allows pets on the upper deck at no extra cost. The upper-deck is an open-deck exposed to the elements, which also gives you amazing views as you head towards the Valley of the Ten Peaks.
Mountain Park Transportation has a limited number of spaces for pets in carriers so check with them before booking.
The Parks Canada shuttle allows small pets that can fit in a crate on your lap.
Roam Transit also allows pets on board if they are in a carrier that fits on your lap.
Moraine Lake Sunrise Transit Options
Sunrise at Moraine Lake is an iconic experience. Whether from the rockpile or heading out on a hike - watching the alpenglow hit the Valley of the Ten Peaks is a special experience.
Hiking and sunrise enthusiasts looking for an early start should book with Moraine Lake Bus Company - which offers a shuttle option to the lake in time for sunrise. Visit their website for the full schedule and departure times.
Radventures also offers a variety of guided tours to Moraine Lake, including an early bird explorer tour from select Banff and Lake Louise locations. You'll arrive at Moraine Lake for sunrise, enjoy hot chocolate or coffee and have a local guide with photography skills.
We look forward to welcoming you to Banff National Park and encourage you to enjoy it responsibly. Leave no trace by staying on trails to preserve the ecosystem, always keep dogs on leash, never feed wildlife and give them plenty of space, and plan ahead to get to where you want to go during your visit.
Information, conditions, and schedules can change at any time. Our Visitor Experience team is here to help answer any trip-planning questions you may have.