Top 10 Selfie Spots in Banff and Lake Louise
Mar 27, 2023

|

Active Travel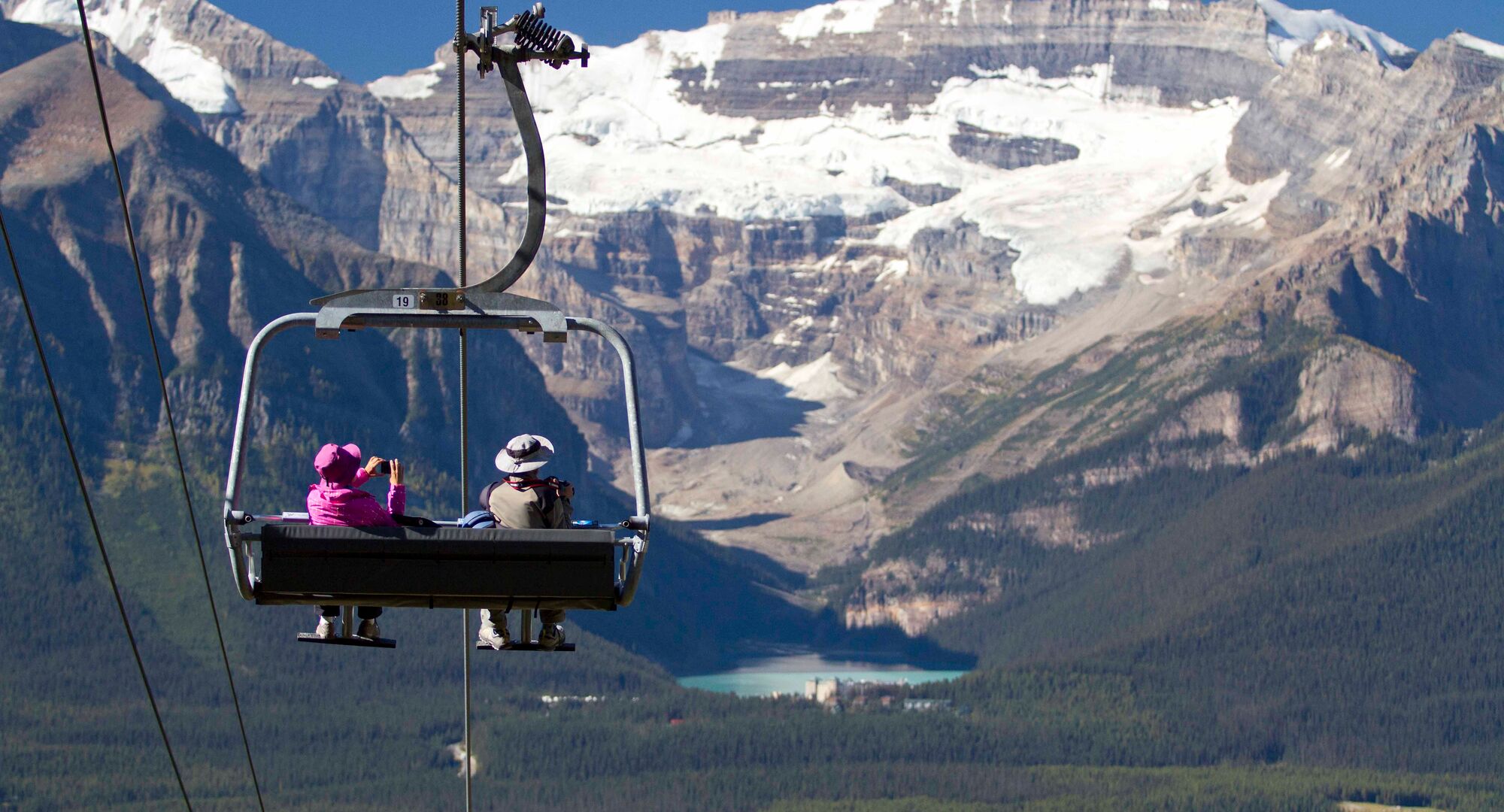 Banff National Park and the Canadian Rockies have dominated Instagram feeds with some of the most beautiful images on the social platform. Iconic stops like Moraine Lake and Lake Louise are uploaded daily while lesser-known spots in Banff National Park surprise those who visit and create equally like-worthy selfies. There are countless locations in Banff and Lake Louise year-round that are the perfect selfie-worthy spots to make your friends jealous – here are our top 10:
1. Sulphur Mountain
Mountaintop selfies with panoramic views that are too much to get in one image are found at the summit of Sulphur Mountain. Take an 8-minute ride on the Banff Gondola to the top of this accessible experience and snap your shots on the lookout platform at the upper terminal, or at Sanson Peak – a short hike across a stunning boardwalk. Want to see it for yourself? Check out a 360-degree video here.
2. Mt. Norquay Green Spot, sightseeing lift, and the Via Ferrata
The Cliffhouse Bistro at Mt. Norquay is a true hidden gem of Banff and offers stunning views of Banff and Mount Rundle found nowhere else. Ride the sightseeing chairlift to the top in summer or winter and grab a drink inside the bistro. In the summertime, experience the Via Ferrata, an easy climbing experience that anyone who can hike will enjoy. Climb to the summit of Mt. Norquay while secured to an accessible trail with ladders, steps, handles and suspension bridges. You'll look very hardcore in selfies while all geared up at the top of Mt. Norquay. If a short drive is more on the agenda, stop at the Mt. Norquay Green Spot for the perfect view over the entire Banff townsite and towards Mount Rundle and Sulphur Mountain.
3. Johnston Canyon
Waterfall selfies might be the coolest of them all – hike along a suspended walkway through Johnston Canyon to two sets of waterfalls. Crystal-clear water and unique rock formations complement an already stunning view. And for those that want to capture a unique phenomenon, hike the trail in the winter to enjoy frozen waterfalls.
4. Rat's Nest Cave at Grotto Mountain
Canmore Cave Tours offer multiple unique and accessible caving tours year-round inside Grotto Mountain. Lite up with headlamps and flashlights, this area provides a selfie setting that can't be found anywhere else in Alberta!
5. Sightseeing Helicopter Flight
In both summer and winter, Alpine Helicopters and Rockies Heli Tours offer multiple sightseeing flights that take visitors eye-to-eye with glaciers, mountain peaks, lakes, waterfalls, and if you're lucky – some wildlife. Snap a selfie beside the window for a sky-high picture that will definitely make friends jealous.
6. Vermilion Lakes docks
Vermilion Lakes are walking distance or a short drive from Banff – there are three lakes that make up the iconic location looking at Mount Rundle, and all three have a dock to hang out on. Third Vermilion Lake has a small hot spring outlet that allows the water to never freeze, always creating the reflections that leave people speechless.
7. Bow River and the Banff Canoe Club
The Bow River in Banff is a picture-perfect location teeming with flora and fauna on the shorelines. In the summer, hop in a canoe with the Banff Canoe Club and snap the perfect adventure selfie.
8. The Icefields Parkway
Rated among top drives by both Lonely Planet and National Geographic, there are countless locations to stop off at on the Icefields Parkway that are perfect selfie spots. A few of our favourites include Crowfoot Glacier lookout, Bow Lake and the little bridge near the shoreline, Waterfowl Lakes, and the Columbia Icefields.
9. Peyto Lake
What would a top selfie list be without one of the most beautiful lakes in the world? Visit Peyto Lake very early in the morning or late in the evening to get the perfect shot.