9 Must-Visit Stops On The Bow Valley Parkway
Jul 16, 2022

|

Adventure, Active Travel, Food & Drink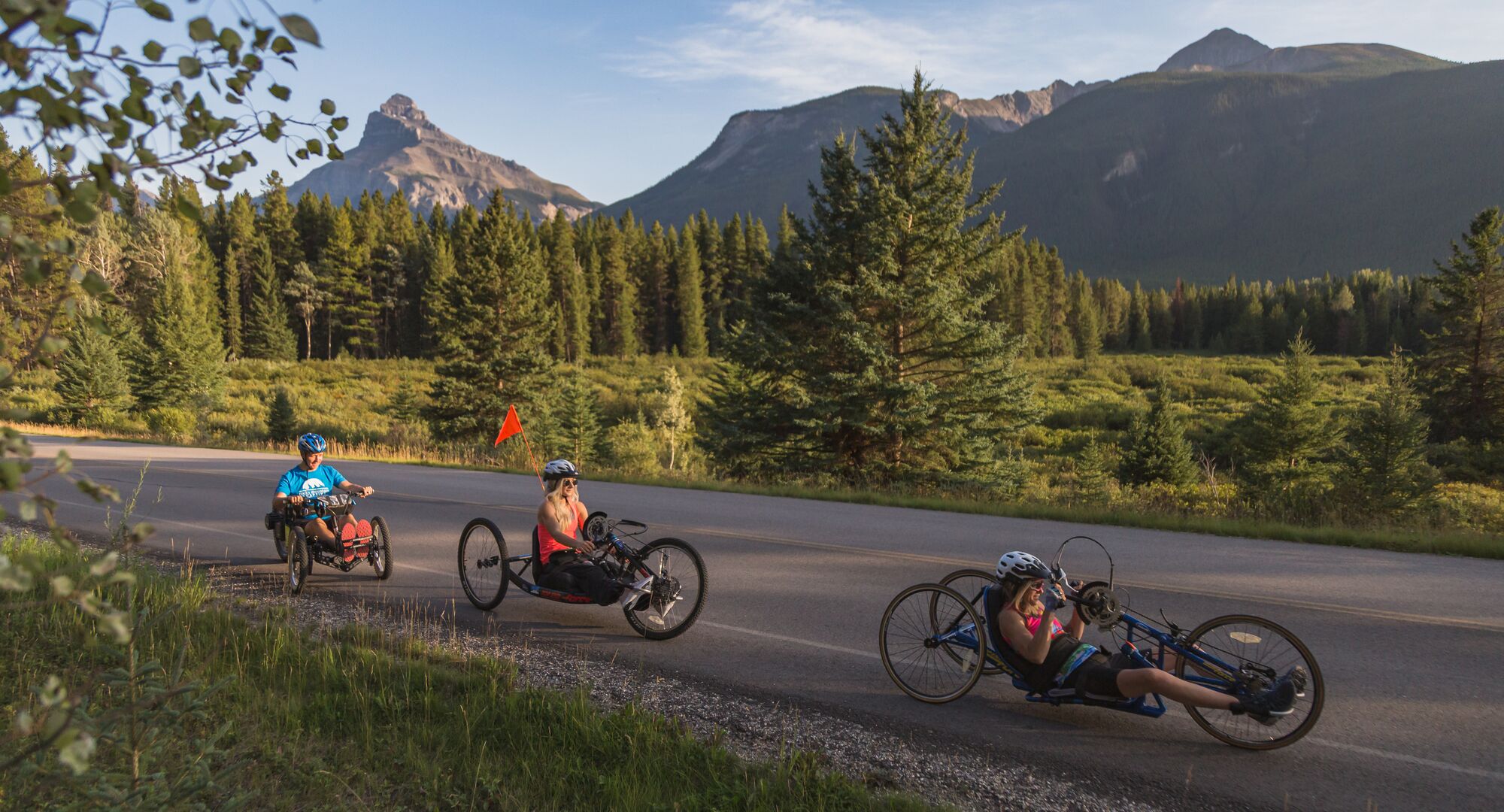 The Bow Valley Parkway (Hwy-1A) offers something for every visitor to Banff National Park. Excellent road cycling, world-class hiking or even just a quiet spot to have a picnic lunch.
This 50 km scenic route runs parallel to the Trans-Canada highway, offering a great alternative drive to connect Banff and Lake Louise.
You can choose to take in this adventure by car but to really experience the beauty of the Bow Valley Parkway, you should hop on your bike and explore the stretch by your own power. Even better, from May 1 - June 25 and September 1 - 25, the parkway is closed to all public vehicles meaning you have free reign to ride the road without worrying about vehicles. Parks Canada and Roam Transit still use the road, so you will need to be aware of some vehicles.
Here are 9 must-visit stops along this classic road:
1. Bike the Bow Valley Parkway
Biking the Bow Valley Parkway is a unique way to experience everything this scenic road offers. To bike the parkway, you'll want to start in the Banff townsite, where you can park at the Fenlands Recreation Centre or in the train station parking lot (free for both). You'll then bike past the three iconic lakes that make up Vermilion Lakes before heading out onto the parkway. If you bike the whole way from the town to the Lake Louise Ski Resort, you can get a free t-shirt and drink for completing the Parkway to Pint ride. You'll want to make sure you have plenty of water, food, and bear spray with you for this spectacular ride.
Bonus Tip: In September and June, the parkway is closed to most vehicle traffic from the Banff side to Johnston's Canyon, so the only way you'll see incredible places like Muleshoe and the Sawback Burn is by riding or walking.
2. The Sawback Burn
Our first stop isn't so much a stop as it is a point of interest. Shortly after turning on to the Bow Valley Parkway (around the 4 km point) heading west, you'll notice a large previously burned area of forest - the remnants of the prescribed Sawback burn of 1993.
"Wait, they set that fire on purpose?", you might say.
The answer is yes! As unusual as it may seem, fire is a very important part of the ecosystem in Banff National Park. The burned areas quickly spring to life and offer new space for plants and wildlife. This is a great place to watch for bears, bighorn sheep, and elk.
3. Muleshoe
If you're in search of a picnic spot, consider a stop at Muleshoe. This turn-off (around the 5.2 km point headed west) has a number of picnic tables, washroom facilities and a wonderful bird habitat. Bring your binoculars and watch for Pileated Woodpeckers, Osprey, and more.
Local's Tip: Pick up your favourite picnic foods in town before heading out on the 1-A as there are limited food options on the parkway. Try Nesters Market or Banff IGA in the town for your picnic supplies.
4. Johnston Canyon
An essential part of any visit to Banff National Park should include a stop at Johnston Canyon. This incredible feature shows the beauty of natural sculpture at work. Follow an elevated catwalk through the canyon and watch as thundering falls carve the ancient limestone cliffs. Those looking for a quick stop can travel 1.2 km to the lower falls viewpoint, while more adventurous hikers can continue on a further 1.2 km to the upper falls. If you'd like to make a day of it, start early and continue up to The Ink Pots - a colourful array of mineral springs which lies 10.8 km from the trailhead.
Local's Tip: Parking is limited and in demand during the summer months, so go early (before 8 a.m.) or take the public shuttle to ensure you get a spot.
5. Rockbound Lake
Just before Castle Junction, you'll find the trailhead for Rockbound Lake - a moderate day hike which climbs 8.4 km (760 m elevation gain) through lush forest to a stunning glacial cirque. There are two great bonuses to this trip. First, peel off the trail at a junction 700 m in to visit Silverton Falls, a hidden gem. The second bonus is the tiny, but picturesque Tower Lake, located below Castle Mountain. Make sure to bring a camera along for this stop.
6. Storm Mountain Lookout
Another great picnic spot along the Bow Valley Parkway is the Storm Mountain Lookout. Here you'll find a handful of picnic tables above the beautiful Bow River. The interpretive signage does a great job of outlining the ridgeline, so leave yourself some time to check it out.
7. Castle Lookout
Previously home to a crucial fire lookout beneath the cliffs of Castle Mountain, the Castle Lookout trail offers hikers a stunning view of the Bow Valley. Leave yourself 3 - 4 hours for the 7.4 km (540 m elevation gain) round-trip. For an interesting take on the trip, consider joining Great Divide Nature Interpretation for "Fondue with a view".
8. Baker Creek Mountain Resort
Another classic stop for cyclists and adventurers is The Baker Creek Mountain Resort. This cozy cabin resort is also home to a small creekside cafe. If you'd like to spend a few days exploring The Bow Valley Parkway, consider making this your home base with a dine-and-stay package.
9. Morant's Curve
Named for famed CPR photographer Nicolas Morant, this spot is one of the most photographed spots in Banff National Park. Time it right and watch as the rail line and the Bow River snake in front of the rising peaks of Mt. Temple, Fairview Mountain, and more.