Authentically Local Cuisine in Banff and Lake Louise
Banff and Lake Louise features Rocky Mountain-inspired cuisine with après lifestyle and regionally sourced ingredients from Alberta and British Columbia. Fast becoming a where-to-eat destination, the very Canadian food scene features menus inspired by the landscape, regional produce such as berries, root vegetables, game meats and world-renowned Alberta beef, and food and drink made with clean, fresh, glacier water.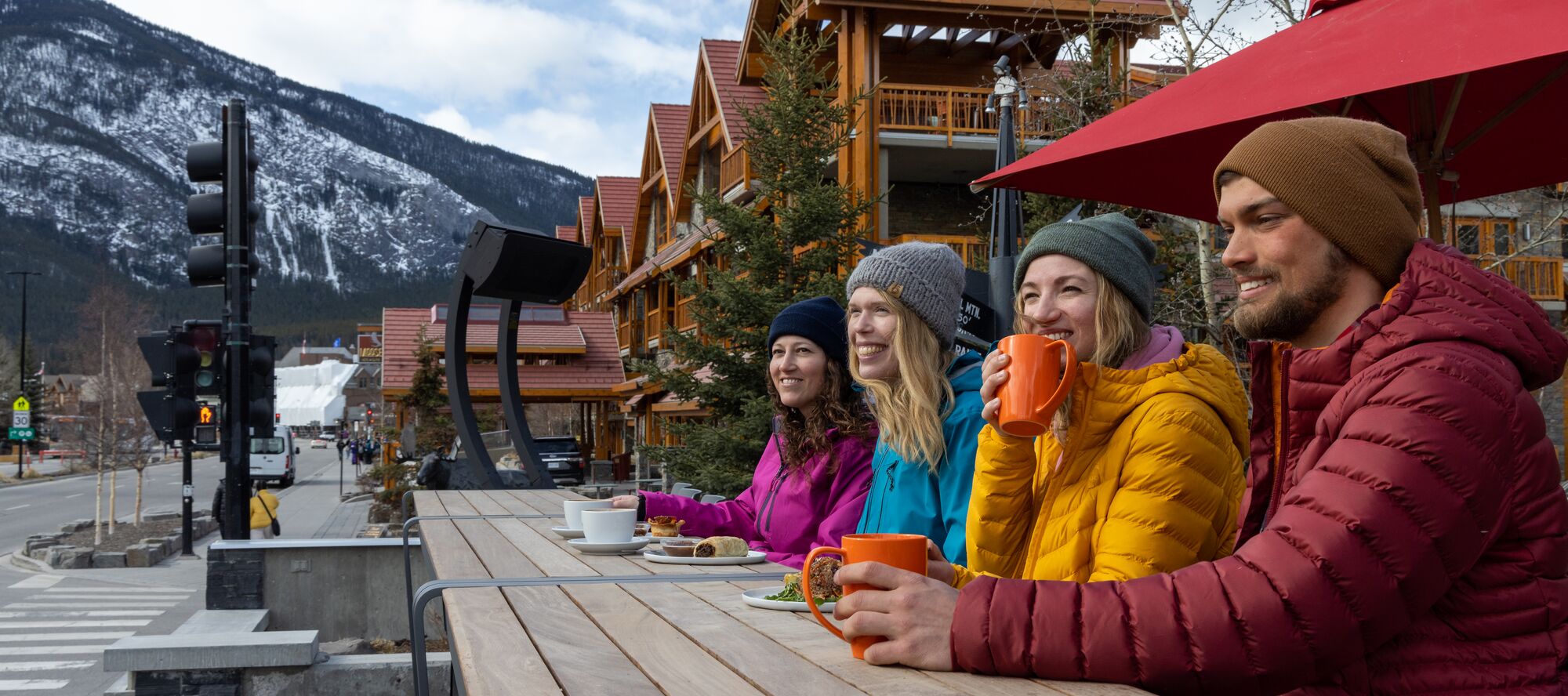 Regionally Sourced Ingredients Create Menus That Are the Best of Alberta and BC
Though there are no farms in Banff National Park, farm-to-table dining thrives in Banff in Lake Louise. Since the 1990s, Canadian Rocky Mountain Resorts has specialized in an artful assemblage of fresh Canadian ingredients. Buffalo, elk, and beef are raised humanely and without any hormones or antibiotics at the Canadian Rocky Mountain Ranch (just 15 minutes east of Calgary), and the feed is grown on the ranch's very own land.
Not only does farm-to-table exist in Banff National Park, but it is further elevated with Sky Bistro's "From Farm-to-Summit" dining experience at 7,486 ft. atop Sulphur Mountain and overlooking the Town of Banff and beyond.
Fairmont Banff Springs strives to produce as much as possible in-house. Herbs, greens, and vegetables are grown in a roof-top greenhouse and Urban Cultivator, an in-house bakery supplies fresh bread, baguettes and pastries to all restaurants and kitchens, and whole animals are sourced from local farms throughout Alberta to butcher on site. By doing so, guests are connected to the destination and the legacy of 130 years of culinary heritage through their taste buds.
Food Tastes Better Outside... and Even Better When You Have 360 Views of the Rocky Mountains
When you sit and eat on one of the area's rooftop patios, floor-to-ceiling window dining rooms, or cozy up by a wood-burning fire in one of the lodges, you'll see, feel, and taste the connection to the land and nature as well as the influence of the mountain lifestyle.
Eden
Eden is the only CAA/AAA Five Diamond award-winning restaurant in Western Canada and is a long-standing recipient of the Wine Spectator, Best of Award of Excellence. With incredibly scenic views of Banff and a team of certified sommeliers who will choreograph a specific wine pairing for each menu item, a truly unforgettable dining experience awaits at Eden.
Sky Bistro
Perched on the summit of Banff's Sulphur Mountain at 7,486 ft., Sky Bistro is a dining sanctuary in the sky. Pair the grandeur of the Rocky Mountains with a distinctly Canadian menu that features the unique flavours of Canada through a hand-picked selection of regionally-sourced local meats, produce and ingredients.
Juniper Bistro
With wall-to-wall windows looking out over one of the most renowned vistas in North America, Juniper Bistro, featuring locally-inspired food, is the ideal complement to a day of hiking, cycling, skiing, or downtown shopping. From its in-house bakery to the authenticity of the menu, Juniper Bistro's chefs create delicious meals with handcrafted and sustainable ingredients.
Cliffhouse Bistro
Situated at an elevation of 6900 ft. and accessed by riding the North American sightseeing chairlift, the Cliffhouse Bistro has been a social meeting spot since it opened in the 1950s – bringing the high to High Tea in Banff. Summer and winter, the Tea House was the place to meet, socialize and admire the views – even including a visit from Marilyn Monroe in 1953, during the filming of River of No Return. 
Recently restored with its quaint, vintage Tea House roots firmly in mind, the Cliffhouse Bistro is a fusion of retro-cozy après and modern-day eatery.
A small, thoughtfully-prepared list of upscale-yet-unpretentious dishes – influenced by our Canadian Rocky Mountain home and infused with urban trends –is on offer, all freshly-prepared in its kitchen. Locally-crafted brews, sodas and Canadian wines are also available, to complete your Cliffhouse Bistro experience.
Whitehorn Bistro
Located at 6700 ft. above sea level, Whitehorn Bistro is the place to stop in Lake Louise and enjoy unbelievable sweeping panoramic mountain views while experiencing an upscale menu in a casual environment. Whitehorn Bistro proudly offers a variety of Rocky Mountain inspired dishes, as well one of the most diverse selections of local beer, spirits and wine to compliment your dining experience.
The Secret Ingredient to the Freshest Tasting Food and Beverage: Glacier Water
Glacier water and grains sourced from high-altitude family farms in the Alberta foothills go into making an award-winning distillery – and the only craft distillery in a national park in the world – Park Distillery Restaurant + Bar.
Banff Ave Brewing Company, one of the only two craft breweries in Banff National Park, relies heavily on their main ingredient - pure, natural mountain water sourced from the great Canadian Rockies. Unlike most commercial breweries, nothing is done to the water but remove the chlorine added to it. What's better than fresh beer made with real glacial water and all the minerals that come with it?
Savour the Moment: Culinary Events and Experiences in Banff and Lake Louise