Wellness in Banff National Park
Banff National Park is a health and wellness haven where visitors can connect with awe-inspiring nature, indulge in healthy cuisine, and discover peace and tranquility. Visitors come to Banff National Park to seek powerful, transformational experiences that give life meaning and leave us feeling rejuvenated and inspired.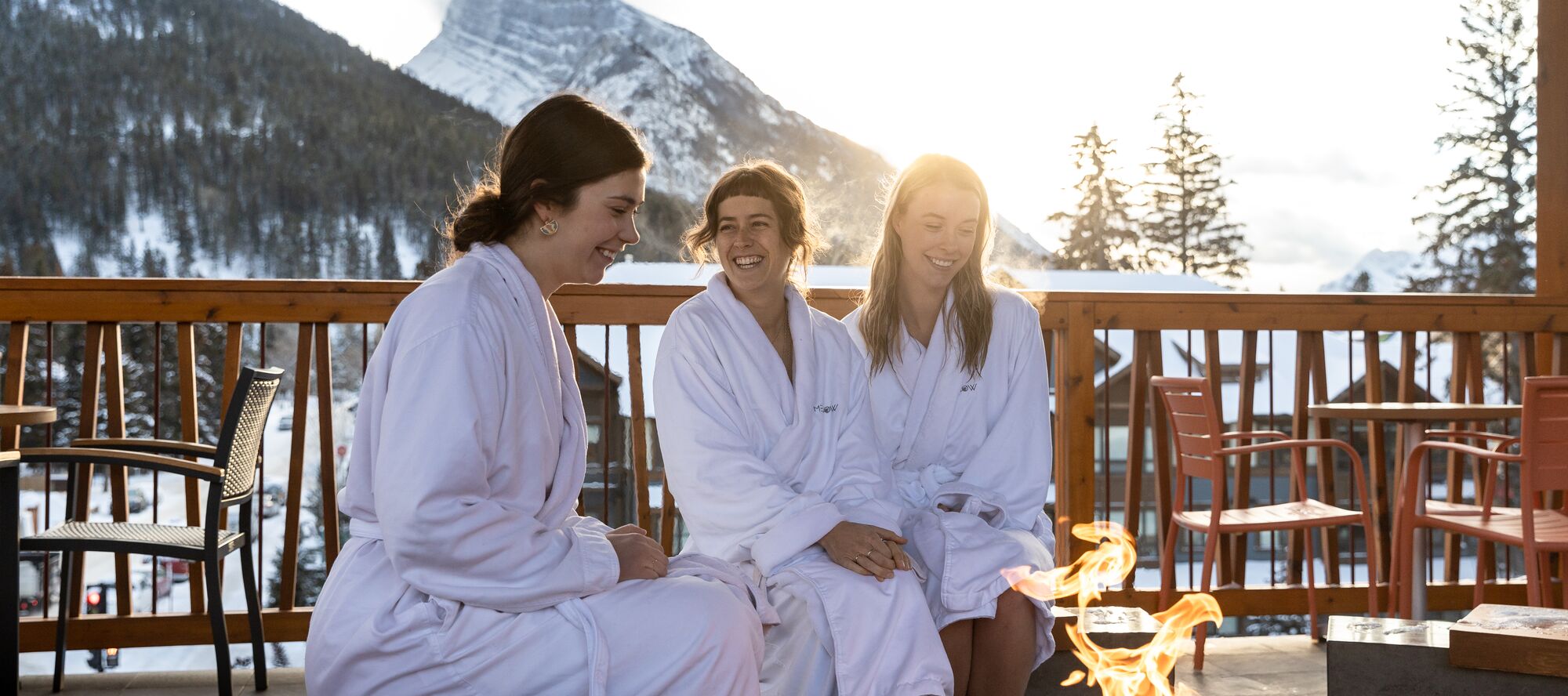 Discover Mindfulness While Forest Bathing
The Japanese concept of forest bathing takes mindfulness to the next level and experiences throughout Banff National Park available with Forest Fix. Forest bathing revolves around a simple practice of walking while focusing on the sights, sounds and scents of the forest. Cynical? Phytoncides are chemicals emitted by trees, which have been scientifically proven to have an effect with longevity on the immune system. Where better to give it a try than Banff National Park with its many protected acres of pine, spruce, willow, aspen and fir forests.
Relax and Recharge with a Transformational Wellness Retreat
Fairmont Chateau Lake Louise offers a number of different wellness, mindfulness, and yoga retreats to help you reconnect with yourself and find balance. Some retreat offerings include yoga and meditation, health and wellness, creativity, and meditation and writing. These retreats will help you de-stress, while the serene nature of the Canadian Rockies will restore you. There is no better way to find balance, be mindful and remember to breathe. Wellness events are held in spring and fall.
Discover Plant Medicine with an Indigenous Guide
Walking in a mountain meadow or through the forest with Brenda Holder is an eye-opening experience. She can point to and identify any plant, tree or bush and tell you how it can be used to make something crucial to survival – a fire cider for a flu or cold, a food source or a fire starter. Holder, operator and owner of Mahikan Trails, is following in the footsteps of her family lineage as a Cree guide of the Kwarakwante people of Jasper, Alberta where she grew up. Passing along her knowledge is part of her passion for supporting indigenous tourism for which she has won many distinctions. Holder offers several workshops, including her medicine walks, designed to educate people about how her ancestors survived off the land for millennia. Over two days in the hands-on workshop guests learn how to identify a variety of plants and learn how to make simple medicines.
Soak in Hot Springs
Bathing in hot springs has long been considered a spa experience since the Roman times. Since 1885 when three Canadian Pacific Railway workers discovered natural hot springs near what is now the town of Banff, wellness seekers have recognized their affordability, sociability and myriad of therapeutic benefits, from improved circulation to pain relief and stress reduction. A soak in Banff's Upper Hot Springs is a must-do on any visit to Banff National Park.
High Elevation Yoga
Bet you have never done yoga at 7,300 feet. Banff National Park helps you elevate your practice with an inspiring and refreshing environment. If you have never practiced outside with the sunshine and a fresh breeze, an eco-yoga experience will turn your downward dog upside down. Banff Yoga Practice is a community hub for yoga, wellness and movement with a full schedule of classes, workshops and retreats available for both pre-registration and drop-in.
Reconnect with Family or Yourself
There is something simply indescribable about just being in Banff and Lake Louise. You feel small, you feel inspired, but most of all, you feel connected. Connected to nature. Connected to your friends and loved ones who are sharing in this moment with you. And most of all, connected to yourself at your very core. The jagged peaks, fresh mountain air, and stunning valleys of Banff National Park simply silence all the other noise in your life and yank you into the present moment. Make the most of it!
Stealthy Healthy Restaurants
A new trend on the culinary scene is hot restaurants serving up healthy dishes that are as creative and delicious as they are nutritious – think organic, farm-to-table ingredients, gluten free options and fruit and veg infused cocktails. Nestled on Banff's Bear Street, Nourish is the perfect example, serving up globally inspired vegetarian comfort food that is both fresh and innovative using local, organic ingredients.