Banff and Lake Louise's 2022 Christmas Gift Guide
Nov 10, 2022

|

Events & Festivals, Shopping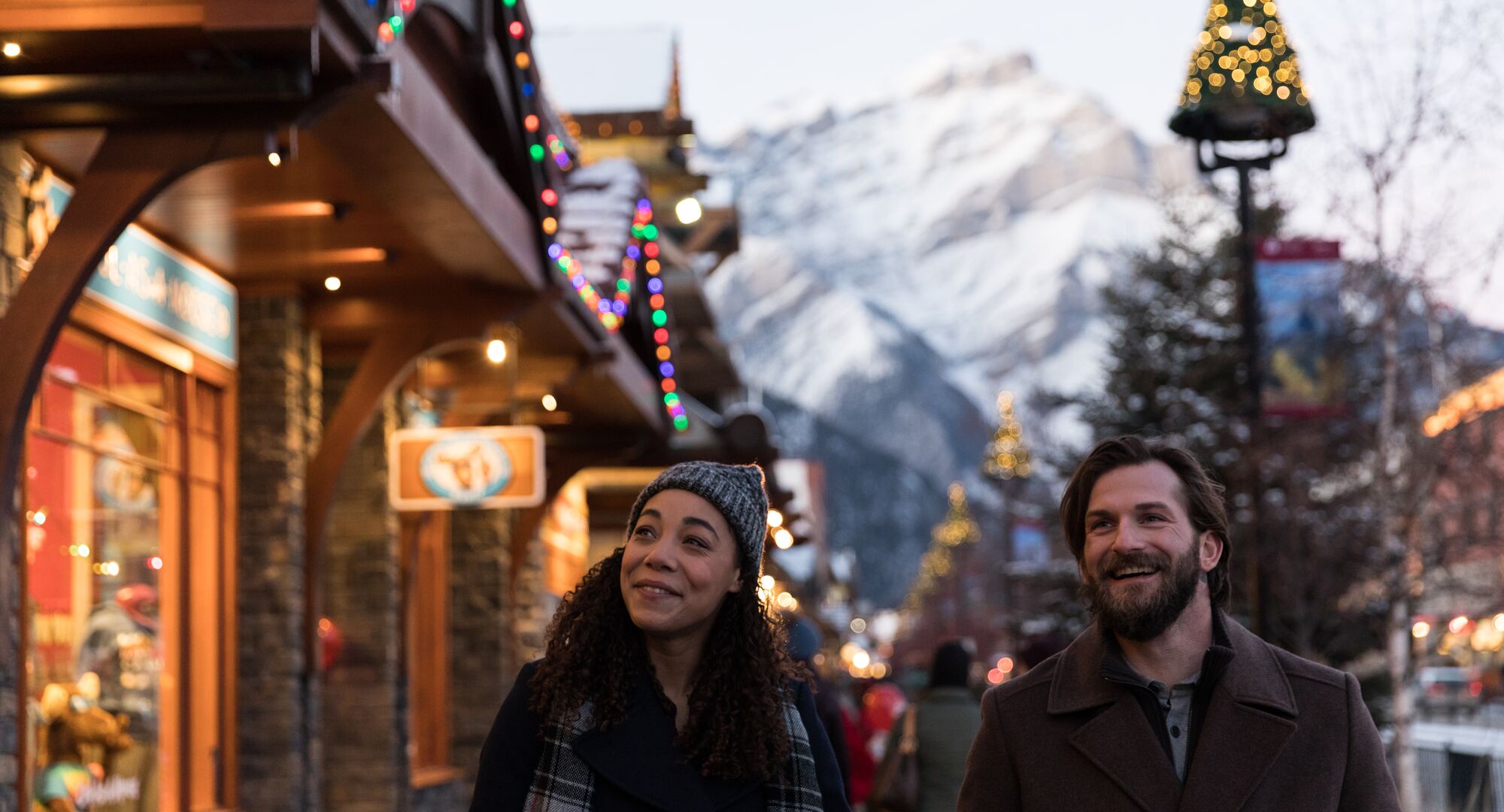 Whether you're strolling through the townsite or off on an exhilarating Canadian Rocky Mountain adventure, you know Banff as a great place for a getaway. It's also quite a stellar shopping destination.
With the holidays approaching at alarming speed, now is the time to pick up those perfect presents so you're not left scrambling last minute. Here's some thoughtful gifts and experiences you can easily pick up on your next visit to Banff.
Oh so Canadian!
When you want to say Canada without emblazoning it on a T-shirt, look to the unique offerings in these independent boutiques.
Paper Den on Bear Street is a trove of affordable prints of Banff National Park. Featuring the work of two local artists, you won't have any trouble finding something pretty or pretty inspiring. Holiday cards that kids colour in doubles as a gift of time for frazzled caregivers.
Museum gift shops always present intriguing items and the Whyte Museum of the Canadian Rockies is no exception. Head here for an excellent selection of books (including children's), nostalgic Canadian Pacific puzzles and art supplies.
Banff Trading Post houses an impressive collection of Indigenous designed gifts including puzzles, jewelry, art, moccasins and leather bags. Next door Buffalo Nations Luxton Museum has beautiful wooden crafts, jewelry and other easily gift-able items made by locals and Indigenous artisans.
Branches Marketplace is a hip mercantile featuring Canadian artisans. Of note is a charcuterie board that's a work of art in itself. Round it out with some local wildflower honey and Canadian maple syrup, both are enclosed in packaging so fetching you'll feel quite pleased with yourself for including them in a gift basket.
For the softest gloves, sweaters and scarves, make a beeline for Qiviuk whose woollen items are made from musk ox wool and silk fibres.
Ammonite is a dazzling gemstone glowing with iridescent colours that range from emerald to scarlet. Made from fossilized shells it comes with unique bragging rights - ammonite can only be found in Alberta. For that someone special who likes their bling, suss out the original ammonite jewelry and works of art inside MJ Western Stones, Rocks and Gems Canada and Rock Paper Silver.
Festive family picks
City shops get picked over quite quickly, but not Banff's. Shopping here is a breeze because the supply remains quite high - especially for the latest trends that tend to sell out elsewhere. And with the majority of stores situated in the downtown core, you'll appreciate spending more time shopping and less time driving.
If you have kids, you know how fascinated they are with rocks, especially the shiny and polished variety. Both Rock Paper Silver and Rocks and Gems Canada offer crack-your-own geode packs, plus a wide variety of affordably priced jewel-toned stones.
For the younger set, both Scallywags and Duck Duck Moose are filled with games, toys and activity sets from popular brands like LEGO and Melissa and Doug.
Free ornament personalization is available at The Spirit of Christmas and makes for a great heirloom collection. If you've run out of ideas for your Elf on the Shelf, step inside this holiday wonderland to purchase costumes and adorable insta-scenes.
Are you the family that wears matching PJs on Christmas morning? If not, you're missing out on one heck of a photo opp. Rocky Mountain Flannel is a local company that boasts a variety of cozy flannel prints from pyjama bottoms to robes to nightgowns and classic blankets.
If your family has been lucky enough to bed down at the Castle in Rockies, you can relive the memories while keeping your little prince or princess cozy all winter long with a fluffy Fairmont resort robe. Found at The Canadian Pacific Store inside Fairmont Banff Springs, adult sizes are available, too!
Meanwhile, over at Little Blue House, you'll find a festival collection of Hatley holiday wear.
Pre-teens and tween girls will get a hoot out of the surprise bags from Ardene inside Cascade Shops. Filled with jewelry, hair accessories, trinkets and sox, it's hard to say no to just one bag especially when they're only $3 a pop.
For the most important member of the family, look to Banff Dog House for toys, baked goods and outfits including velour tracksuits (yes, you read that right), NHL jackets and winter puffer coats to match your own.
Outdoorsy lovers
Sgt Preston's Outpost inside the Clock Tower Mall has a mighty fine selection of knives from around the world. There's also Victorinox knives sold at Rundle Gift on Banff Avenue, and here they can be personalized with engravings.
If you know anyone still hiking and skiing in cotton, enlighten them with the benefits of merino wool. Pop into Smartwool for base layers that wick away moisture and keep adventurers warm and dry all frosty season long.
At Unlimited, yule love the quilted outdoor blankets that have the cozy feel of a sleeping bag, but aren't as thick and bulky. For the outdoors person who has everything, stash mats sport a waterproof underside, making them the perfect drop for the campsite, beach or yard.
Get into the spirit with spirits
Here's a holiday tip: Whenever you're tempted to buy a mug, bubble bath or coffee card, don't. What the recipient really wants is liquor (especially teachers).
The pre-mixed, barrel-aged cocktails inside Park Distillery Store not only taste insanely good, they look pretty swish on the drinks cart, too. But if this gift is going to someone who likes to mix their own, opt for the clear or flavoured spirits pony pack so they can start concocting. Pick up a 4-pack of Mountain Joe for yourself if you anticipate spending extended hours with the in-laws.
Tucked inside Fairmont Banff Springs, STOCK Food and Drink is where you can find their ready-to-serve craft cocktails. Inspired by Fairmont Château Lake Louise, Iconic Peak is a rich and balanced blend of whiskey, tawny port and Campari. And you'll be remembered fondly by whomever you give a bottle of Rundle Bar Gin. The resort's signature spirit morphs from blue into a vibrant purple when citrus or tonic is added.
Perfect for the campsite or backyard, Big Bear Trading Company has cute mason jars filled with herbs and dried fruit. Simply add alcohol and water to make scrumptious craft cocktails.
An easy way to bring mountain memories home is with the artfully designed tumblers made by MTNPK Glassware. At the base of the hand-blown tumbler is a 3D replica of local mountain ranges. Find them at these 5 locations in Banff.
Anyone who's ever walked at length on a hot summer day knows the importance of having a drink close at hand. Cabin Collective sells made-in-Alberta bottle holsters that loop onto your belt, ensuring the wearer stays hydrated or inebriated - the choice is up to them.
For those who work with their hands
Serious Scrub by Rocky Mountain Soap Company was made for mechanics wanting an easy way to get grease and grime off their hands. With its pumice stone base, it also goes to town on calluses.
COWS is known for their ice cream, but if there's a bovine lover or farmer on your list, pop in for cow themed clothing and toys. Of note are the haute cowture T-shirts emblazoned with CowCow Chanel, Moocci and Cowch.
Gifts for people you don't know well
Maybe it's your child's teacher or a co-worker you drew for the office gift exchange, it's always smart to have gifts on hand for those folks you're not that well acquainted with.
Handmade in the Bow Valley, Rocky Mountain Soap Company products are 100% natural and smell as good as they feel. There's a limited edition Vanilla Candy Cane Collection conveniently packaged up in a three piece gift set or you can buy their feel good skin and body-care products individually.
Evoolution focuses on specialty olive oils, vinegars and salts from around the world. Start sampling to find your favourite or opt for one of their curated gift sets.
Who doesn't appreciate the healing effects of tea? Jolene's Tea House is so steeped in tradition, you'll find much more than brews inside the log cabin retail shop. Choose between over 60 unique blends ranging from classic black teas towellness-inspired herbal infusions. You can't beat the packaging of their Tea Houses - tiny replicas of the namesake mountain cabin filled with 15 double dose tea bags.
Banff Tea Co meanwhile, also offers hundreds of different tea blends, plus all manner of accoutrements, from teapots to animal shaped infusers.
Keep it green with a plant or mini cactus to fill a terrarium at Banff Mountaintop Flowers inside Wolf & Bear Mall.
For a fun gag gift, pick up a shrilling chicken from Duck Duck Moose. Not only does this rubber chicken make a funny noise, it glows in the dark.
Stocking stuffers
Atmosphere is the spot to snap up tiny yet useful items such as pocket saws, tick removers, travel adapters and cute beverage vests at affordable price points.
There's a Mountain Mix Pack by Park Distillery containing 5 mini bottles of their handcrafted spirits that you know make a winsome addition to any adult stocking.
Mountain Chocolates has their own brand of chocolate bars named after the peaks surrounding the townsite. For Asian and UK confectionery and chocolate, look to Banff Sweet Shoppe and Banff Candy Store. At COWS, they have these chocolate covered potato chips that are sold in small containers and always disappear surprisingly fast.
Fill your foodie family member's stocking with global treats from Banff Asian Market. If tempura shrimp flavoured chips don't tempt, you'll at least appreciate the bargain prices on star anise and cinnamon sticks for mulled wine and turkey brine.
Give the gift of adventure
Presents are great and all, but experiences make for lasting memories. Luckily Banff has no shortage of meaningful adventures.
It's always a good idea to have something to look forward to and unbeknownst to many city slickers, Banff Centre for Arts and Creativity draws in artists of national and international acclaim. From dance to theatre to music, it's a cinch to score tickets to a top notch performance, which is handy when you suddenly need to come up with a last minute present.
A ride up the Banff Gondola is not only nostalgic, it affords stunning views of six mountain ranges. For those that haven't been in a while, know there's plenty of family-friendly interactive programming inside. For something special, gift tickets to Nightrise, a multimedia experience that brightens up the darkest days of the year with dazzling lights and projections.
There's not many places in the world where you can drive your very own team of huskies across snow drenched meadows. As you can imagine, dog sledding adventures are a big hit with families, kids especially love meeting new furry friends.
Festive fantasies are brought to life with an atmospheric sleigh ride available in Banff and Lake Louise. Riders snuggle under cozy blankets as the sleigh glides and jingles its way through the crystallized wonderland of Banff National Park. Dial up the romance by booking a two-person, one horse open sleigh.
There's no need for hikers to hibernate during the winter months. A guided canyon ice walk is an invigorating adventure for both seasoned outdoorsy types and young families. Several local outfitters provide the expertise, snow cleats and headlamps (necessary if exploring at night). You only need to show up and admire the imposing sheets of ice and frozen waterfalls at your fingertips.