Explore The Lake Minnewanka Loop in Banff National Park
Jul 14, 2018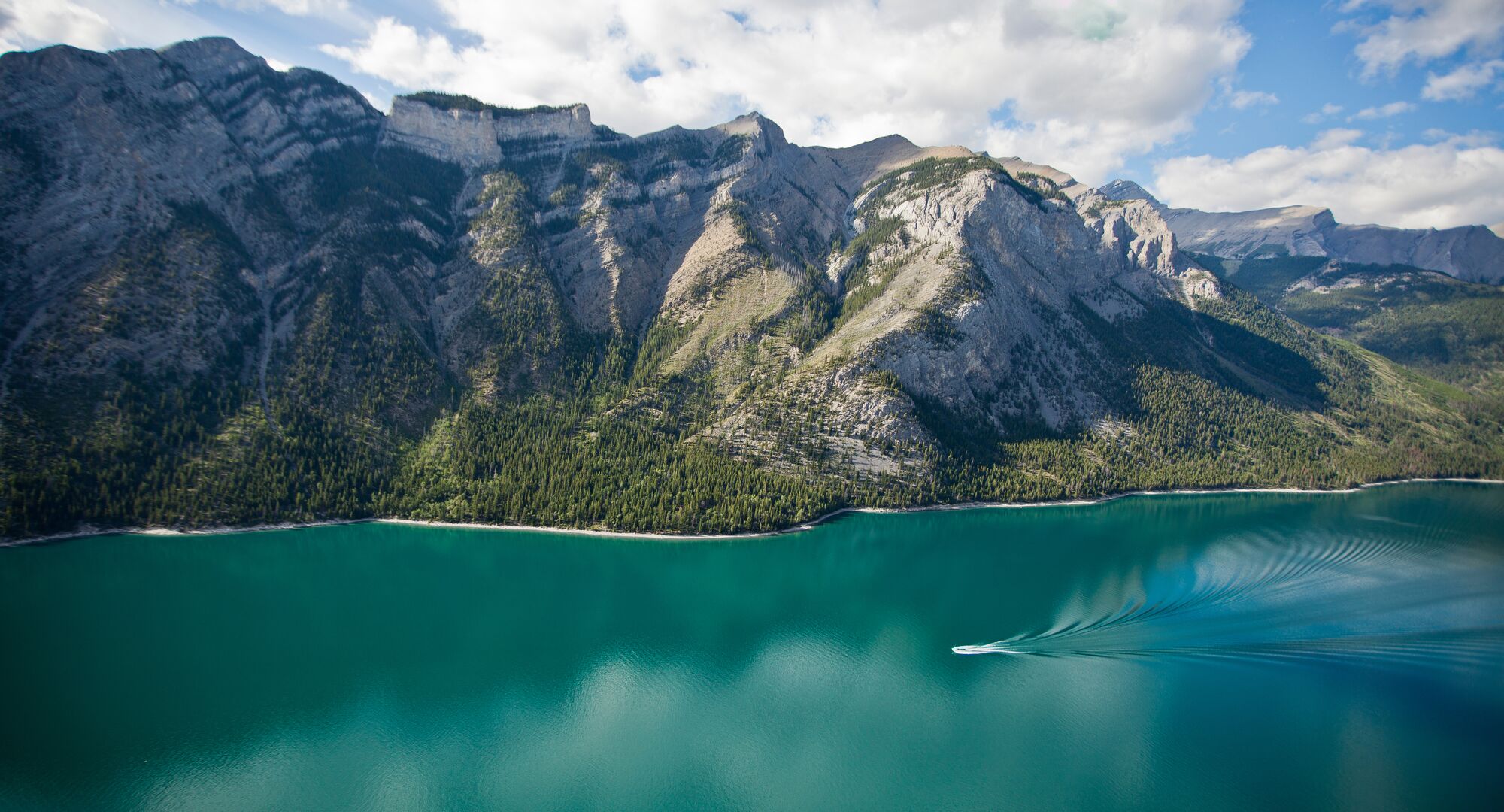 The Lake Minnewanka area is a must-visit stop on your trip to Banff National Park.
With access to wildlife, a variety of hikes, and iconic lakes, you will want to make sure to leave yourself at least an afternoon to explore this amazing part of Banff.
Luckily, Roam Transit offers a bus route that services all of the essential stops you'll want to make.
Here's how you could spend a day exploring Route 6, Lake Minnewanka.
Start your day
Spend the morning fuelling up with a great breakfast or brunch in downtown Banff and then catch bus #6 - Lake Minnewanka at The Banff High School on Banff Ave. Buses depart every 60 minutes at 8:00 a.m., and every 30 minutes after 10 a.m. The last bus leaves Lake Minnewanka at 8:30 p.m.
Check out Roam Transit for the full breakdown.
Stop #1: Lake Minnewanka
Lake Minnewanka offers the majority of activities along the loop, so start your day here to ensure you can fit it all in.
If you're looking to hike, check out the Stewart Canyon trail. This 40-minute trip heads 1.5 km along the lakeshore, providing access to areas that have been used by indigenous peoples for thousands of years. More experienced hikers can continue on to Alymer Pass (or Alymer Lookout) - a picturesque 23.6-km round trip follows the lakeshore and then climbs 560 m to reveal a stunning panoramic view of "The Lake of The Spirits." You'll want to bring your camera for this one.
*Please note: The Minnewanka Lakeshore beyond Stewart Canyon is subject to seasonal wildlife restrictions - please check with Parks Canada for the latest.
If hiking to Aylmer Pass isn't for you, don't worry - there is another incredible way to see the lake. Start at the western end of the lake where you'll board the Lake Minnewanka Cruise. Travel under towering mountain cliffs and keep your eyes peeled for wildlife along the shore while listening to your guide talk about the incredible natural history of Banff's largest lake. Several cruise options are available, including the Junior Explorer Cruise - specially made for children under 12 and their families. One kid (6-15 years old) goes free for each full-paying adult. If you're 18+, you may want to try Beer Voyage, which treats you to local craft beers while exploring the lake.
Stop #2 - Two Jack Lake
Catch the bus departing Lake Minnewanka and head back towards Banff. You'll recognize your next stop - Two Jack Lake - as one of the most photographed spots in North America. Looking southwest from the day-use area, you'll find the jagged peaks of the Rundle range climbing up from the valley floor, perfectly situated above the cozy lake. Are you a brave soul? Dip your feet in the frigid water for the full mountain lake experience! From the day-use area, you can continue along the lakeshore where photo-ops are in abundant supply.
A fun tip: If you like to camp, the nearby Two Jack Lakeside Campground offers a variety of camping options, including Parks Canada's oTENTiks - A cross between an A-frame cabin and a canvas tent; these units can fit up to six people and come equipped with almost everything you need to enjoy a proper "glamping" experience, including electricity, heat, and bunk beds. This campground, along with the Two Jack Main Campground, is also accessible via the Roam Transit bus route.
Stop #3 - Cascade Ponds Picnic Area
On your way back to Banff, consider a stop at the Cascade Ponds picnic area for the perfect end-of-day picnic spot. Before departing for Lake Minnewanka in the morning, pack up a cooler or grab some ready-to-go snacks in town. Several picnic tables and firepits are arranged around the picturesque pond.
Summer often means that there are some open fire restrictions, so please check with Parks Canada for the most recent fire regulations.
Stop #4 - Downtown Banff
Hop back on the bus and return back to downtown Banff. After a full day of adventure, it's time to unwind. Check out some of Banff's must-visit patios or, if you skipped "Stop #3", why not have dinner in a scenic dining room?
Regardless of where you end up, raise a glass - it's been a great day!
Still have some questions? Check out Roam Transit for all of the route information, including a great FAQ section.
If you're looking for more information about shuttles, buses and other transit options, make sure to check out ExploreThePark.ca.