Explore Banff National Park Using Transit
Jun 20, 2023

|

Sustainable Travel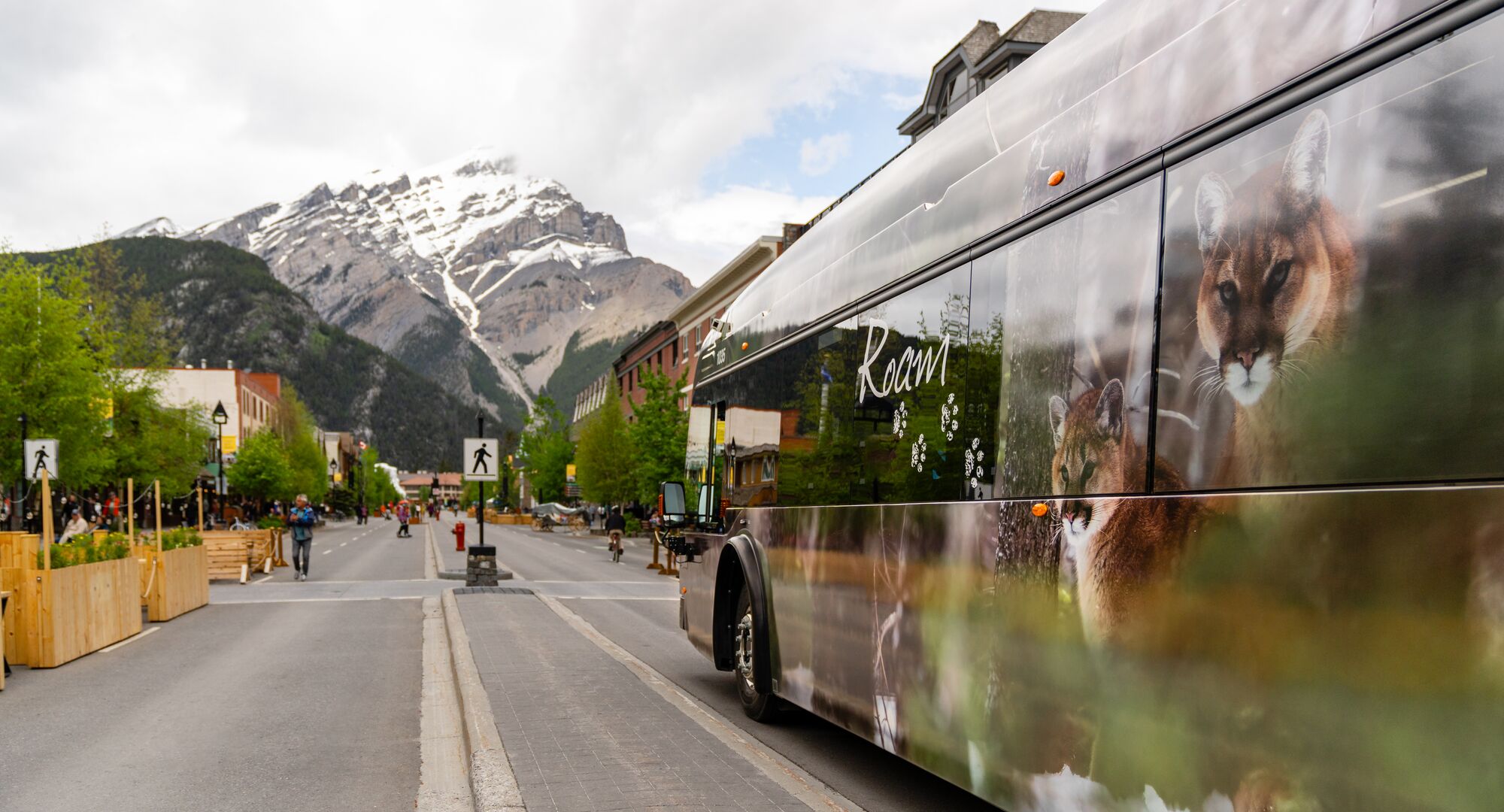 Your summer mountain adventures are waiting for you in Banff National Park, and exploring with public transport is the best way to see more. Spend more of your day paddling, exploring hiking trails, or trying something new, rather than hunting for parking. Wander beyond the townships of Banff or Lake Louise and enjoy the ride to your next adventure and hotspot.
Ready to discover more of Banff and Lake Louise? Here are your options:
Getting around Lake Louise with Parks Canada
Lake Louise Lakeshore and Moraine Lake
Get to either lake easily with daily shuttle services between the Lake Louise Park and Ride located at the Lake Louise Ski Area and the Upper Lake Louise parking lot or Moraine Lake.
Shuttles run daily from May 19 - October 9, 2023, every 20 minutes from 6:30 a.m. - 6:00 p.m. Reservations are required to guarantee a seat on the shuttle. The last return shuttle runs at 7:30 pm.
You can use the first-come-first-serve Lake Connector bus to hop between the two lakes with your reservation. You do not need a reservation to return to the park and ride.
Lake Louise Village and Campground
Staying in the Lake Louise Campground and want the easiest way to get to the lake? Make a reservation on a Lake Louise or Moraine Lake shuttle and take this connector bus to get there. No need to drive your car from the campground.
Take the free shuttle service between the Lake Louise Campground, the village of Lake Louise (Samson Mall), and the Lake Louise Park and Ride located at the Lake Louise Ski Area.
Shuttles run daily from May 19, 2023 – October 9, 2023, every 30 minutes from 7:00 a.m. - 7:30 p.m. Reservations are not required.

Lake Connector
If you're keen to visit Lake Louise and Moraine Lake in one day from May 19 - October 9, 2023, you can catch the Lake Connector Bus. Simply present your purchased shuttle ticket for a free ride between the two iconic lakes. You can also present your Roam Transit Super Pass.
Shuttles leave from either lake every 15 minutes from 8:00 a.m. to 6:00 p.m.

Note: All shuttle passengers must leave their vehicle at the Park and Ride. Visitors cannot park at the Lake Louise lakeshore and board the shuttle service. Parking at the Park and Ride is free.

Locals Tip: If you want to visit Lake Louise and Moraine Lake, catch Roam bus 8X or 8S from Banff to the Lake Louise Lakeshore. With the purchase of a Roam Transit Super Pass, you will receive free access to the Parks Canada Lake Connector shuttle from the Lake Louise Lakeshore to and from Moraine Lake. You can then board the Roam Route 8X or 8S from the Lake Louise Lakeshore to return to Banff.
Reservations
Starting in early May, reservations for Parks Canada shuttles will be available. Additional seats are released 48 hours before departure. Reservations are required to guarantee a seat to Lake Louise or Moraine Lake.
For reservation open dates, fares and scheduling information visit Parks Canada.
Roam Transit
Banff's official municipal transport is Roam Transit, a fleet of eco-friendly hybrid buses that run on electrical power for their in-town circuits. It's hard to miss these buses: they come wrapped in beautiful images of local wildlife, including grizzly bears, wolves, and bighorn sheep. And thanks to a GPS real-time information system that keeps you up-to-date on wait times, you'll never be left guessing when the next bus will arrive.
For passengers travelling with gear in tow, Roam Transit buses are outfitted to transport your equipment, too! Bikes, skis, snowboards, and strollers can all be brought on board or secured to the bus's exterior. Passengers requiring wheelchair access will find these buses equipped with a fold-out ramp and low floor.
Starting at just $2 for an adult one-way fare, you'll want to roam everywhere. For contactless boarding of Roam, ensure you download Token Transit and pre-purchase your tickets.
In the Banff Townsite
The Roam Transit Banff Local Routes have the town well-covered, so you can access all the sought-after locations, including the Banff Gondola, Fairmont Banff Springs Hotel, and the Cave and Basin National Historic Site (seasonal).
Local's Tip: As a registered camper, catch the LOCAL Roam transit for free FROM the Tunnel Mountain Campground to the town of Banff.
Lake Minnewanka
Starting after the May long weekend, Roam Transit will run buses to Lake Minnewanka. Leaving from the stop outside the Banff Community High School, these buses will run daily and stop at campgrounds and popular day-use areas on the Minnewanka Loop.

Local's Tip: If you're camping at one of the Two Jack campgrounds, you receive complimentary travel from your campground to the Lake or to Banff (Fares apply for return trips to the campgrounds.)
Lake Louise & Johnston Canyon
Choose between direct or scenic routes to Lake Louise and Johnston Canyon this summer. Take the 8X up the Trans-Canada Highway for an express option. If you want to visit both Lake Louise and Moraine Lake, opt for a Roam Super Pass, which allows you to access the Parks Canada Lake Connector route between the two lakes.
If a visit to Johnston Canyon or a scenic journey is what you are after, the journey up the Bow Valley Parkway on the 8S or 9 is spectacular (reservations required).
Moraine Lake
Roam Transit will offer services from Banff to Moraine Lake from September – October. This is the perfect option for those wanting to ensure a visit to this popular destination. Reservations are required for the popular service.
Canmore
The Roam Banff-Canmore Regional Route goes to nearby Canmore, where you can access additional amenities, restaurants, and outdoor activities. Don't forget you can bring your bike! That means you can ride the bus to Canmore and ride your bike back to Banff on the Rocky Mountain Legacy Trail, a scenic 22 km (13.7 mi.) paved route adjacent to the Trans-Canada (Hwy 1). Be prepared; there is a limit on bike spaces, and you may have to peddle both ways!