The How to Guide for Ice Skating in Banff and Lake Louise
Nov 8, 2022

|

Active Travel, Adventure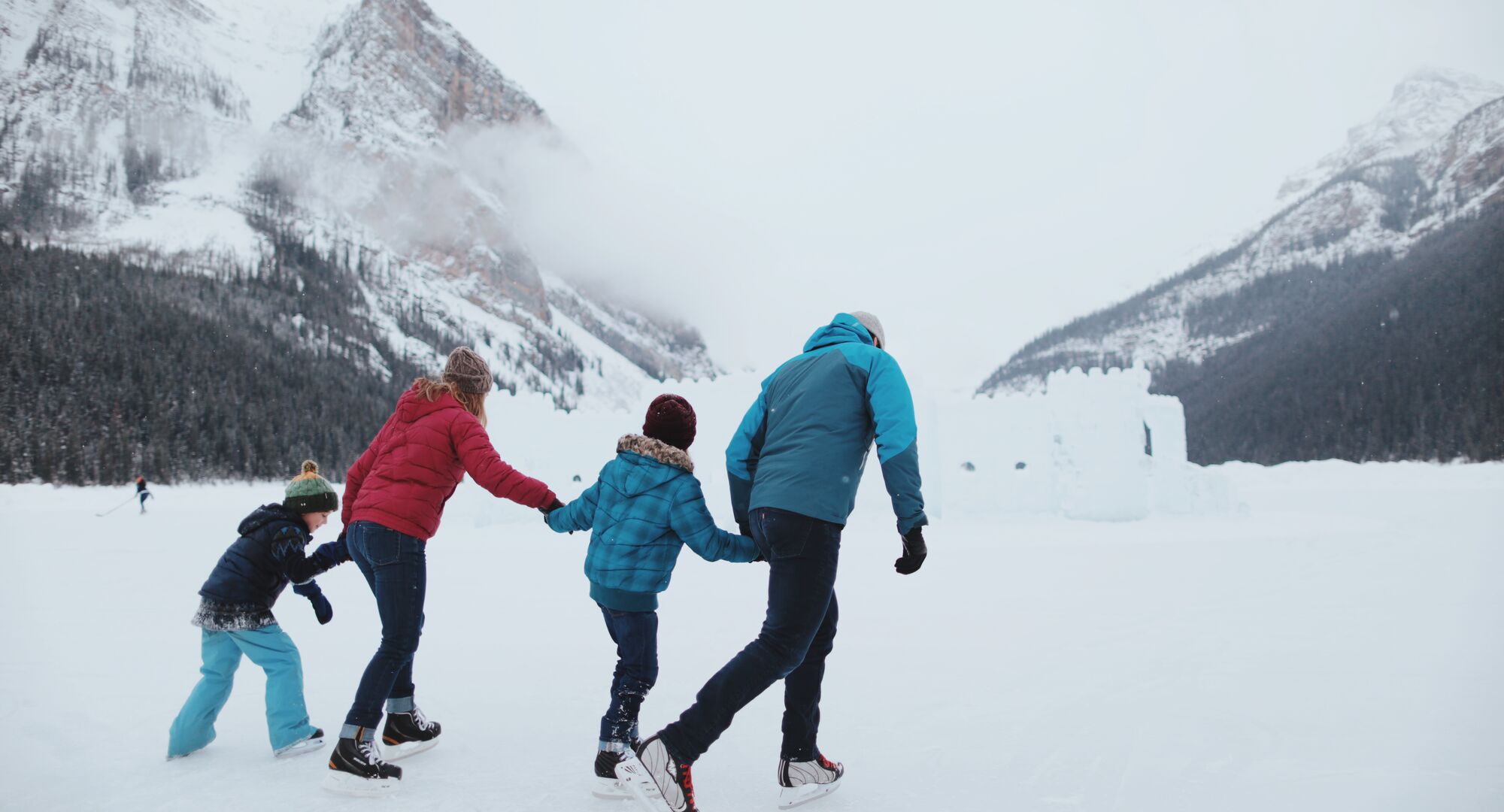 A winter visit to Banff National Park is your opportunity to dive into endless outdoor adventures. Ice skating is an easily accessible activity and is one of the most refreshing ways to experience the crisp magic of our snow quilted landscape. If you'd like to discover the thrill of gliding across a mirror-like sheet of ice, check out our beginner's guide to skating in Banff and Lake Louise.
Where to Skate
Within the Banff Townsite, your intro to ice skating couldn't be easier. Head to Fenlands Banff Recreation Centre, where indoor and outdoor skating rinks await. Boasting a whopping 16,000 sq. ft. of smooth ice skating surface, Fenlands Outdoor Meadow Rink is, just like the name suggests, set within a mountain meadow. If you wish to skate indoors, Fenlands also sports an NHL-sized rink, plus a regular indoor ice rink for public skating. Whatever option you choose, you'll be privy to the facility's warming areas, washrooms and concession.
For a truly pinch-me moment, make for Lake Louise. The jingle of horse-drawn sleigh rides passing you by, coupled with the glow of bonfires and the heady scent of woodsmoke wafting through the air, ignites the senses in a way you've never imagined.
With an ice castle anchoring one end of the frosted lake and glinting Victoria Glacier at the other, it's not difficult to find yourself under winter's spell while skimming across this iconic Canadian lake.
Where to Rent Skates in Banff National Park
If you don't have your own skates, there are plenty of rental options for skates, plus helmets, hockey sticks and skating aids in Banff National Park.
In Banff town, you can score rentals at Fenlands Recreation Centre. Additionally, Banff Adventures and Snowtips-Backtrax offer rentals in downtown Banff. If you're coming in from Canmore, check out Chateau Mountain Sports. For those headed to Lake Louise, Wilson Mountain Sports, situated in Samson Mall, is a good option.
What to Wear
Layers are the way to go when tackling any alfresco adventure in Banff and Lake Louise. Start with a moisture-wicking thin base layer under comfortable pants and a shirt before donning snow or waterproof pants. A soft insulated jacket, mitts and a toque (that's Canadian speak for knit hat) complete your look. Head to Monod Sports  or Ultimate Sports in Banff to get kitted out with your layers.
When's the Best Time to Skate
What's great about ice skating is that you can typically skate from when you wake up until you're ready to rest your head. Midday tends to be the most popular time, but the beauty of ice skating is its accessibility. Typically, you can carve your way across the ice from 8 a.m. to 8 p.m. in Banff and later into the evening in Lake Louise.
For a truly transformative experience, head out around dinner time. Gliding your way across any of our recommended outdoor ice rinks when the stars sparkle diamond-like in the velvety night sky is a memory you won't soon forget.
Safety Considerations
Never been on skates before? No problem! Take it slow and steady, and you'll soon find your groove. Beginner skaters ought to wear helmets, and most rental shops supply these.
Additionally, consider using a skating aid. These are hand-pushed gliding devices that can help with stability. Skating aids may be available to rent or can be purchased at sporting goods shops in the Bow Valley.
For the couples out there, know this: ice skating offers a sneaky opportunity to stumble and get caught by someone you're trying to snuggle up to. In fact, the wobblier you are, the better. And when you have one of the world's most romantic mountain settings as your backdrop, you might as well take advantage.
Rosy-cheeked and swimming in endorphins after taking your twirl, go ahead and melt into a cozy fireside chair with a spot of après-skate. (Why should skiers have all the fun?) You've just had the perfect winter's day in Banff National Park.
Plan your trip to Banff and Lake Louise today.