The Best Time to Visit Banff and Lake Louise in the Summer
Jun 6, 2023

|

Active Travel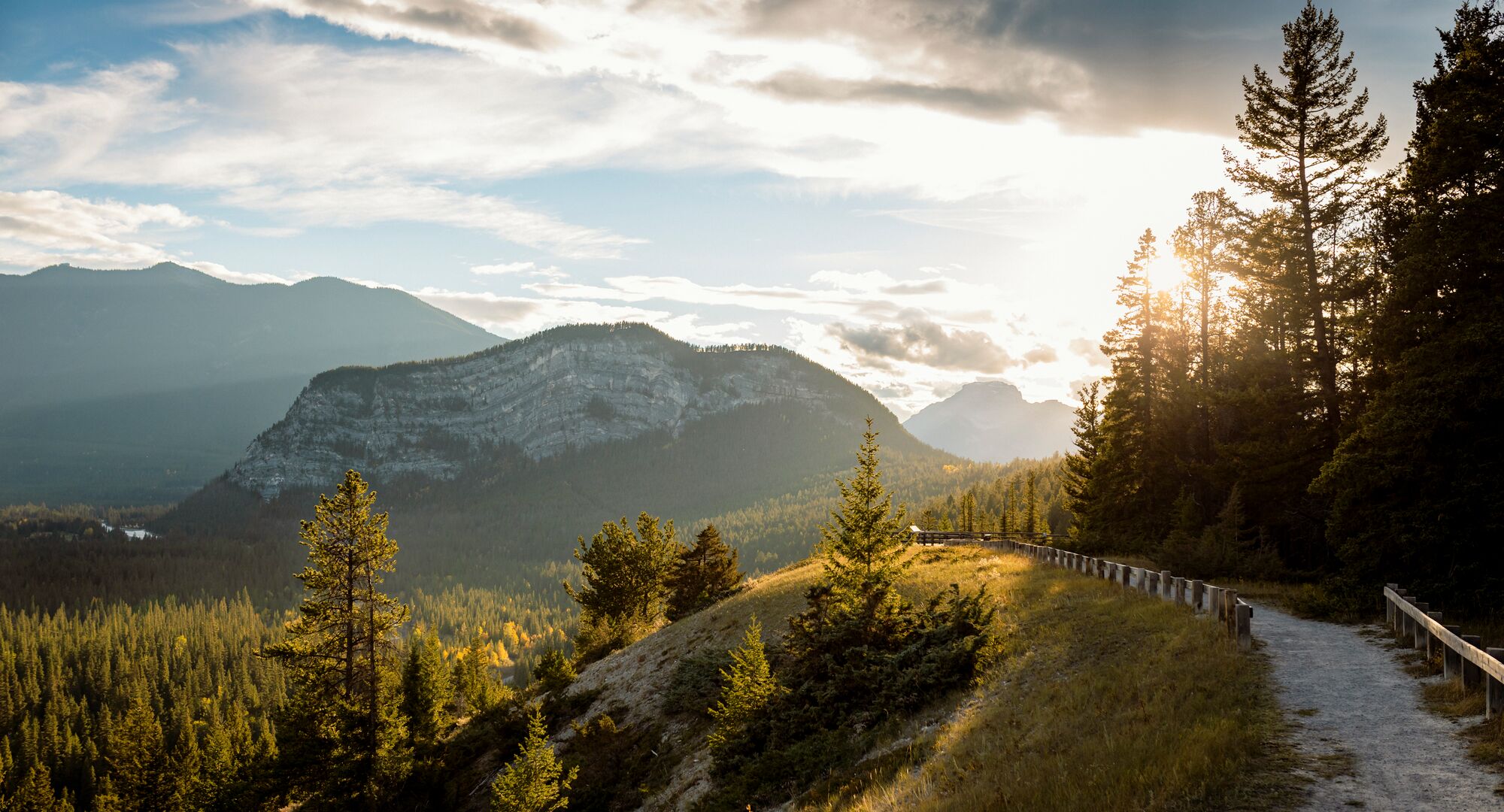 Lots of great adventures start with a question. If you're planning a trip to Banff National Park this summer, you've likely got plenty. We would expect nothing less! The good news is we've got answers.
We've gathered some of the questions we hear at our Visitor Information Centres about the best time to visit Banff National Park.
Spoiler alert – anytime is the best time!
We operate on Mother Nature's terms around here, which means we can't say exactly when the telltale signs of spring and summer will emerge. However, we have learned the patterns of the seasons and put together this timeline of summer's arrival, activities and events in Banff and Lake Louise.
Highlights for planning your summer trip to Banff and Lake Louise.
When does hiking season start? Mid-May for low-elevation trails and early July for high-elevation trails.
When do the lakes thaw?

Around the Banff townsite: early-May
Lake Minnewanka thaws: late-May
Lake Louise thaws: early-June
Moraine Lake thaws: early-June
Peyto Lake thaws: mid-June

When do the wildflowers appear? Late June and the peak is around mid/late July.
When do Banff National Park bears wake up? Late-April
When do Banff National Park bears hibernate? Mid-October
When do Banff's fall colours appear? Mid-September, lasting 3-4 weeks
When does it snow in Banff? Mid-October until Mid-May
When does Banff National Park open and close?
Banff National Park, and the town of Banff, are accessible all year round. We never officially "open" or "closed"; you'll just find something distinctive in each season. Summertime is particularly alive around here. Every month throughout the summer season offers different bucket-list Rockies activities, from wildlife watching to wildflower wandering.
Learn more about what to expect each summer month in Banff National Park.

When does hiking season start in Banff National Park?
With more than 1,600 km of hiking trails – some starting right from the communities of Banff and Lake Louise – 'it's a pretty sure bet that 'you'll find open hiking trails by late April.
The first to clear of snow are south-facing trails at lower elevations, gradually moving towards the treeline and opening up the alpine around mid-late June. Plan for after Canada Day (July 1) for high-altitude like these bucket list trails.
Whilst trails do not officially open or close, they should only be accessed and enjoyed once the avalanche risk has ended – usually around late June for higher elevations – and the trails are clear of snow and debris. Visit Parks Canada's online trail report to check the conditions for your hike.
When do the lakes thaw in Banff National Park?
Catching a mountain lake mid-thaw is an experience in itself. Smaller lakes close to the town of Banff melt first, and bigger bodies of water like Lake Minnewanka (a historic place to explore via boat tour) open up around late-May.
Higher-elevation lakes like Lake Louise, Moraine Lake and Emerald Lake often remain snow-covered until early-mid June. Lake Louise thaws typically around mid-June and hits its peak turquoise colour in mid-July. Moraine Lake thaws a bit later than Lake Louise and hits its peak in mid-late July.
In the meantime, picturesque spots like Two Jack Lake, which usually thaws by mid-May, offer their own great views and activities like paddleboarding and canoeing.
When do the wildflowers bloom in Banff National Park?
Beginning in late June, the slopes of the Rockies start to pop with radiant wildflowers. Wildflower season peaks around mid-July, and it is spectacular. Head up to Sunshine Meadows for prime viewing of mountain flora, like glacier lilies and alpine forget-me-nots.
When does wildlife come out in Banff?
Wildlife is active all year round in the Rockies, but you can tell summer is around the corner from the birds of Banff National Park. More than 300 species fly through the area, and 'they're most active in spring and early summer (mid-May through mid-July).
Following cues from the birds, some of our best-known wildlife, like bears, emerge from their winter dens. There is no official "bear season" in Banff, but the first bears are often spotted in late April. Banff National Park's bears typically stick around the valley bottom until late June, when they move into higher elevation territory as the snow melts.
They can still frequent the valley bottom all spring, summer and fall, so it's essential to be bear-aware while out on trails. You can rent bear spray from a variety of locations in Banff and Lake Louise, including Snowtips-Backtrax, Ultimate Sports, the SkiBig3 Adventure Hub, or Wilson Mountain Sports.
Mountain goats, elk, and deer can be seen throughout the year, but they tend to appear more often in late April in lower-elevation meadows, snacking on grass that's uncovered as the snow melts away.
'It's extra important to give wildlife space while 'they're raising young and mating. You might see signs around Banff during critical periods of wildlife activity, like elk calving in the spring and rutting in autumn.
To learn all about the lives of Banff National 'Park's wildlife residents, and safely view them, we recommend a bird-watching tour with Great Divide Nature Interpretation or a wildlife-viewing tour with Discover Banff Tours, Banff Adventures or White Mountain Adventures.
When do events happen in Banff National Park?
The unofficial kick-off to summer in Banff is Victoria Day in May, affectionally known as "May long weekend" around here. 'That's when hiking boots and paddle boards emerge from storage and restaurants start setting up their outdoor patio spaces.
You can count on these areas being extra vibrant on long weekends throughout the summer: Canada Day (July 1), Heritage Day (early August) and Labour Day (early September).
These long weekends are a great time to test out the 'park's extensive public transit system, which lets you skip traffic and parking. Another option is to visit after the peak summer months when the town takes hosts part in events like Banff's beloved Pride Week (mid-October).
If you're a runner, mid-June is your chance to run the Banff Marathon. If you aren't quite up to speed in June or looking to return for another glorious run by Banff's mountains, you can join the iconic Melissa's Road Race in late September.
When do the larch trees turn gold?
"Larch season" in Banff National Park has become one of the most anticipated times of the year. Anyone who has had the chance to wander through golden, glowing forests can confirm it's worthy of all the hype.
From about mid-September onwards, larch trees that grow only at this specific elevation and northern latitude start transforming the landscape. Larch season lasts for 3-4 weeks and is best explored on an immersive hike.
When does it snow in Banff?
There are some years when snowflakes can be spotted every single month in Banff National Park. Though flurries will truly begin at higher elevations in September, traditionally, the first significant snowfall comes sometime after our Canadian Thanksgiving holiday in mid-October. That's the cue for wildlife and locals to move into winter mode as the snow gradually settles in for the winter season.
So, if you're still wondering which month to pick, the good news is you honestly can't go wrong!