The Best Month to Go to Banff and Lake Louise in the Summer
May 2, 2023

|

Active Travel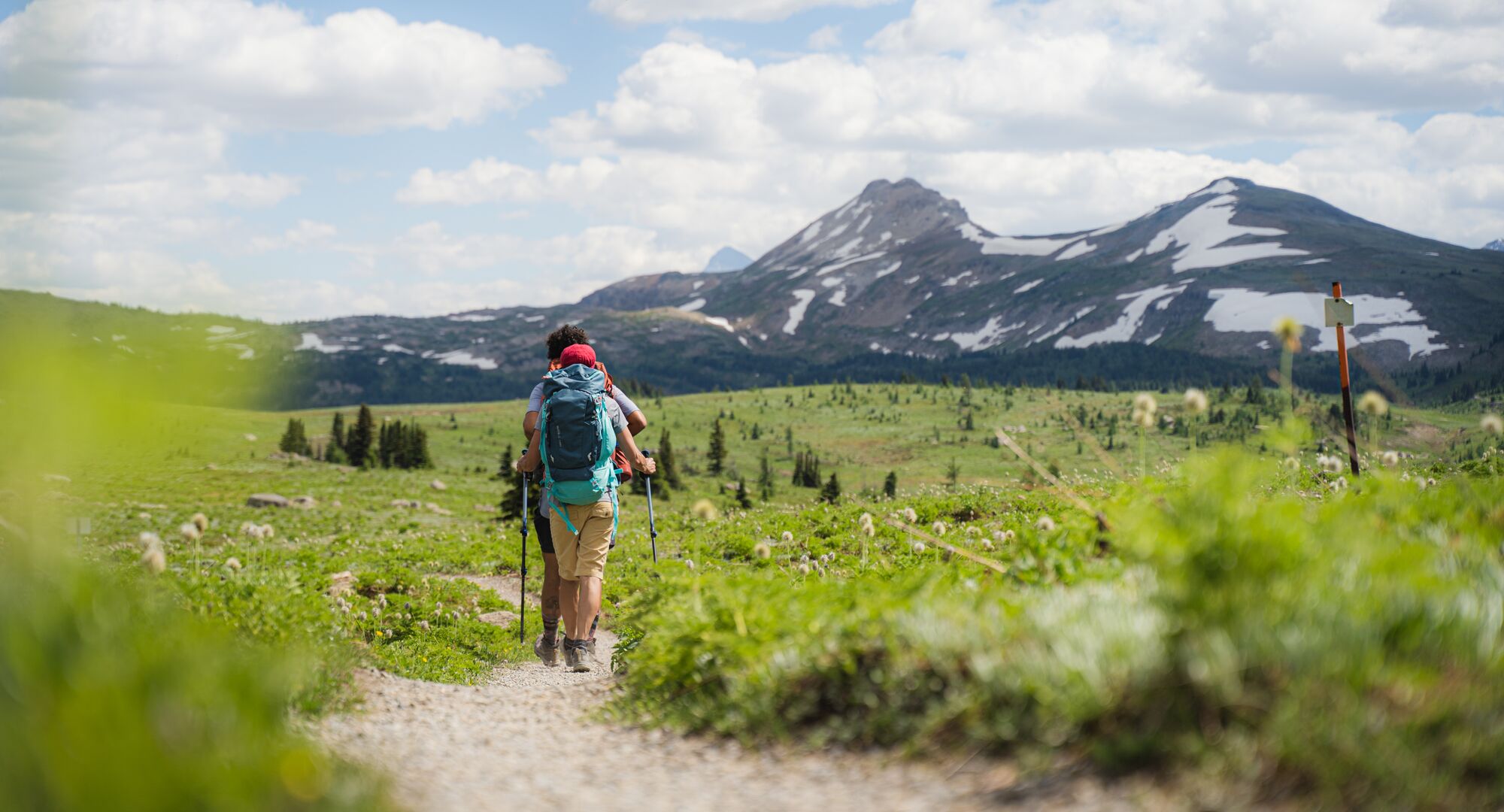 What is the best month to visit Banff and Lake Louise? While each summer month in Banff and Lake Louise hits a little bit differently, there's so much to soak in - from the spring mountain thaw and the last ski turns of the season to the turning of the golden larch trees in fall. Picture yourself taking in endless kilometres of scenic hiking trails in full wildflower bloom, observing a grizzly bear or elk in its natural habitat, gliding across a glassy alpine lake in a Canadian Canoe, and enjoying some of the most jaw-dropping bike routes in the world. It's all possible in Banff National Park.
While summer in the Rockies may seem short and sweet, there are plenty of nuances even within the sunny season - and some months are more ideal for certain activities than others. A bit of planning ahead ensures you're visiting at the prime time to enjoy exactly what you're looking for - be it wildflowers, waterfalls, or wildlife. Each visit brings a different experience and will have you coming back again and again. Settle in and stay awhile to enjoy everything summer has to offer.
Wondering what's the best month to visit Banff National Park? Here's what you can expect from a trip to Banff and Lake Louise during each summer month to help make the most of your next trip to the Rockies.
May in Banff and Lake Louise – The Best Time to Bike and Ski on the Same Day
May is all about getting out there on a pair of wheels or skis to enjoy the first signs of summer. The lakes haven't thawed yet, and many trails are still snowbound. As of May 1, the Bow Valley Parkway is brimming with bikes and people of all ages and abilities enjoying the car-free road. Normally open to traffic, this scenic highway is accessed by bike from the Banff townsite along Vermillion Lakes Road and is closed to traffic all the way to Johnston Canyon. There are plenty of points of interest along this route to stop and enjoy along the way, and nothing beats that classic perspective of Castle Mountain when it first comes into view.
While summer is in swing down in the valley, snow sports enthusiasts can get in their last laps of the ski season up on the mountain tops. Banff Sunshine Village is scheduled to remain open until the May long weekend, closing its year with the annual Slush Cup end-of-season party on May 22. Get out your neon spandex and celebrate in style with slushy ski turns (and bragging rights to say you skied in late-May)! 
June in Banff and Lake Louise – Thawed Lakes and Rushing Waterfalls
By June, most of the remaining ice on Banff National Park's beautiful lakes will have melted away. Soak in the splendour from the water's surface via canoe or stand-up paddleboard. Canoe rentals are available from the Boathouse at Fairmont Chateau Lake Louise - perfect for journeying out for that classic Canadian experience with front-seat views of Victoria Glacier, which the whole family can enjoy.
Banff Canoe Club, located in the Banff townsite, rents canoes for a paddle on the Bow River and up to Vermillion Lakes. You can also rent an inflatable stand-up paddleboard from the Banff Canoe Club, Bow Valley SUP,, Radventures, and the SkiBig3 Adventure Hub to pack en route to an adventure of your choice. Many lakes will offer views of the remaining snow on the mountain peaks.
Banff National Park's lakes are known for their signature turquoise hue, which starts appearing in late June as the glacial meltwater from the previous winter - rich with mineral "rock flour" - makes its way into the lakes.
Snow melting from up high in the mountains and the glacial runoff makes this the best time of year to see thundering waterfalls gorged with meltwater. Bow Glacier Falls on the Icefields Parkway is a moderate day hike for more adventurous folks to enjoy. Takakkaw Falls in Yoho National Park - the second tallest waterfall in Canada - is an easily accessible walk, perfect for young families. For more ideas on which waterfalls to discover, check out our roundup of waterfall walks near Banff and Lake Louise.
July in Banff and Lake Louise – Wildflowers and Big Hiking Days in Banff National Park
Summer is officially in full swing by July, with extra long days making it the perfect month to get in as many activities as possible. If you've had your eye on a bigger objective like a bike from Banff to Lake Louise, a multi-day backpacking trip to Egypt Lake, or maybe a full-day horseback adventure to Skoki Lodge, July is the month to get it done.
Of course, it's also an opportunity to fill the summer daylight with the perfect day of shorter activities. Drive down the scenic Icefield Parkway to see all the iconic spots and local gems - like Athabasca Glacier, Peyto Lake, and Mistaya Canyon - before hitting up a summer patio back in the Banff townsite or village of Lake Louise to enjoy at day's end.
Late July is typically when Banff National Park's mountains alive with nature's colourful confetti - wildflowers. The full bloom can be enjoyed on many hikes, including Sunshine Meadows and Helen Lake. Sunshine Meadows is accessible by gondola and is great for beginner hikers and families, while Helen Lake takes a little extra legwork but is well worth the effort. Watch Banff's webcams – especially those up at Sunshine Meadows – to see when the wildflowers start to bloom.
A few environmental factors - like the snow-pack, rain, and heat - can affect wildflower blooming times and can cause them to appear a few weeks earlier or later in the summer. But by late-July, you'll typically have the best chance to see blooming alpine meadows.
Are you looking for the best bang for your hiking time? Check out our 9 bucket list hikes that you have to try in Banff or Lake Louise this summer.
August in Banff and Lake Louise – High-altitude Hiking and Warm Weather
August brings the warmest weather to Banff and Lake Louise, inviting you to stay outside and enjoy the mountains. As most of the snow is completely gone from the higher-elevation hiking trails, it's time to head for the hills!
Bourgeau Lake is a challenging full-day hike, reaching an elevation of nearly 2,500 metres. The trailhead is located within a short drive from Banff. This hike pulls out all the stops, like a stunning lake (or four if you head to the pass), meadows to see the last of the wildflowers, and a challenging final push up to the panoramic vistas of the valley from Harvey Pass.
Hikes near higher altitude Lake Louise are also great for exploring in August. Try out the teahouse circuit by linking Lake Agnes and the Plain of Six Glaciers and heading up above Lake Louise by heading up the Little Beehive. You can also hike any of these individually for a shorter objective. Be sure to bring some pocket money for the Lake Agnes teahouse and Plain of Six Glaciers teahouse to fuel up on snacks and refreshments - everything tastes better in the backcountry.
After a hard day's hiking, you may want to spend the afternoon or the next day cooling down by getting on the water. Enjoy a scenic float trip down the Bow River, right from Bow Falls in Banff, or head out for a whitewater adventure on the Kananaskis or Kicking Horse Rivers.
Enjoy the warm summer afternoons with a visit to the Banff farmer's market every Wednesday, or set up your own picnic in a park, such as Central Park in the Banff townsite, day-use shelters at Lake Minnewanka, or a picnic table at Cascade Ponds.
September in Banff and Lake Louise – Larches, Campfires, and Cool Nights
As summer comes to a close each September, nature has saved some of its best for last with the beautiful golden larches. Larches are a type of coniferous tree seen throughout Banff National Park, featured more prominently in areas of higher elevation. During most of the summer, their green needles blend in with the rest of the tree species. But the first hints of cooler weather prompt them to turn a golden yellow, seemingly illuminating the mountains in a field of gold.
A few classic hikes in the Lake Louise area are great for seeing larches in their prime - like Larch Valley, Taylor Lake, and Saddleback Pass. While these trails are popular for a good reason, you'll need to do some planning to make sure you have a beautiful day amongst the larches. Book a shuttle, transit or a guided tour to ensure you can get out on these beautiful trails.
With that crisp chill in the air at day's end, you might be inspired to get comfy around a campfire with your loved ones. Grab a warm drink and a cozy sweater and enjoy the Canadian Rockies from the firepit at your campsite or at outdoor day-use areas located throughout the national park.
Being in a National Park means there are certain restrictions we need to follow to keep this place beautiful and protected. Gathering and burning wood from the forest is illegal, so please use the firewood provided by Parks Canada or pick it up at one of the stores in Banff and Lake Louise, such as local gas stations or IGA. Campfires must be built only in designated metal firepits, and they should never be left unattended. When you are done with your fire, please put it out fully and ensure no embers are left burning. Doing this will help protect Banff and Lake Louise for now and future generations.
So, what's the best month to visit Banff National Park in the summer? With so much to see and do in the Rockies this summer, any time is best to visit Banff National Park. Our friendly Visitor Services Team is happy to assist with any trip planning questions to help you make the most of it.
Try our intuitive trip builder to start building your trip to Banff and Lake Louise today.