Things to do in Banff and Lake Louise in September
Aug 29, 2023

|

Adventure, Nature & Wildlife, Events & Festivals, Food & Drink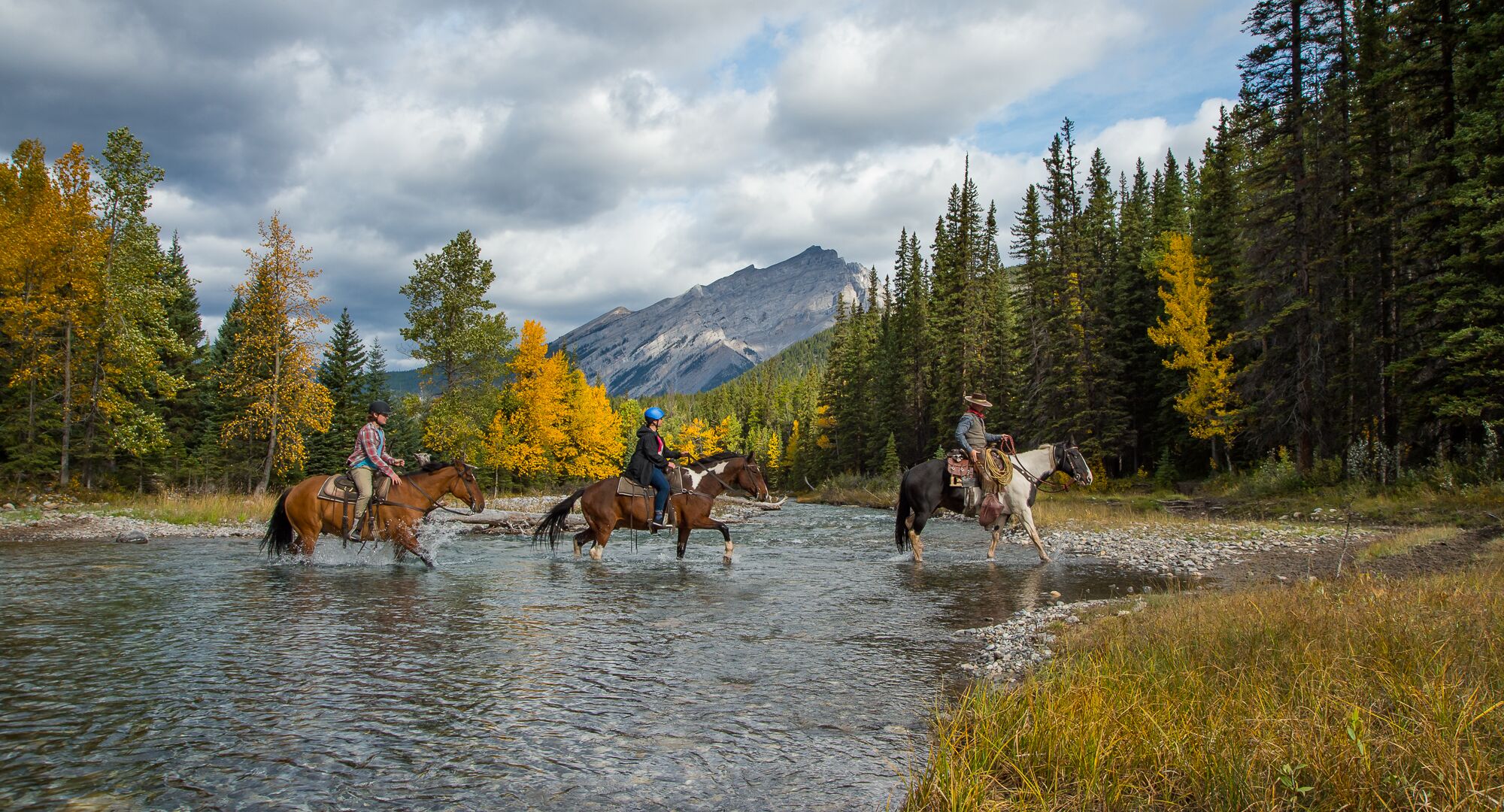 Planning a trip to Banff and Lake Louise in September is thrilling as a few things happen only during this month of the year. The larch trees are turning yellow, there is a hint of fall in the air, and you can start getting cozy around the fire pit at night. Plus, don't forget the start of all the great local food and drink options as new vegetables and flavours come into season.
Here is what you can expect to see, do and experience in Banff and Lake Louise in September.
See Fall in the Mountains
The Weather
Banff Townsite: 17 C/2 C
Lake Louise: 15 C/ 0 C
Banff and Lake Louise start to get colder in September. The summer months have come to a close, which means chiller nights and early mornings, with milder temperatures mid-day.
You can expect highs of around 17 C and lows of about 2 C in the Town of Banff. This gets colder the higher you go, so when you are out hiking, pack extra layers for when you get to the summit or viewpoint. The town of Lake Louise gets a bit chiller than Banff, with highs of about 15 C and a low of 0 C.
There is a chance of snow overnight, and your mornings can be quite cool. Be prepared for the risk of snowstorms happening. They are rare, but snow can start to fall in September at these elevations, and sometimes a major storm can affect the area.
What to Pack
Bring on the layers! Fall (also known as shoulder season) in Banff National Park can be both hot and freezing on the same day and even at the same time at different elevations.
If you are planning to hike – both a rainproof and a windproof shell are key. Waterproof or water-resistant boots are highly recommended as well. You might also want to consider a lightweight toque and even some mitts for the summit or peak.
A light jacket or warm sweater is also essential for evenings on the town, having a cozy dinner, shopping, or even just exploring.
What to See
Fall in the Canadian Rockies is largely defined by the iconic larch season from mid-September to early October. Wandering through valleys of trees transitioning to shades of orange, yellow, and gold is quintessential Fall hiking in the mountains. Those who are not keen to hike can still experience the magic of larch season in their own way.
Local's Tip: Roam Public Transit operates a daily service from Banff to Moraine Lake during larch season in the last two weeks of September and the first two weeks of October.
You can also get cozy this Fall with warm food and drink offerings found throughout the national park. Enjoy farm-to-fork specialties from the wood-fired kitchen at Farm & Fire. Or perhaps you would prefer a curated selection of artisan cheeses, cured meats, and house-baked bread in the intimate hideaway, Grapes, at the Fairmont Banff Springs Hotel. You can also settle into the rustic décor at the Grizzly House as you indulge in your choice of 14 varieties of fabulous fondues and sizzling hot rock selections. The chocolate fondue with melted Toblerone and fresh fruit is a sure way to end your evening on a sweet note.
What to Do
Banff Farmer's Market
For many, this event is the epitome of summer - think local artisanal creations, fresh produce, delicious food, and an upbeat vibe. September is the last full month of the weekly Wednesday Farmer's Market in the Banff townsite, so be sure to stop by, stock up on your fall fruits and veggies, and bask in the last of the warm sunny days.
Cycle the Bow Valley Parkway
Biking the Bow Valley Parkway (aka Highway 1A) is an easy way to escape the excitement of downtown Banff. From September 1 to October 1, the east section of the road from the townsite to Johnston's Canyon has been closed to vehicle traffic. This allows cyclists and pedestrians to enjoy the road at their own pace. The Bow Valley Parkway is a great place to spot wildlife, so be sure to have your cameras ready, make lots of noise, carry bear spray, and always give animals plenty of space.
Enjoy Top Attractions on a Tour
Getting to all of the top sights in Banff and Lake Louise may seem overwhelming to coordinate. Take the pressure out of planning, and leave it to the professionals at one of the region's exceptional tour operators. Join Discover Banff Tours on their Discover Banff and its Wildlife tour, which hits all of Banff's key landmarks.
If you are looking for a different way to get around town, try Pursuit's Open Top Tour, which will transport you back to 1930s Banff.
Guided hikes are a great way to learn more about the landscape and local flora and fauna, not to mention the secret spots that only locals know. Try one of White Mountain Adventure's guided day hikes to take your trek to the next level.
Run the town at Melissa's Road Race
If you're ready to stretch your legs and explore the park on foot, you can also participate in Melissa's Park Road Race this September. Breathe in the fresh mountain air as you travel past iconic sights in Banff, including glistening lakes, lush green parks, and even picturesque downtown Banff. There's live music along the route, the chance to spot wildlife, and running in the shadows of Mount Rundle and Tunnel Mountain (also known as Guardian Buffalo Mountain). This is Banff's longest-running road race - and sells out fast. Get your running shoes ready for one of the most beautiful races you'll ever do.
The Wildlife
September is an excellent season for wildlife viewing in Banff. Our wild neighbours are still highly active, giving you the perfect opportunity to see them. But there is also an elevated risk of animal encounters, so you need to be extra aware while out in the wild. While hiking in the Fall – or any season - you should carry bear spray and make sure to be mindful of our wild neighbours.
Bears
It's the tail-end of the bulk-up season for our local bears, who are exploring at lower elevations to find the last bits of vegetation before hunkering down for the winter. You always need to be bear-aware while in Banff, but you are more likely to find them in locations you wouldn't during the rest of summer in September. Because of active bear activity, some trails will be closed or limited to groups of 4 or more people.
Elk
Rutting season is in full swing for Elk in Banff National Park in September. This is the elk breeding season, and the male elk, or bull elk, can become aggressive during this time. It's important to always give elk at least 30 meters of space when you encounter them, and make sure to never get between a male elk and a female elk.
Seasonal Closures
Be aware that some summer activities in Banff shut down in September. This includes some outdoor experiences and the ski hill gondolas. If you are looking at participating in certain activities, please ensure they are still open during your visit in September.
Specific trails also close due to wildlife and snowfall. Snow begins to fall at higher elevations in September and can make passing some hiking trails difficult or dangerous.
Plan your Trip to Banff and Lake Louise
Plan your September trip to Banff and Lake Louise using our intuitive trip builder.
Start Planning