Things to Do in Banff and Lake Louise in May
Apr 19, 2023

|

Food & Drink, Nature & Wildlife, Active Travel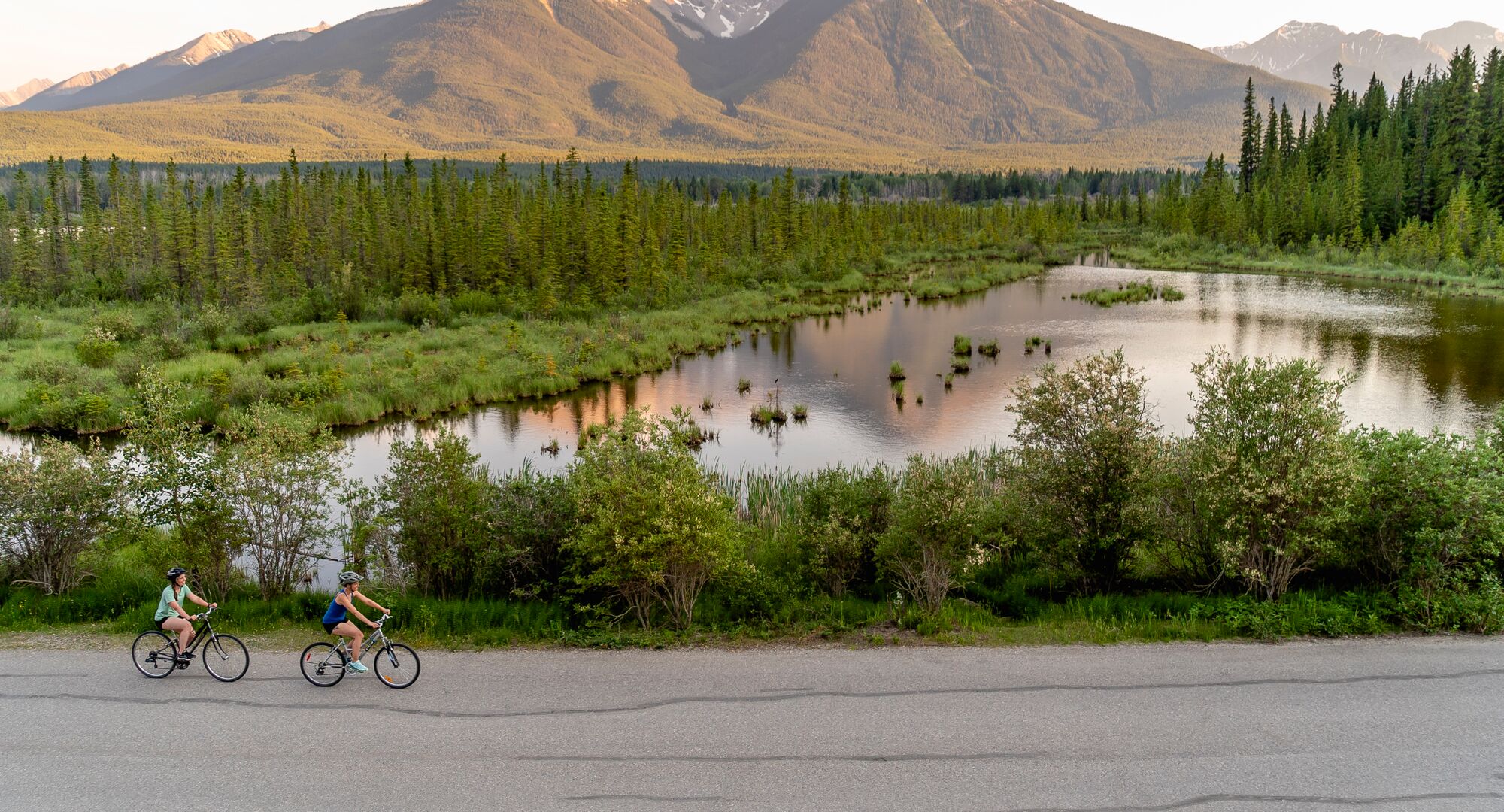 The mountains reawaken in May. Summer attractions open, spring skiing wraps, and wildlife start to reappear after a winter away.
It's a beautiful, off-peak time to visit Banff and Lake Louise, where you can still get the best of winter and summer. Similar to fall, spring is more of a two-week window than a season, but it certainly has its charms as it promises warm days ahead.
To top it off, areas of the national park that have been closed for the last several months start to thaw and become accessible to visitors.
Here's what to do in Banff and Lake Louise in May.
The Weather in Banff and Lake Louise in May
If you've been counting down the days until summer, you'll find a light at the end of the tunnel in May. Because of our latitude, we see more daylight hours than some of the most populated cities in Canada. Take Toronto, you'll have one extra full hour of light here, and the same can be said for the extra half hour compared to Vancouver.
It may not seem like much, but that extra light feels like a reward when you've emerged from winter.
This month, you can expect mild spring-like temperatures that are ideal for outdoor activities.
Banff Daytime 14°C (57.2°F)
Banff Overnight 1°C (33.8°F)
Lake Louise Daytime 13°C (55.4°F)
Lake Louise Overnight -1°C (30.2°F)
What to Pack for Banff in May
Just the same as we have more daylight hours, we also have more sunlight than many other places in Canada.
For this reason, make sure you pack your sunglasses and sunscreen, even though it's not officially summer yet.
You'll also want to bring variety in your wardrobe. Daytime temperatures could call for pants and a light jacket or may afford you the luxury of wearing shorts and a t-shirt for the first time this year.
The snow in the valleys will start melting, so waterproof boots are essential, and a good grip will help you stay upright on any lingering ice. Check the weather as your trip approaches because if it's been warm for a while, you could also get away with sneakers.
At night, you'll want a warmer coat and potentially a toque, mitts, and a scarf, even for wandering around town.
Since it's the last month of our ski season, you'll also want to wear layers that you can remove as the day warms up. It's more critical now than in other winter times to wear waterproof pants and jackets. Sitting to strap on your board or falling could leave you drenched, which makes for a miserable day, so dress appropriately.
If you're missing or can't find a waterproof jacket, pants, or shoes or need any other gear for your trip, you can always support a local business by buying it at one of the many outdoor gear-focused stores in Banff or Lake Louise.
On Banff Ave, you'll find a number of outdoor gear shops:
On Caribou Street and Bear Street, you can get your outdoor gear from:
Elsewhere in Banff National Park, you can buy outdoor gear from:
What to Do in Banff and Lake Louise in May
Walk Atop a Glacier
There's a staggering number of glaciers in the Canadian Rockies. Most are high in the mountains and inaccessible to people, but the Columbia Icefields Tour allows you to get up close to the enormous roadside Athabasca Glacier.
You can even stand atop it after riding in a giant Ice Explorer bus—the rugged tires are as tall as people.
Afterwards, head up the road to walk above the Athabasca Valley with an unobstructed view from the Glacier Skywalk.
Both the Skywalk and Columbia Icefields Adventure open in early May.
One Exhilarating End to Spring Skiing
Slush Cup is Banff Sunshine Village's way to end the ski season with a splash! Falling on Victoria Day long weekend, towards the end of May, it is the ski-party event of the year. Brave skiers and boarders barrel down the hill, picking up as much speed as possible before skimming a small pool of water at the base—some are successful, others are not.
If you don't arrive in time to register, ensure you secure a spot at Trappers Beer Garden to watch the fun and create your own scoring system to rate the participants. You'll see funky outfits, including retro windbreakers, animal onesies, and bathing suits (yes, in the snow)!
Lace up your Hiking Boots
As the snow continues to melt, some of Banff National Park's best hiking trails start to open up. Ease into summer hiking and get those mountain legs working with lower-elevation hikes. You'll still discover scenic viewpoints and mountain lakes that are the first to thaw. Check out 10 Early Season Hikes for some great options and A Guide to Spring Hiking to prepare.
Spot some Wildlife
Did you know Banff National Park is home to 53 different species of mammals? Springtime is one of the best times to spot wildlife in the park according to celebrated local photographer Paul Zizka. Watch for mountain goats grazing by the roadside or grizzly bears waking from their winter slumber. Remember to view wildlife from a safe distance and check out our blog about how you can be a more responsible visitor in Banff National Park!
Take a Swing
Every golfer knows the smell that sends tingles down their spine when they step onto the course. Around here, the fresh-cut grass is enhanced by the fresh mountain air. The Fairmont Banff Springs Golf Course (opens early May) goes unrivalled when it comes to its scenic backdrops and thoughtful layout. A round here is the perfect way to spend a spring day.
Build Your Trip Today
Looking to customize your itinerary or ready to start planning your trip? Use our intuitive trip builder to plan your trip to Banff National Park today and find the best things to do throughout Banff and Lake Louise.
Banff National Park Pass Required
Make sure you purchase your Parks Pass in advance for express entry into the park. All of the details, including frequently asked questions, can be found on our Purchase a National Park Pass page.