A Guide to Spring Hiking in Banff National Park
Mar 1, 2022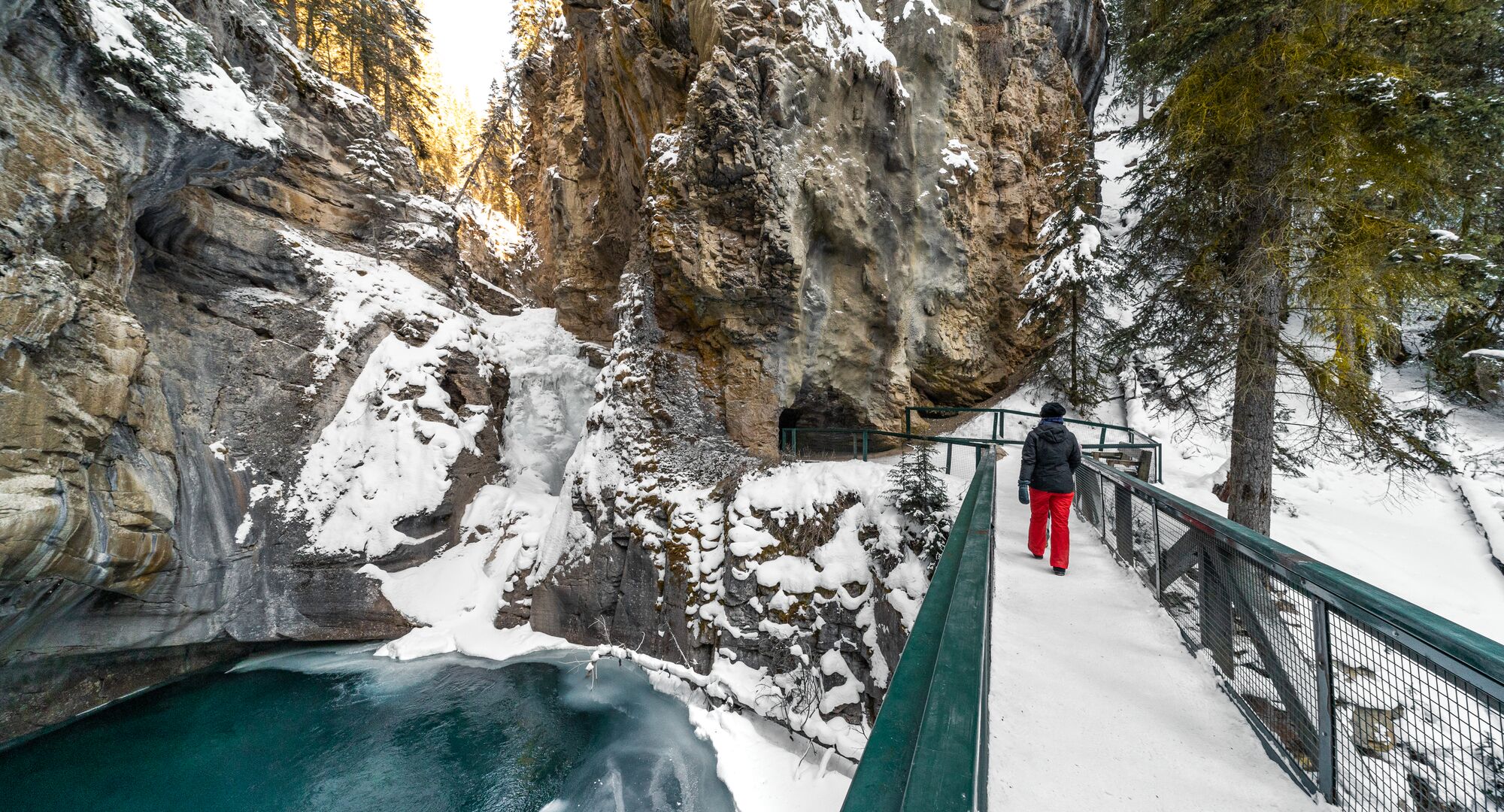 Warmer weather, fewer people, fresh mountain air, and longer days. Spring hiking in Banff National Park is exciting and rejuvenating. Play it safe: hike to your abilities, pack the bear spray, and gather your layers. Thaw out the hiking boots and prepare, with these tips, for spring hiking in Banff National Park.
Family spring hikes in Banff and Lake Louise
Springtime is the perfect excuse to venture out, explore, and burn all that energy with the family. Some scenic hikes for the family to experience:
If the young ones are struggling, we aren't condoning bribery, but a treat from Mary's Popcorn, Rocky Mountain Chocolate Factory, The Fudgery, Banff Sweet Shoppe or Mountain Chocolates might push them along. Up it a level with a promised visit to COWS Ice Cream or Beavertails afterwards.
Short spring hikes in Banff and Lake Louise
Ease into your return to hiking with some quick hikes. Bring treats from Wild Flour Bakery, or one of the cafes in town, for reaching the halfway point (or for starting). Here are some quick hikes we recommend around Banff and Lake Louise.
Moderate spring hikes in Banff and Lake Louise
Spring can be a tricky time to decide on hiking adventures, with some regions snowbound until summer. Avoid higher elevations as the sun warms the snow and creates dangerous conditions. Warm up the legs with some lower-elevation hikes and discover new views.
Dog-friendly spring hikes in Banff and Lake Louise
Your furry friend deserves to dig their paws and snouts into the snow. Here are some hiking options to share with your mate:
Research ahead of time, pick a hike ideal for pets and avoid hikes where pets are not allowed. Be on alert for wildlife and ensure your pet is on a leash. Visit the picturesque Banff dog park if your furry-friend needs more from the mountains.
Best time of day for spring hiking in Banff and Lake Louise
Spring is one of the best times to visit Banff National Park. To get the most out of your adventures, explore trails early. Pack a headlamp and hike as the sun rises along with all the animals, or enjoy a late afternoon and sunset hike (weather dependant). Check with the expert visitor services team for the best times for your chosen hike.
What to pack for spring hiking in Banff and Lake Louise
Hiking in the spring is a blend of conditions. You won't find green meadows quite yet, but you will encounter icy snow, compact snow, and mud. Be prepared for all seasons and for changing weather. Here are some recommended items to pack for spring hiking.
Water
Bear spray
Sunscreen and sunglasses
Traction cleats
Hat and gloves
Rain/wind jacket
First aid kit
Headlamp or flashlight with spare batteries
Hiking poles
Extra warm clothing in case of an emergency
Cell phone or satellite emergency communication device
Camera
Be safe
Spring weather can be unpredictable in the Canadian Rockies. Fluctuating temperatures can mean risky snow conditions. When picking your adventures, visit Parks Canada online to check trail conditions. Check weather conditions and choose a hike that will be safe based on the conditions. With wildlife waking up, as much as you might want to headbang to The Weekend or Neil Young, keep alert and the headphones out.
Spring hiking and walks in Banff National Park bring excitement and new energy. It's a time to enjoy the serenity and warmer days, but to also be cautious. Choose your hike, do some research, and come prepared for this spring adventure.