6 Ways to Enjoy Banff National Park More Responsibly
Mar 1, 2023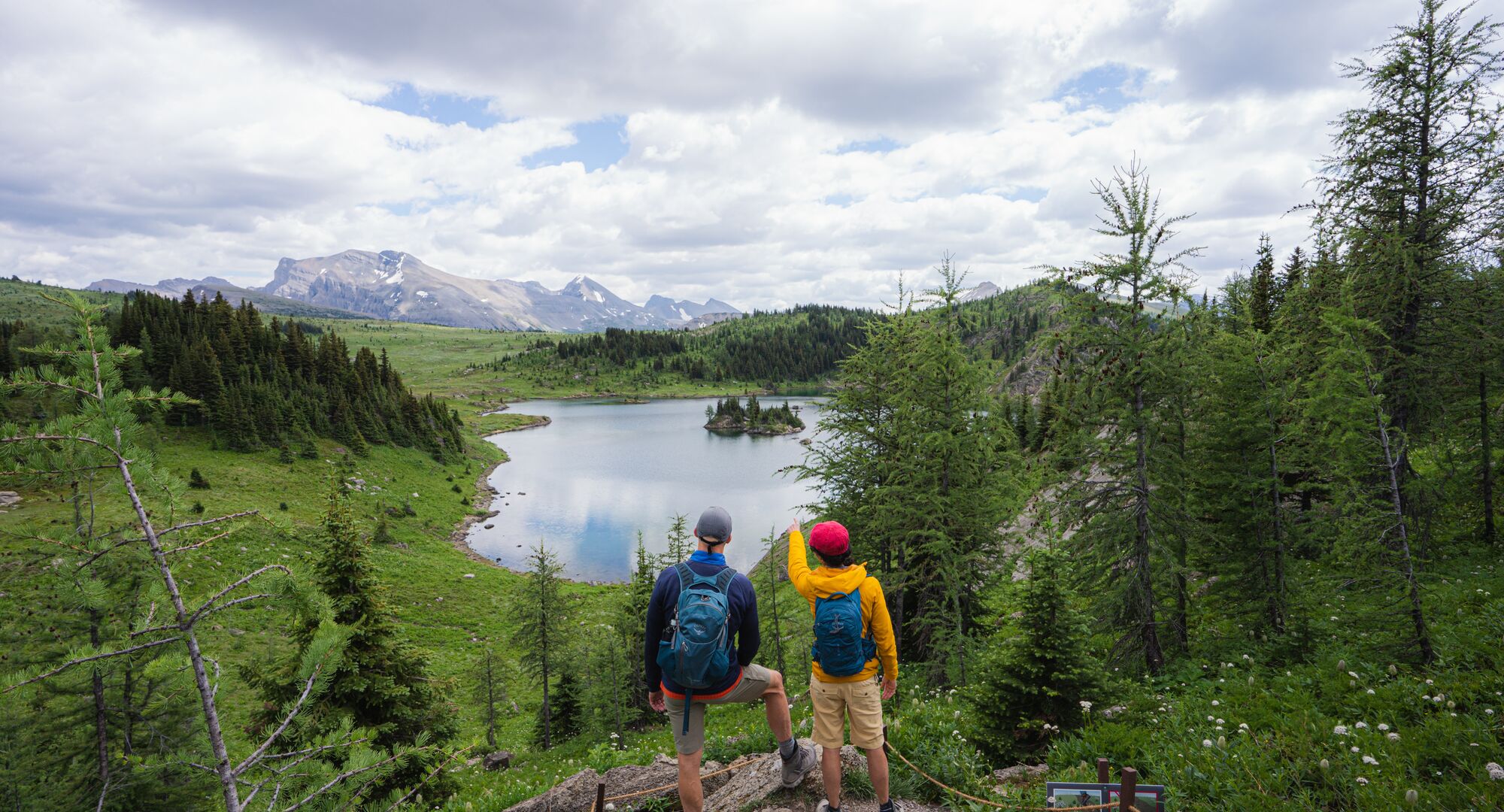 Things are done a little differently around here. Banff and Lake Louise are located within Banff National Park. This means that we have a unique set of guidelines which keep our visitors, communities, and wildlife happy and healthy.
Here are 6 tips to help you travel more responsibly and have an even better visit to Banff and Lake Louise:

1. Leave No Trace

But what does "Leave No Trace" mean in Banff National Park? Simply, it means ensuring that your impact on the park is as small and as positive as possible. But, whilst your footprint remains small, we are committed to leaving a big impression on you!
The Parks Canada team knows all the best spots and how to get there. That's why they've given us a network of breathtaking trails and viewpoints to enjoy, along with guidelines that will help us preserve them.
Venturing off designated trails contributes to erosion, which threatens the preservation of our national park's stunning landscape and environment. So, by staying on the trail, you will get to where you want to go and ensure our ecosystem continues to thrive. Talk about a win-win!
If you're camping, be sure to lock away any food or garbage in a vehicle or designated food locker. This way, you'll prevent the wildlife from getting near any leftovers, which will keep them on their all-natural diet - ensuring they remain healthy and our communities remain safe.
2. Choose Local & Choose Reusable

Bring your reusable cup and enjoy a hot drink from one of over a dozen local coffee shops in Banff and Lake Louise. Packing your own reusable cup takes up little space but makes a big difference.
Even one coffee a day for the duration of a 5-day trip, multiplied by the 4 million visitors Banff National Park sees every year, results in 20 million single-use coffee cups being used annually inside the park. We think that's 20 million too many. So, by bringing your own cup, not only will your beverage stay warmer for longer, but you'll also be reducing waste and the environmental footprint of Canada's first national park.

You're probably also going to want to pack a picnic for your hike or buy a snack or two to enjoy with your hot drink. Our locally owned and operated bakeries, cafes, and restaurants will be happy to hook you up with some fresh bites, no matter how hungry you are. Choosing local and fresh means less packaging and less waste – all helping to keep our national park beautiful.
Did you know, you can even ask for a reusable container for your takeout at participating restaurants and cafes through the Banff isn't Disposable program? For a small deposit, receive your meal in the container, return it at any participating location afterwards, and receive your deposit back. This is a small request that can make a huge difference to the environmental impact of tourism in Banff National Park.
3. Keep Wildlife Wild

When we say "wildlife," we really mean it. From bull trout to mountain goats, the species calling Banff National Park home are truly wild, and it's up to all of us – visitors and locals alike – to keep them that way.
Space is something we have a lot of here, so give as much of it as you can to the wildlife. Some animals, such as deer and elk, need at least 30 metres (3 bus lengths) between you and them; others, such as bears and coyotes, need at least 100 metres (roughly 2 ice hockey rink lengths).
Catching a glimpse of an elk, bear, eagle, or any of our true locals is a special moment. If you spot an animal from your personal vehicle, please don't stop on a road other than at a marked rest stop.
If you are able to safely pull into one of these areas, remember to stay in your car. This keeps you, other road users, and wildlife safe.
If you want to sit back, relax, and keep your eyes on the wildlife rather than the road, consider taking a tour with one of our local tour operators – let them take the wheel so you can keep your hands on your camera.
You can find all the details of distance requirements, as well as other tips for keeping wildlife wild, on the Parks Canada website.
4. Photograph Responsibly

We know you'll want to take some photos of our jaw-dropping views or our local wildlife to show your friends and family back home, but there are some things to keep in mind when you're snapping those iconic shots.
Scrambling down a cliff or up a tree might seem like the place to get the best angle, but here's the issue: venturing off our trails and viewpoints can be dangerous, and we want you to make it home in one piece to share your awesome photos. The trail crews know all the best spots, so stick to the marked viewpoints - save our rescue teams a callout, and still get those world-class photos and memories to take away with you.
Thinking of keeping your feet on the ground but getting an aerial shot? Think again: drones are banned in Banff National Park due to the level of disturbance they can cause to wildlife, so leave your drone at home. If you want a different view of our impressive peaks or sparkling lakes, consider taking a helicopter tour or a boat cruise instead.
5. Take Transit

If you choose to take a personal or rental vehicle into Banff National Park, parking in one of our large, free parking lots and taking transit is an easy, cost-effective way of seeing the sights. You'll spend more time enjoying our spectacular views and less time circling parking lots. Sounds like a good deal, right?
Check out our Getting Around page for the details of where you can access in the park by leaving your car behind for the day. Prefer smaller groups? Not a problem – we have plenty of local tour and transfer operators who will be happy to show you around or shuttle you between locations with a personal touch.
6. Know Before You Go

Like we said, we do things a bit differently around here. For example, the crisp mountain air is as important to our communities and wildlife as it is to you.
That's why the Town of Banff has introduced a by-law which prevents smoking in public places in the Banff townsite: including, but not limited to, sidewalks, bus stops, parks, and markets. You can find more information on this local bylaw and all others by visiting the Town of Banff's website.
Our unique rules don't stop at the municipal level; being in a national park, we must also follow federal regulations, such as camping only in designated campgrounds and keeping dogs on leash at all times. You can check out national park regulations and read about fire bans and trail closures on Parks Canada's website.
Travellers can brush up on these need-to-know details before they visit. This helps keep our wildlife, communities, and you, safe. If you have any questions, our Visitor Services Team are available via Live Chat, phone call, or in-person in our Visitor Centres, daily.
The 10-Year Vision for Tourism in Banff and Lake Louise sets out our destination's commitment to reducing the footprint of everyone enjoying the park, and creating opportunities to have a positive impact.
Thank you for doing your part to help ensure a sustainable future for Banff National Park.