How to Get Around Banff National Park
May 25, 2022

|

Sustainable Travel, Budget Travel, Active Travel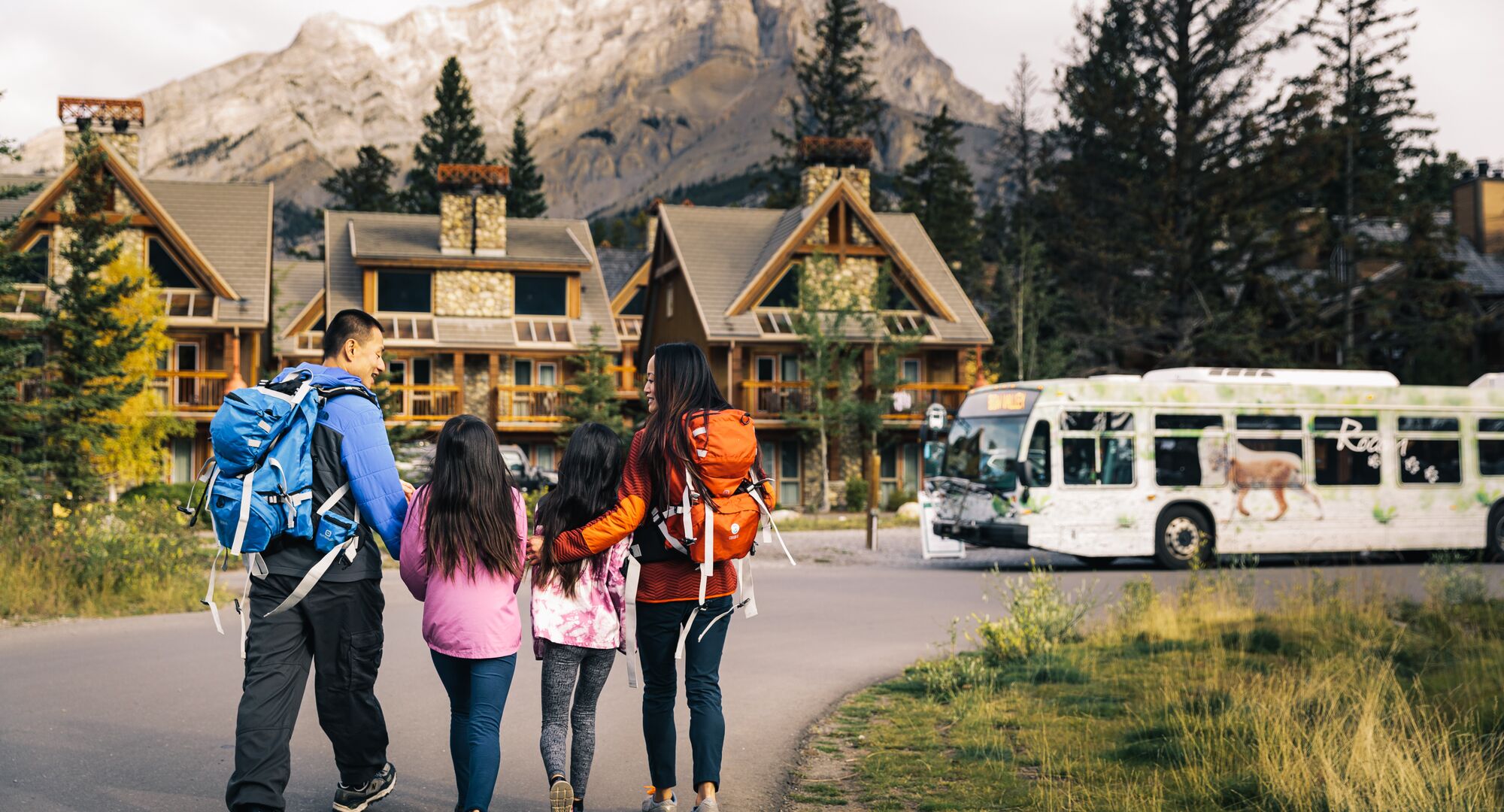 So, you're planning a trip to Banff National Park this summer.
There are many different ways to get around once you're here and we've compiled them here to make your trip planning easy.
Travelling from Calgary
If you're flying into Calgary to start your Banff vacation, there are three shuttle options that can get you right to the door of your hotel.
If you're visiting from downtown Calgary, meet one of these shuttles for a ride to Banff National Park:
Getting around the Town of Banff
Roam Transit
Did you know the Town of Banff has its own transit system? The Roam bus will get you around town and to some of the top attractions, including the Banff Gondola, Fairmont Banff Springs Hotel and the Cave and Basin National Historic Site.
Want to wander further afield? Roam still has you covered. Roam Route 6 will take you out of downtown Banff along the Minnewanka Scenic Drive. Don't forget to get off the bus and explore! With stops conveniently located at the magnificent Lake Minnewanka, Two Jack campgrounds, and day use area. Bring your snacks for a picnic and stop at the Cascade Ponds to build a campfire in one of Parks Canada's designated fire pits and take in the sweeping views.
Interested in taking in a few stops in one day? Use Roam as your shuttle for the day with the reservable super pass. This pass allows you to be a walk-on passenger with all Roam Transit services in Banff National Park as well as the Parks Canada Lake Connector shuttle. You can reserve your pass direct from Roam Transit.
For a complete breakdown of routes and schedules, please visit Roam Transit.
On Foot
Finally, you've arrived in Banff. What better way to stretch your legs and enjoy the fresh air than to explore the area and its attractions on foot? Banff National Park is vast, with many sights and hikes to explore, but you don't need to go far to discover the beauty the park has to offer. Some of the most popular attractions, sights, and hikes are accessible right in town.
Looking for a hike or a walk you can get to on foot? Try Tunnel Mountain, the Hoodoo Trail, Sulphur Mountain, Marsh Loop, Sundance Canyon, or the Fenlands Trail, all accessible on foot within the town. For more inspiration, check out our blog Exploring Banff On Your Own Two Feet.
Bicycle
Forget about parking and enjoy the freedom of your own schedule by bringing or renting bicycles. Bike up Tunnel Mountain Drive and stop at the Hoodoo lookout, cycle the Sundance Canyon Access Road, or take in a view of Mount Rundle along Vermilion Lakes Road. With a bicycle, you can make your itinerary on the fly and see where the day takes you!
Want to travel further afield? Bring or rent your bike in June and September when the Bow Valley parkway closes to private vehicles - leaving the 1-lane highway open for cyclists to enjoy car-free all the way to Johnston's Canyon.
Don't have a bike or travelling light? Rent in town from around $35/day.
Bike rentals are available in Banff from:
Lake Louise rentals are available from Wilson's Mountain Sports.
Canoe, Kayak, or SUP
This is a bit of a stretch, but hear us out. OK, so you can't explore the entire town, but if you pick up a SUP rental from SkiBig3 Adventure Hub, Bow Valley SUP, Black Diamond Rentals, or Radventures or a canoe, kayak, or SUP rental at the Banff Canoe Club, you can explore the Bow River upstream. Within minutes you've left downtown Banff behind and have a completely different view of the park. Local tip: When the water levels are high enough early in the season, paddle from the Bow River to the Vermilion Lakes. Looking for more paddling inspiration, check out 8 Jaw-Dropping Paddles to Explore in Banff National Park.
Getting to and around Lake Louise
Looking to go visit the two iconic lakes - Moraine Lake and Lake Louise - by public transit? Roam Transit can take you to these iconic Banff destinations as well. You'll want Roam routes 8S (scenic) and 8X (express). In September until the road closure, leave your car and parking behind and get to Moraine Lake by taking Route 10. Looking for waterfalls? You'll want Routes 8s or 9 to Johnston Canyon.
Reservations are required when riding the 8S or 9 to Johnston Canyon and Lake Louise and route 10 to Moraine Lake.
Want to use Roam as your daily shuttle service? Don't miss out on the reservable super pass - which allows you to be a walk-on with any Roam Transit service.
Parks Canada Shuttle Buses
From May - October, leave the car behind and let Parks Canada shuttle you around Lake Louise. Board the Roam bus from Banff to Lake Louise and disembark at the Lake Louise Village. Transfer to the Parks Canada shuttle system to the Lake Louise Park and Ride to explore. Combine the Park & Ride connector, Moraine Lake shuttle (from June 1) or Lake Louise Shuttle, and the Lake Connector (from June 1) to visit both Moraine Lake and Lake Louise in one day. You will need to pre-book Parks Canada shuttles.
For the perfect car-free day in Lake Louise, check out 'How to spend a summer day in Lake Louise'.
Getting to Moraine Lake
Starting the summer of 2023, Parks Canada closed the road to Moraine Lake to public vehicle access. That means you'll have to find an alternative option for getting to the iconic Moraine Lake.
Join a Sightseeing Tour
Take a guided tour and enjoy a visit to Moraine Lake and other iconic Banff National Park locations. ABest Transport and Tour Services, Banff Sedan, Brewster Sightseeing, Discover Banff Tours, HopOnBanff, Mountain Park Transportation, Radventures, White Mountain Adventures, WowBanff and Yamnuska all offer tours that include stops at Lake Louise and Moraine Lake.
Shuttle Options
Fairview Limousine, Moraine Lake Bus Company and Mountain Park Transportation operate shuttles multiple times daily from June to October. Or double the adventure with the Lake Louise Ski Resort & Summer Gondola's gondola and shuttle package.
Parks Canada Shuttles
Parks Canada is offering daily shuttles from the Park & Ride at the Lake Louise Ski Resort to the Lake Louise Lakeshore and Moraine Lake. Available from May to October, shuttles must be reserved ahead of time. Learn more.
Alternative Transit Options
Looking for something a bit different than taking public transportation? Banff has a variety of options for getting to the most popular destinations in the park including open-top buses and small private shuttles.
Private Tours
Are you looking for an accessible experience with some insight into the history and wildlife of Banff National Park? The area offers multiple guided experiences to choose from with a broad range of activities tailored to diverse interests and abilities:
Explore Banff by Car
It's fair to say that driving through Banff National Park gives you the most flexibility in terms of plotting out your route. Not all attractions are accessible by other modes of transportation, but limited parking is a downside of taking a car to popular locations.
Arriving at Calgary Airport? You can book a car rental there. Or, take the Banff Airporter or Brewster Shuttle bus from the airport to Banff and reserve a car at one of a number of rental companies right in downtown Banff:
Availability and rates will vary, so if you're planning on renting a car to get out of the Town of Banff and explore the rest of the park, be sure to reserve in advance.
For more information navigating Banff National Park during the summer months, please visit www.explorethepark.ca.