Explore The Park
RV & Camping Transportation
If you're staying at a campground park your car or RV at your site and use transit to get around. Use these tips to make the most of your visit to the mountains.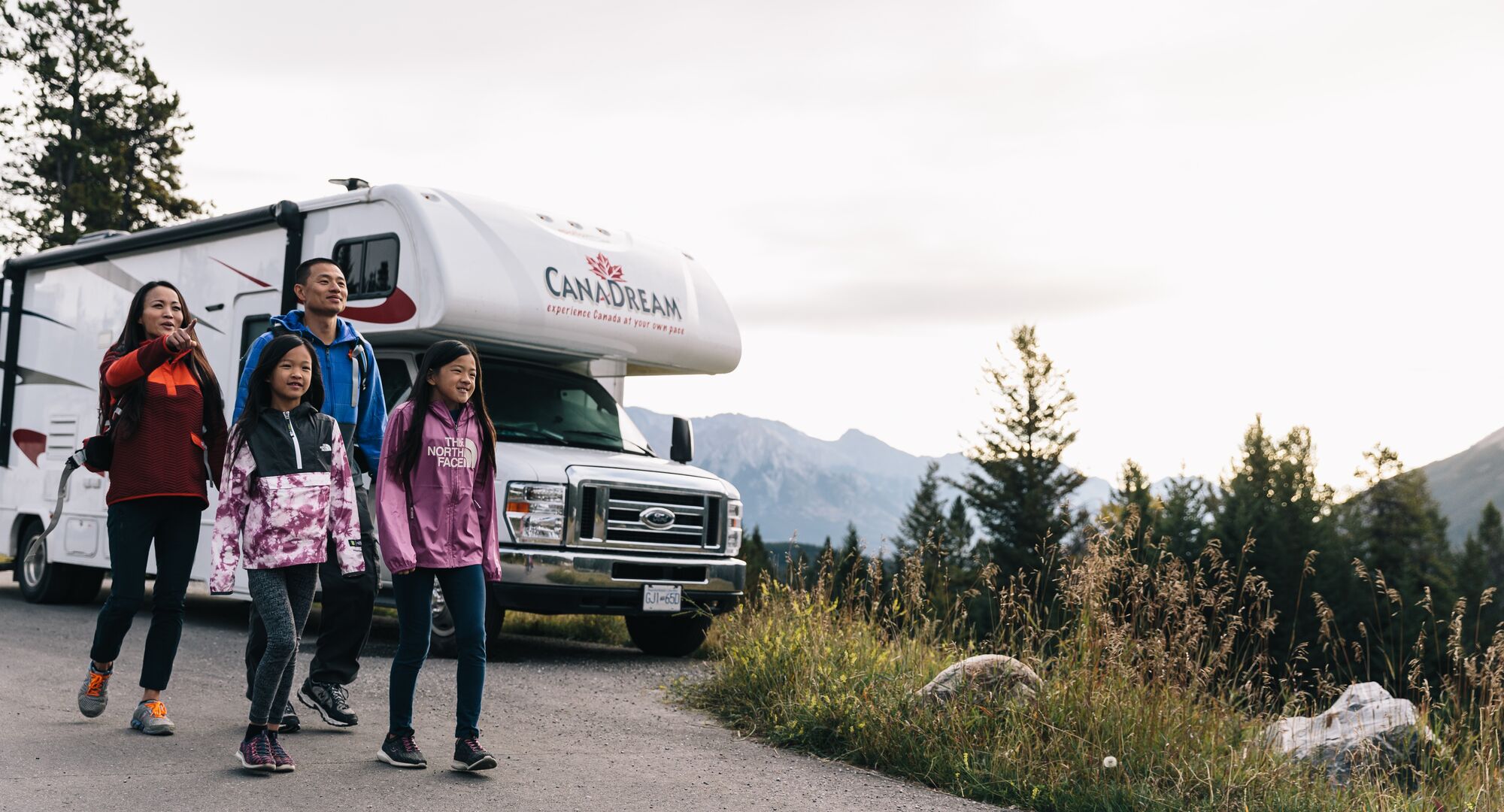 Free public transit for registered campers
If you're staying at Tunnel Mountain, Two Jack, Two Jack Lakeside or Johnston Canyon campground you are eligible for a FREE one way ride from the campground into Banff town. For the Tunnel Mountain campgrounds use Roam Transit Route 2, Two Jack and Two Jack Lakeside campgrounds use Roam Transit Route 6 and Johnston Canyon campground use Roam Transit Route 9. Fares apply for all other rides.
Tips for the best experience
Use transit and shuttles to explore the park, so you can spend more time sightseeing and less time driving.
Download the Roam Transit Token Transit app to purchase and reserve your public transit rides in advance.
Park your RV at your campsite or at designated RV lots, as marked.
Walk or bike the trails in Banff and Lake Louise, bicycles are available to rent at local shops.
Parking and getting around
There are several designated, long-term parking areas for RVs in Banff and limited lots in Lake Louise. The best way to get around is to park and use transit and shuttles.
Banff
Leave your RV at Tunnel Mountain or Two Jack campground and start your adventure by hopping on transit. Registered campers enjoy free departures from Tunnel Mountain campground on Roam Transit Route 2. Fares apply for all other rides. 
For quick access to Tunnel Mountain Campground and to avoid traffic, enter the town of Banff using the Lake Minnewanka entrance from the Trans-Canada Highway.
Avoid crossing the Bow River Bridge during peak afternoon hours from noon to 6 p.m. The easiest way to access attractions such as the Banff Gondola, and Bow Falls, is to take transit.
Explore Banff as much as you want with Roam Transit's unlimited day pass. It's only $5 and drops you off and picks you up at all of Banff's top attractions.
Have a big day planned? Purchase a 1-Day Super Pass and travel on any Roam route for $25 per adult. 
Visiting for the day? Park and Roam! Park in designated, long-term RV parking areas, and hop on a Roam bus. Check out banffparking.ca for more information. 
Gas stations at the corner of Lynx Street and Wolf Street are open 24 hours. Propane refill stations are only available in Canmore and Lake Louise.
Lake Louise
Roam Transit offers daily services between Banff and Lake Louise all year-round. 
Parking in Lake Louise is limited. Park your car RV at the Park & Ride at the Lake Louise Ski Resort and use the Parks Canada shuttles to explore the Lake Louise area.
More information
Still have questions? Our Visitor Centres are open 7 days a week or you can contact us via email, chat or phone at toll free 877-762-8421.