Winter and Ski in Banff and Lake Louise
Imagine if you could step into a real-life snow globe? That's what experiencing winter in Banff National Park feels like. November-May you'll find plenty of snow, as you reconnect with nature, yourself and your family amidst the fresh mountain air and the peaceful snow-blanketed landscape. Visitors can experience every authentically Canadian winter activity you can think of in Banff and Lake Louise or the surrounding area. Incredible animal encounters, stunning mountains and world-class skiing in one of North America's longest ski seasons are a few things available to visitors.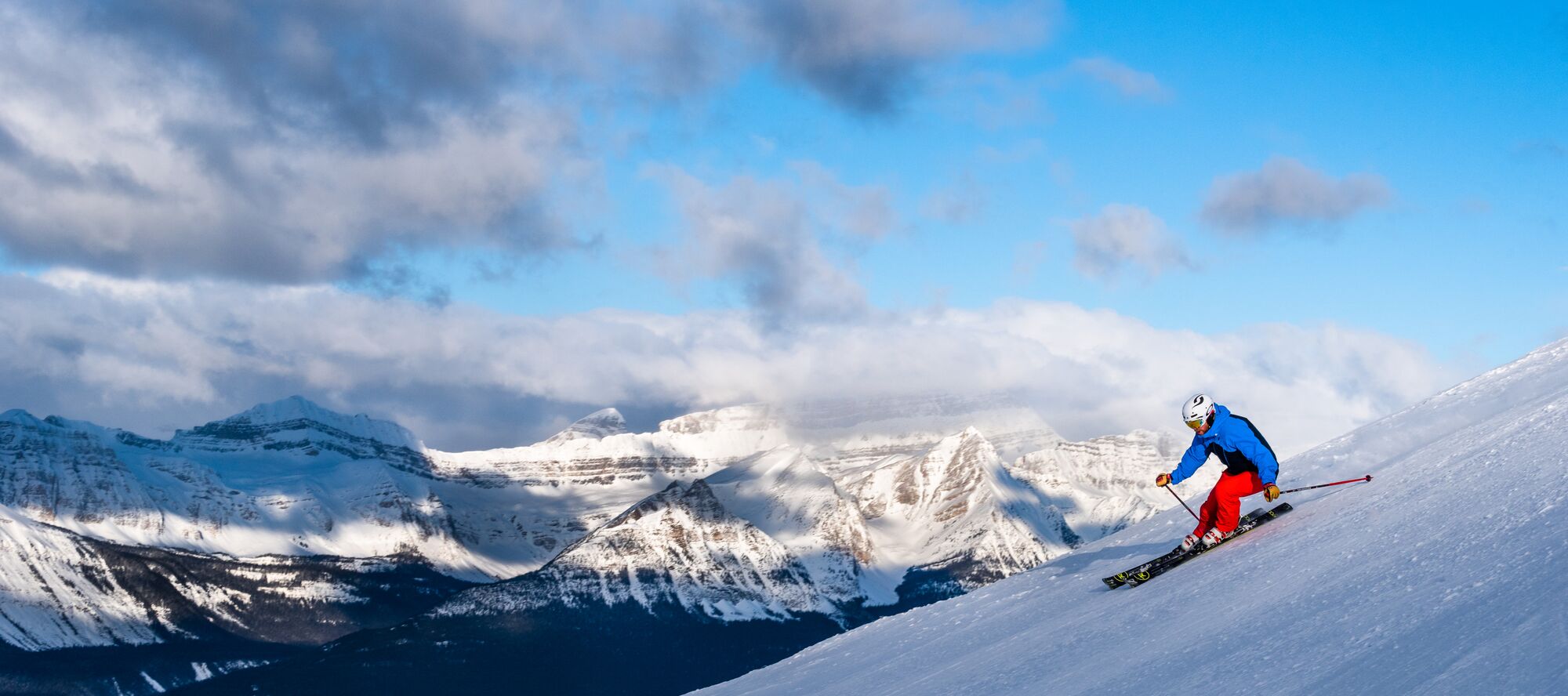 Banff National Park may boast three area ski hills, but if the slopes aren't calling your name there are plenty of other winter activities to keep you busy! Snowshoeing, cross-country skiing, ice-climbing, sleigh-riding, dog-sledding and ice skating will get you to fall in love with winter, while a visit to local museums and galleries will help you appreciate the arts and culture scene of Banff. Finish off a busy day with a soak in the Banff Upper Hot Springs and you will be glad you came!
Snowshoe in a Winter Wonderland
Snowshoeing is a great choice for a fun winter activity because it is easy to learn, inexpensive, and can be enjoyed by people of all ages, fitness levels, and experience. Prime snowshoeing season in Banff and Lake Louise is normally late December through to early April. There are many options for routes and trails, ranging from short, easy walks around town to backcountry epics. Parks Canada maintains a long list of trails to try – plan ahead and know the conditions.
Special highlights include the Marsh Loop, a great choice for families that offers expansive views of the Bow Valley and lots of birdlife during the winter; and the Ink Pots via Moose Meadows trail, which takes you through dense forest to brilliantly coloured mineral springs in an open meadow.
Ice Skate on a Frozen Lake
When the mountain lakes freeze in Banff National Park, they offer the perfect opportunity for some of the most scenic ice skating in the world. For over a century, locals and visitors have enjoyed the tradition and look forward to those special days gliding amongst stunning peaks, playing a game of shinny, or taking a try at some turns. Afterward, take a break and warm up with hot cocoa beside a bonfire before heading back out on the ice for more.
Both indoor and outdoor rinks are open for skating in Banff National Park, including rinks at the Fairmont Banff Springs Hotel, at the Banff Gondola, downtown Banff at the local high school, new this year, Bear Street in downtown Banff, The Fenlands (Banff Recreation Centre), on the Bow River and on Lake Louise. Skate rentals are available in both Banff and Lake Louise.
Experience an Ancient Mode of Travel: Dog Sledding
Originally used as a means of transport by the Inuit people of the Canadian Arctic and the early settlers of Banff, dogsledding has since been adopted as a recreational activity well suited to the snowy slopes of the Canadian Rockies. Explore the rich history, culture, and techniques of dogsledding as your musher and dog team guide you through the awe-inspiring landscapes of the Canadian Rockies.
Ski the Big Three Resorts in Banff National Park
Banff and Lake Louise is 100 per cent unique as a ski destination. One of the last wild places on earth, Banff National Park is a protected setting where development has been largely held at bay, and nature has been maintained in its true form. Banff and Lake Louise is home to three incredible ski resorts, all unique, and all easily accessible from any accommodation in the area.
When our famous fluffy powder starts to fall, the ski and snowboard scene comes alive in Banff National Park like nowhere else in the country. With a total of 7,748 acres of skiable terrain between Banff Sunshine, Lake Louise Ski Resort, and Mount Norquay, and runs that range from easy slopes for beginners to big mountain bowls, there is truly something for everyone.
Banff Sunshine Village: Home to the longest non-glacial ski season in Canada with a seven-month season that stretches from early November until late May. Sunshine can receive up to nine metres (30 feet) of snow in a season and the village's altitude of 7,200 feet ensures the snow stays light and dry. Sunshine Mountain Lodge is Banff National Park's only ski-in/ski-out accommodation.
Lake Louise Ski Resort: Voted as the #1 Ski Resort in Canada three years in a row, Lake Louise Ski Resort is known for its spectacular scenery and versatile terrain. With over 4,200 acres spread across four mountain faces, Lake Louise is also one of the largest ski resorts in North America.
Mt. Norquay: Since its opening in 1926, Mt. Norquay Ski Resort continues to be the locals' gem. Famous for being the training ground of Olympic and World Cup athletes, and with excellent beginner terrain, everyone will love this small, family-friendly resort. Mt. Norquay is home to the only night skiing in Banff National Park on Fridays and Saturdays during the ski season. 
Like a Local - SkiBig3 Guided Adventures
This Canadian Signature Experience is designed to immerse the snow enthusiast in the best of Banff National Park's ski culture and take their mountain vacation to the next level. During the full three-day program, SkiBig3 pro guides will help locate the best runs and pow stashes at all three resorts. Those short on time can get the inside scope on their favourite resort with a one- or two-day option. In addition to being certified ski instructors, SkiBig3's guides are trained by a program offered through the Whyte Museum of the Canadian Rockies (the grandfather of Banff National Park history) and Parks Canada. They provide valuable local intel on the history and culture of the three resorts and Banff National Park.
Cross-Country Ski on Extensive Trail Networks
Each year, the high elevations of Banff and Lake Louise make it an early contender for winter's gift of fresh snow. As the terrain is smoothed under the falling snow, perfect conditions are created for one of Banff National Park's best kept secrets: premier cross-country-skiing in a beautiful mountain landscape. Whether you're looking for a leisurely ski or a rigorous workout, access is made easy with an extensive network of trails that are groomed and track-set for world-class cross-country skiing. Did you know Moraine Lake Road is the first groomed cross-country ski track to open in Canada each winter?

Explore the network of trails and trail conditions here. Enjoy a backcountry experience and ski to an authentic mountain lodge or join a local operator for a guided ski or cross-country ski lesson.
Enjoy Family-Friendly Tobogganing
Banff's lesser-known hills are a great place to spend time and have fun with family and are easily accessible for a setback-free day. Necessities can be purchased in town, from your sled to your snow boots. Don't forget to pick up a few extra treats to make the day memorable - a thermos of hot chocolate, marshmallows for roasting, and extra warm gloves. A pair of ice skates might come in handy, too.
Fairmont Chateau Lake Louise has a hill perfect for toddlers and youngsters, very close to the hotel. Although it is on the smaller scale, skating on the majestic lake is sure to please and fill afternoons with big smiles. Or, trade your toboggan for a tube and kick up the sliding speed a notch with Mt. Norquay's snow tube park. This activity is great for the whole family, with a kids play and small sliding area.
Indulge in a Winter Picnic in the Park
Who says picnics are just for warm sunny weather? Banff has a ton of great places to enjoy snowy sips and snacks, and the journey of getting there is just as fun as the reward. Whether you're fat biking, snowshoeing or cross-country skiing, these activities will give you a new perspective on a favourite summer pastime. Be sure to bundle up and go on a day that's not too chilly, and remember to be friendly to the National Park - pack out what you pack in.
The Spray River Loop trail is a great cross-country ski area. About 6 kilometres down the trail, you'll come to the Spray River Bridge and a picnic area to get settled in and soak in your surroundings. Cross-country skiing is best for this trail, with the trail head just beyond the Banff Springs Hotel at the end of Spray Ave.
No work is required for this sweet spot - simply take Mt. Norquay Scenic Drive out of town and up a few switchbacks, until you hit the short stone wall. From here, you can see a large clearing in the trees with great views of Banff and the valley below. A few red lounge chairs are placed there, courtesy of Parks Canada, but there is no shortage of space to take in the views.
Tunnel Mountain is a local favourite for obvious reasons - its proximity and pay-off are well worth the travel time to summit. Depending on weather conditions, snowshoes or crampons can make these great views available in the winter, too. The trailhead is easily accessible from the parking lot on St Julien Road, heading up Tunnel Mountain.
Equipment rentals are available at various locations in Banff. Pack a few thermoses of something warm to eat and drink, hand and toe warmers, and moisture-wicking layers so you don't get chilly while enjoying your meal. If you have room to pack it, a few mini fold-up tripod chairs will come in handy.
Après Ski to Suit Your Style
Banff and Lake Louise's vibrant après-ski scene offers a variety of experiences that will help anyone unwind after a long day skiing or snowboarding. Visitors and locals alike can choose from regionally inspired appetizers at a hotel lounge, a pint of locally made beer at the pub or a Swiss fondue next to a crackling fire. Banff is a ski town to the core – all it takes is walking the street to find an après-ski experience that will fit you like a custom boot. Here are 9 après options.
What's New in Ski in Banff and Lake Louise
Explore Lake Louise Ski Resort's newest terrain, the West Bowl
In 2020/21, Lake Louise Ski Resort unveiled new in-bounds terrain for the first time in 25 years! Formerly considered "side country" slopes, West Bowl has transformed this area into 480 acres of in-bounds, free ride terrain, made easily accessible to resort guests thanks to adjusted boundary lines and a new quad chairlift. West Bowl terrain carries intermediate, advanced, and expert ratings, and is divided into zones rather than cut runs. This gives skiers and riders endless possibilities of natural routes and fall lines through steeps, powder bowls and gladed tree areas. Check out this Insider's Guide.
Lake Louise Ski resort unveils new "progression zone" for beginners
Winter 22/23 is the first full season of operations for Lake Louise ski resort's newest chairlift, Juniper Express. This high-speed quad, and its five dedicated blue trails, provide the perfect area for beginner skiers to practice their skills and build confidence. The development of more "progression zones" makes SkiBig3 a more accessible and welcoming destination for families and casual snow enthusiasts wanting to try the sport.
Mt. Norquay unveils exciting long-term goal
In recognition of its approaching 100th anniversary, in 2026, the Norquay 100 Vision sees creating a flagship purposeful travel experience that offers major resort upgrades. This initiative will restore sensitive wildlife habitat, decrease Mt. Norquay's built footprint, and modernize the resort with energy-efficient lifts.
Banff Sunshine expands food and beverage offerings
In the 22/23 winter season, the resort added 900+ seating spaces, including an additional outdoor deck on Centennial Lodge and Goat's Eye Beer Garden. The resort also opened a new Flamingo Smoothie Bar in the main lodge.