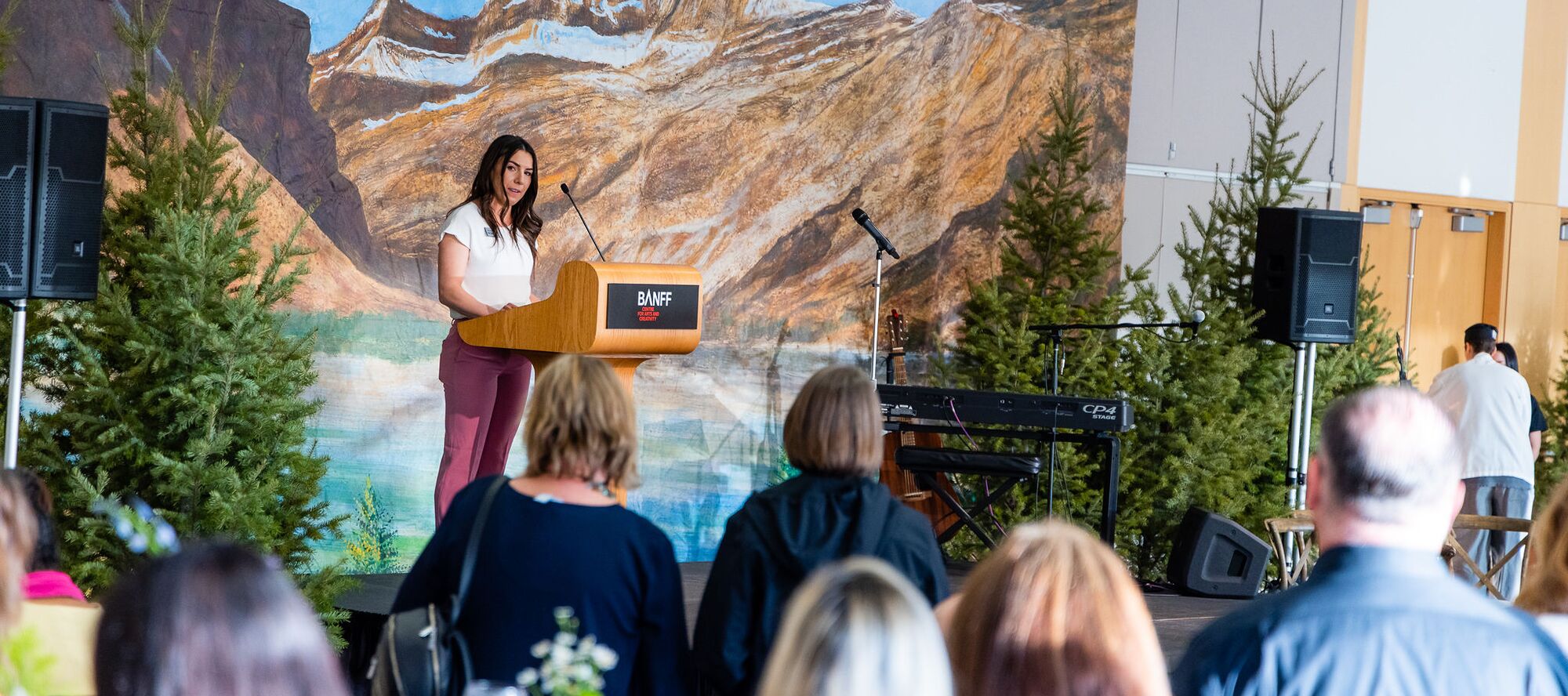 Business Events Updates – Q2 2023
The Business Events team supports BLLT's organizational objectives by generating year round demand. Our goal is to attract business events to Banff and Lake Louise through B2B partnerships in the meetings industry while driving leads to members.
This team takes a lead role on destination-wide bids for large scale programs to amplify the destination presence enabling our members' salesforce. We also support members through site visits, BDTs, market insights and marketing assets.
What's Happening
Positive results from in-destination hosting programs 
We are already seeing the benefit of hosting SITE Canada EXCHANGE back in January as a top Incentive planner was left in awe of Banff National Park's product offerings and walkability. The planner has since placed a program with Moose Hotel and Ptarmigan Inn.
Lyndon Cormack, Managing Director, and co-founder of Herschel Supply Co. attended The Gathering (annual Summit for leading brands and marketers) in 2022 and saw potential to establish her brand in Banff. Herschel opened in June on Banff Avenue.
BLLT's Business Events team is proud to announce that we received a Net Promoter Score of 9.56 (out of 10) from SITE's post ISA survey. This event has seen Banff and Lake Louise gain significant recognition among industry professionals with participants still raving about the event. Annette Gregg, CEO of SITE was also in attendance and published a blog on her experience through Destinations International. Read all about it here.
Banff & Lake Louise Tourism's strong alignment with Destination Canada Business Events
BLLT attended IMEX Frankfurt in May under the Destination Canada Business Events (DCBE) umbrella playing a major role in showcasing the Canadian brand globally. The great success of securing 25 appointments during the event resulted in 2 RFP's totaling 900 potential room nights and a few incentive inquiries that had been distributed to our members. Some industry professionals still raved about their recent SITE ISA experience with other planners, saying "Banff was the best ISA they have been to!" 
Our team represented Banff and Lake Louise under the DCBE banner at Canada Week in London. We hosted a luncheon at the grand Savoy Hotel in London (a Fairmont property) which was a huge hit with two RFPs from this event.
We completed the first draft of submission for the Global Destination Sustainability Index compiling existing information from stakeholders across the destination such as Parks Canada, the Town of Banff, and members involved in Business Events. This coincided with World Environment Day, so we leveraged this to amplify the great work being done in-destination on LinkedIn. This post was picked up by the Global Destination Sustainability Movement's blog. Banff and Lake Louise were the only Canadian destination to be featured among some very impressive sustainability stalwarts from around the world! Read more here.
Upcoming Opportunities
Sign up for BLLT's Community Impact Program Virtual Learning Session - August 24, 2023
Incentive Canada Summer– August 13 – 16, 2023
Toronto Client Event – August 14, 2023
CMEE – August 15-16, 2023
Stay in touch with the Business Events team at meetings@banfflakelouise.com.
Published 2023-08-18