5 Answers to Questions about Winter in Banff and Lake Louise
Jan 24, 2023

|

Active Travel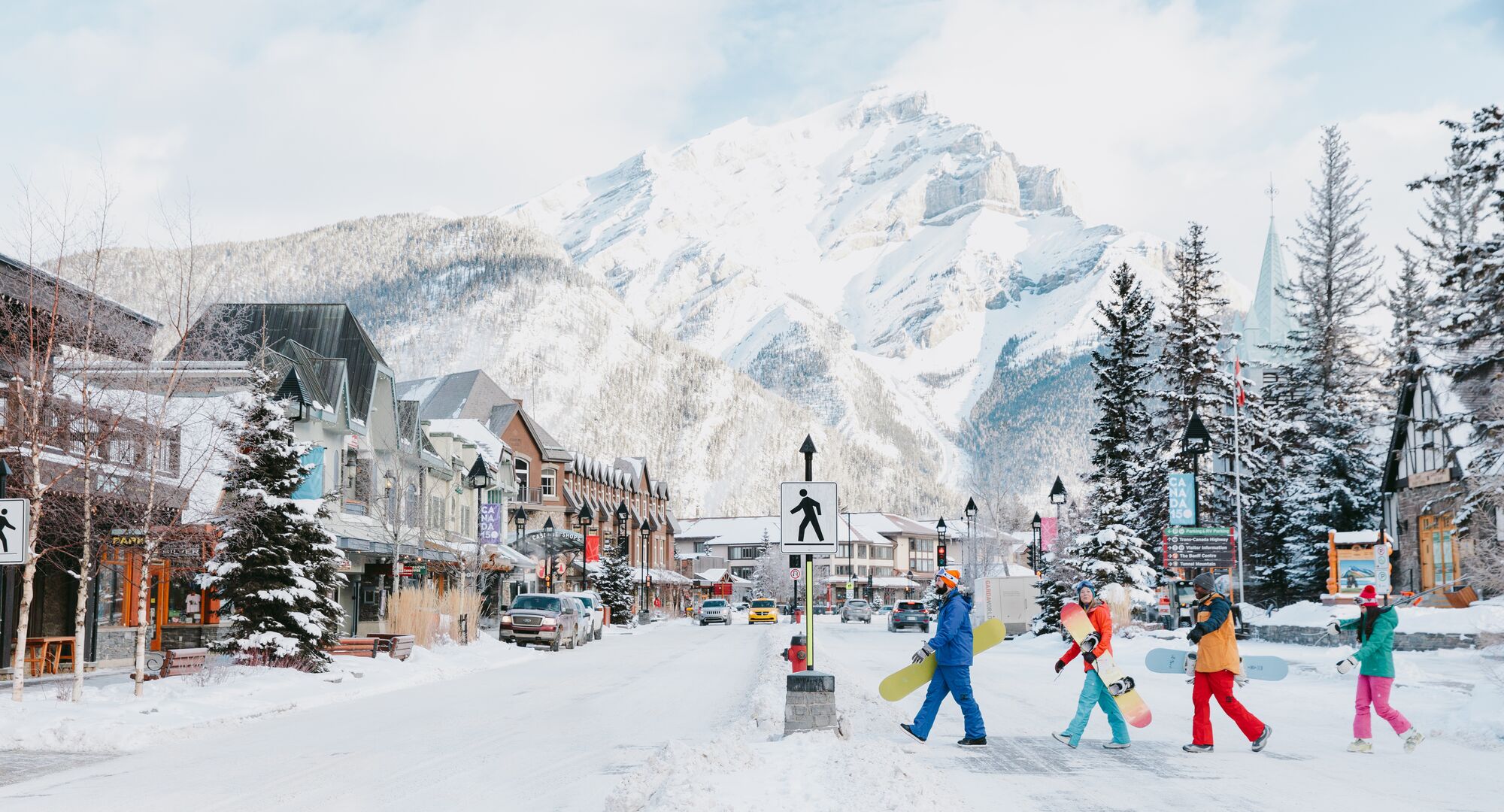 There is a magical allure to winter in Banff and Lake Louise. They are a winter wonderland of snowy landscapes, crisp air, and cozy fires, inviting visitors to experience the magic of winter through outdoor adventures and memories shared with friends. Embark on a journey to this wonderland and let the natural beauty and the welcoming atmosphere of the place inspire and rejuvenate you.
What is Banff National Park Like in the Winter?
Winter in Banff and Lake Louise is a magical experience. The towns are quieter, but there's still plenty of activity. You'll have more time to explore the surrounding wilderness and take advantage of the many winter sports available - like snowshoeing, downhill skiing, and Canada's favourite ice skating.
You should be prepared for snow and cold temperatures, even when the sky is blue, and the sun is out. Temperatures can routinely drop down to -20 Celsius (-4 F) or even colder on some days. Snow and ice can make roads slick; therefore, we recommend you drive carefully and take your time during this time of year (and always keep an emergency kit with blankets and extra clothes in case your car breaks down).
Better yet, avoid your car entirely and take one of the many alternative transportation options. Roam Transit can get you to the most popular destinations, like Lake Louise. Each ski hill offers transportation to and from its resorts, meaning you don't have to worry about waking up early to find a parking spot or driving after shredding hard all day. You could also take a guided tour with a knowledgeable local. This way, you can see all the famous sites and the views along the way and keep your attention focused on the magnificent views rather than the road. Guided sightseeing tours can take you to Lake Louise, Johnston Canyon for an ice walk, and to the most inta-gramable viewpoints. Check out all the alternative transit options here.
The snowfall here averages about 2 meters (6 feet) each year - and can stick around into April and May, meaning Banff has one of the longest ski seasons in North America. This also means you'll have plenty of opportunities to play in the snow and try out one of the activities you can only do in winter.
What's Open in Banff National Park in the Winter?
Most popular attractions are open in Banff and Lake Louise during the winter months. The one notable exception is Moraine Lake. The road is closed, and access to the lake is limited due to avalanche hazards on the way in. You can cross-country ski, snowshoe, or fat bike to a viewpoint of the Valley of the Ten Peaks, but travel past the outlook is only recommended with proper avalanche safety training and equipment.
But what truly makes winter in Banff and Lake Louise magical is the chance to witness the natural beauty of frozen lakes such as Lake Louise, Lake Minnewanka and the ice formations that only occur during this season. Skating on the frozen surface of Lake Louise, surrounded by towering peaks, is an experience you will never forget. Though some trails and areas may close due to avalanche risk, Parks Canada is always available to provide the most up-to-date information, allowing you to safely explore the winter wonderland that is Banff and Lake Louise.
What Should I Wear in Winter in Banff National Park?
Winter in Banff National Park is a beautiful season, but it can be cold. When planning your trip, remember that the temperature can drop well below freezing at night and during the day. To stay warm and comfortable during your visit, pack layers of clothing so you can add or remove them depending on how warm or cool you feel. Bring a toque (warm hat), waterproof gloves, and a scarf to accompany your winter coat. Pack natural fibres like merino wool for base layers, as these, keep you warm even when wet, whereas you can get much cooler in damp cotton.
Consider bringing some winter accessories such as boots, snow pants and waterproof jackets/pants. If that's not possible, stop at one of Banff's many outdoor retailers, like Wilson Mountain Sports in Lake Louise or Monod Sports in Banff, to gear up when you get here. Make sure these items are suitable for walking in snowy and icy conditions – as you'll experience these everywhere you go outdoors.
What To Do in Winter in Banff and Lake Louise?
There are many things to do in Banff National Park and Lake Louise during the winter!
Venture out on snowshoes or cross-country skis through the beautiful landscape, or test your skills on one of the three world-renowned downhill ski resorts. You can also go ice skating, snow tubing, dog sledding, ice climbing, fat biking and more! Lessons and rentals are available for nearly every winter activity.
Try a guided adventure to Johnston Canyon for the ice walk, where you'll get to explore the famed canyon in all its winter glory. As you walk along the trail, your guide will point out the various ice formations, including frozen waterfalls, that are unique to the winter season. The trail is well-maintained and easy to walk on, and the ice cleats provide additional traction on the icy surface. The Johnston Canyon guided ice walk is a fantastic way to experience the winter beauty of Banff National Park. The stunning ice formations, the peaceful winter landscape, and the knowledgeable guide make this tour a must-do for any visitor to the park.
If you're looking for a fun activity accessible to everyone, check out the Banff Gondola. The gondola will take you on a scenic ride to the summit of Sulphur Mountain, where you can enjoy hiking trails, an interpretive centre, brunch/dinner at Alpine Bistro or Sky Bistro and November to March each year, Nightrise – an immersive light and sound experience.
What Wildlife Can I see in Banff in the Winter?
Most of Banff's famous animals are awake and moving in the winter. You may catch glimpses of elk, mountain goats, big horn sheep and dozens of species of birds. You likely won't see a glimpse of a bear during the winter, as these animals hibernate and don't tend to leave their dens during the snowy months. While witnessing wildlife is an exciting moment, we ask that you remember these are wild animals and, as such, need to be given plenty of space. Please do not approach any wildlife. Check out our wildlife page for more information on these majestic creatures.