7 Things to Do in Banff and Lake Louise in Winter
Jan 3, 2023

|

Active Travel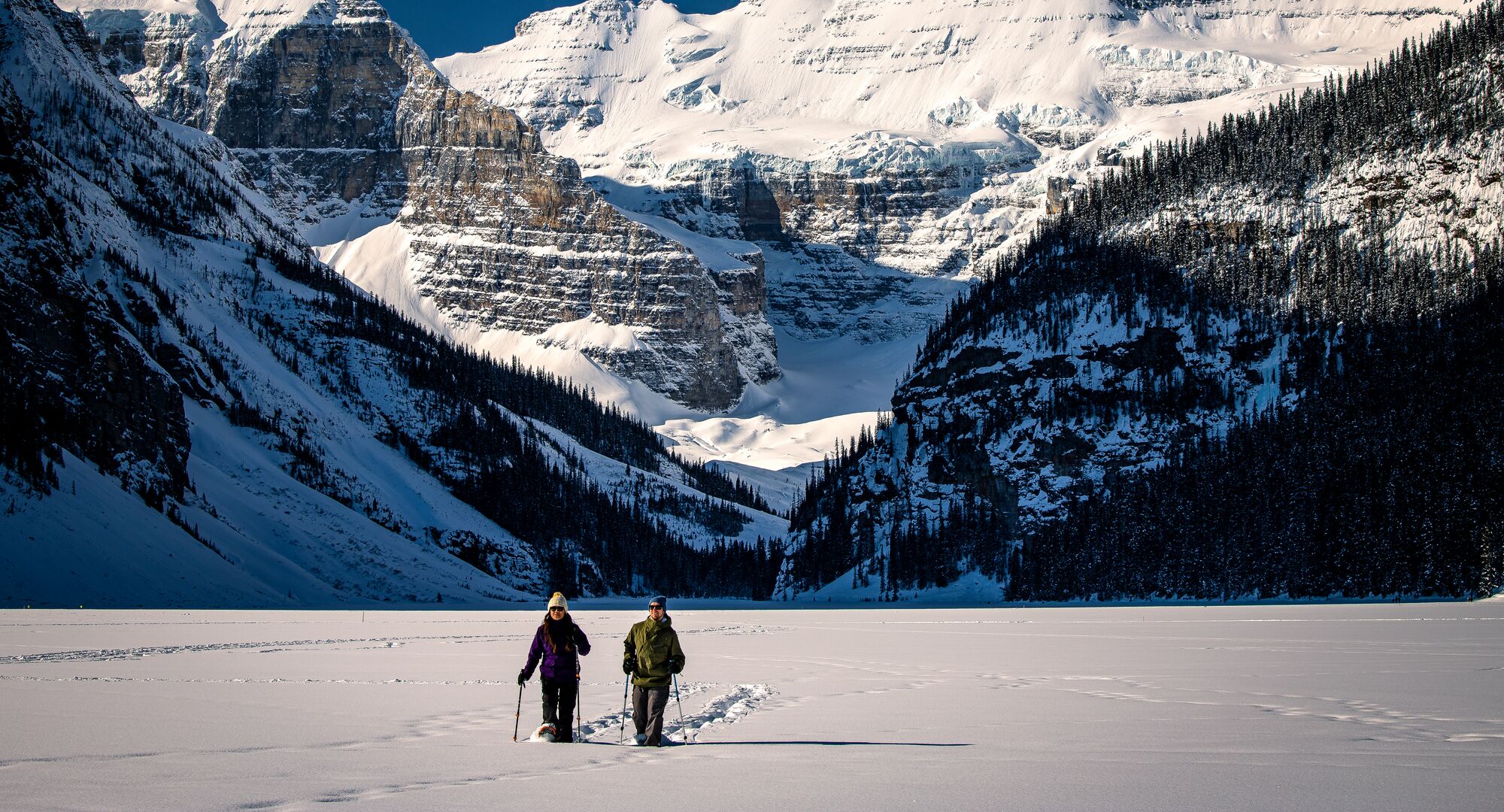 Banff and Lake Louise may beckon skiers from all over the world to its three world-class ski resorts, but what is there to do off the hill?
If you're a non-skier or looking to fill in the days while your legs recoup, check out these seven winter activities in Banff National Park.
There's something for everyone–from gentle sightseeing to rigorous athletic endeavours!
7 Winter Activities:
Snowshoeing
Fat Biking
Cross-Country Skiing
Dogsledding
Sleigh Rides
Soak in Hot Springs and Outdoor Hot Tubs
Visit Art Galleries
This method of transportation has come a long way from large wooden frames. The new versions are sleek and lightweight and also easier to maneuver.
You can rent a pair and find your footing on one of our many winter hiking trails or book a tour and explore the great white wilderness.
Banff Sunshine Village, Banff Hiking Company, Great Divide Nature Interpretation, and White Mountain Adventures take you to places less explored where you can really play and test the limits of your new footwear.
With guides by your side, you'll float atop deep, fresh powder and even have the chance to slide down a hill or two crouched on your heels (not required, but highly recommended if offered!).
Keep warm and see the sights! Fat biking is a gentle but effective cardio workout, so skip the stationary bike and see the world off-screen.
There are trails open to fat bikes in the winter with a variety of difficulty levels, or you can explore the many paths within the town limits for a slower-paced ride.
To get started, rent a bike from Snowtips-Bactrax & Bike Rental in downtown Banff or Wilson Mountain Sports in Lake Louise.
At the end, return your bike and pop over to a downtown restaurant for a well-earned bite to eat.
Gliding through the mountains on a pair of cross-country skis will open up areas of the national park that are otherwise closed during the winter. That insider glimpse is sure to put a big smile on your face!
Cross-country skiing is a fun and peaceful way to enjoy the sights around you. While relaxing, it's not without its thrills–exit Moraine Lake trail on the right day, and you'll pick up a bit of speed on the way back to your car. For something a little flatter, try the Great Divide Trail across the road and see if you can make it all the way into British Columbia and back. Check out all of the
Rent a pair of skinny skis from Ultimate Sports, Wilson Mountain Sports, and Banff Adventures. To nail the technique and feign expert-level skills, take a lesson with Bikescape.
If you've seen a video of Banff and Lake Louise, chances are you've seen a preview of this iconic tradition.
These dogs were bred for this, and you'll see the excitement in their yips and jumps as soon as you arrive. They are literally raring to go!
You'll be tucked inside a warm, sheltered sled while your guide leads the dogs. Depending on your tour, you may even get to test commands as you guide the dogs yourself!
Book with Kingmik Dog Sled Tours or Snowy Owl Sled Dog Tours.
Local's Tip: While the sled is quite cozy, you won't be moving as much as you may be with other activities. Dress in extra layers with a toque and scarf, and, if possible, bring goggles or oversized sunglasses to shield your eyes.
Is there anything more magical than a winter sleigh ride in the mountains while the snow softly falls? We can't think of anything!
Lucky for you, you have three options for a horse-drawn sleigh with Banff Trail Riders, Brewster Adventures, and Discover Banff Tours.
Each tour will wrap you in thick warm blankets, offering just the right amount of cozy, no matter whether you choose a daytime or evening excursion. Some even end with a warm fire and a hot cup of cocoa.
Bear Street is an uber cute, pedestrian-friendly strip in downtown Banff that is overflowing with mountain culture. You'll spot skiers returning from a day on the hill, charming cafés with home-baked goods, a firepit to warm passing visitors, and restaurants serving up local dishes.
But dotted between all of that is where you'll find a condensed art tour. Visit all four galleries as you wander the street and see local Indigenous paintings, contemporary Canadian sculptures, mountain-inspired prints, and rare gemstone jewelry.
Visit Canada House Gallery, Willock & Sax Gallery, Paper Den, and Carter-Ryan Gallery.
Stay for Longer
We've only just scratched the surface of winter wonderland activities in Banff and Lake Louise.
The only way you'll experience the rest is to visit for yourself.