Best Hikes in Banff and Lake Louise in Winter
Nov 7, 2023

|

Active Travel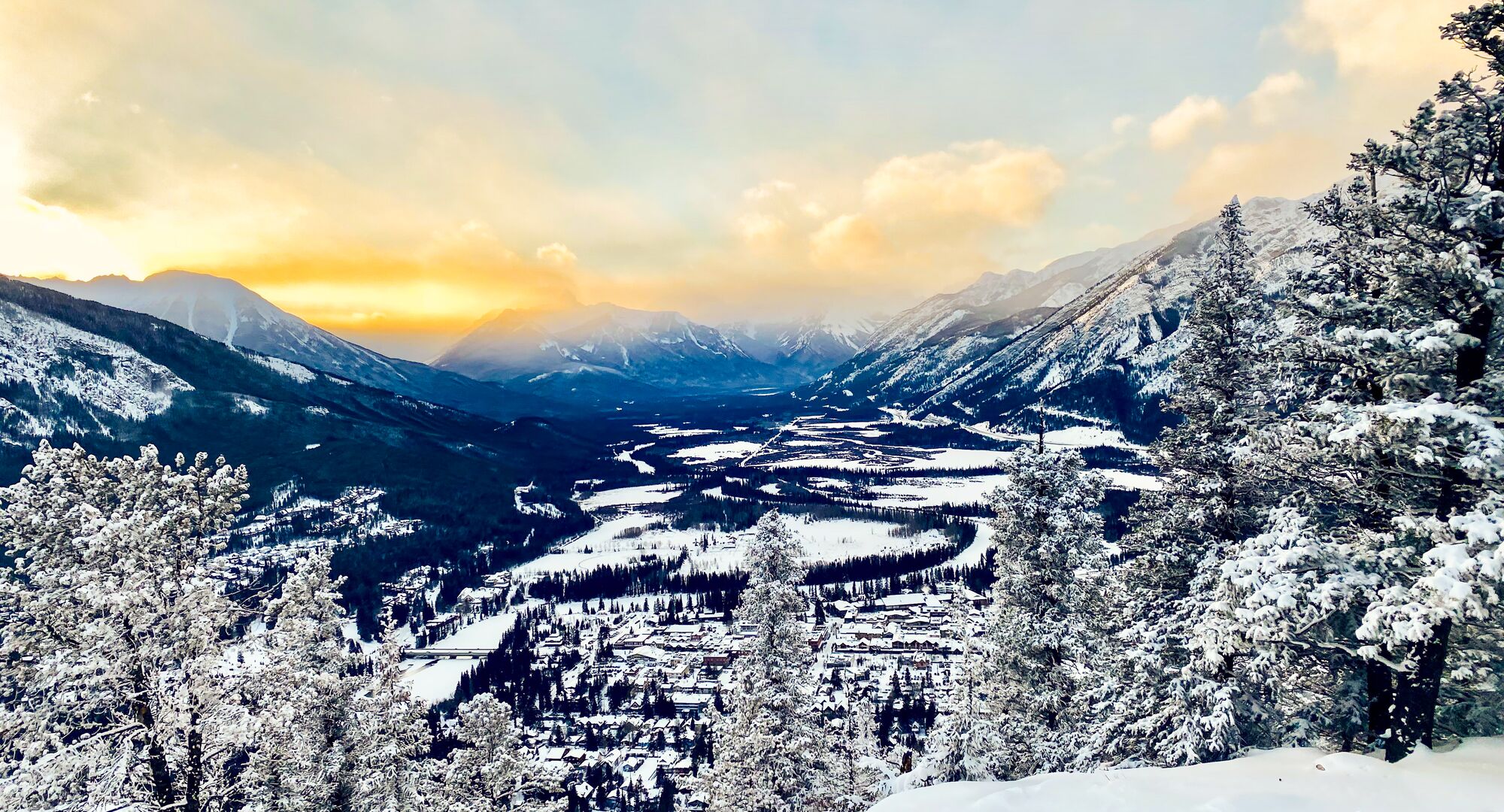 As the last golden larches drop their needles, the first snowfall softens Banff National Park. Winds whirl off the mountain tops and snow-covered forests sparkle in the alpenglow of shorter days. Winter's arrival brings a fresh perspective to explore the best hikes in Banff and Lake Louise.
Whether you choose a self-guided or guided experience, winter hiking in Banff offers a chance to challenge your comfort zone and connect with nature's seasonal rhythm. Plus, travelling between October and April means you can have the best hikes in Banff almost all to yourself, with fewer visitors in the park during this time.
Best Hikes in Banff in Winter
Johnston Canyon
Johnson Lake
Peyto Lake Viewpoint
Tunnel Mountain
Sulphur Mountain
Best Hikes in Lake Louise in Winter
Lake Louise Lakeshore
Fairview Lookout
Bow Lake Lakeshore
Taylor Lake
Boom Lake
Best winter hikes in Banff for beginners
Johnston Canyon
Johnston Canyon is one of Banff National Park's most iconic natural attractions. In winter, trek along steel catwalks, built into the canyon's narrow walls, gazing up at cascades of glacial blue ice and down into the frozen gorge below. This trail has two destinations which makes it perfect for beginner and intermediate hikers. It's a popular trail that gets packed down, so ice cleats are highly recommended.
Distance: 2.5km return (Lower Falls), 5km return (Upper Falls)
Elevation: 50m (Lower Falls), 120m (Upper Falls)
Rentals: Rent ice cleats from Snowtips Bactrax
Guided tours: Explore the canyon after dark with Discover Banff Tours or Banff Adventures
Johnson Lake
As most visitors flock to the famous shores of Lake Minnewanka, take a stroll around Johnson Lake for a more local experience. This gentle path (with brilliant views of Cascade Mountain) has minimal elevation and takes about 45 minutes to hike or snowshoe. As you wander through the forest, you'll likely see friendly faces dog walking.
Distance: 2.9km loop
Elevation: 70m
Rentals: Rent snowshoes from Banff Adventures
Guided tours: Self-guided
Peyto Lake Viewpoint
The Peyto Lake Viewpoint is perfect for beginners. If the drive along the Icefields Parkway wasn't stunning enough, this short, paved walk promises the crown jewel of profile pictures. From this viewpoint, snap a shot of Peyto Lake's prominent "fox-like" shape coated in pure white. Visit at sunset and watch the entire valley ignite in creamy shades of pink.
Distance: 1.5km return
Elevation: 25m
Rentals: Rent ice cleats from Ultimate Sports
Guided tours: Radventures - Icefields Parkway tour
Best winter hikes in Banff for experienced hikers
Tunnel Mountain
If you're an active traveller, who loves to get the blood pumping before breakfast, one of the best hikes in Banff is Tunnel Mountain. Not only is the trailhead mere steps from downtown, but its summit also offers panoramic views of Mount Rundle, Sulphur Mountain, and the Town of Banff. This trail is popular and packed down, so ice cleats are recommended.
Distance: 5km return
Elevation: 250m
Rentals: Rent ice cleats from Snowtips Bactrax, Banff Adventures, White Mountain Adventures, or Ultimate Sports
Guided tours: Self-guided. Explore historic landmarks with the Town of Banff's online interpretive walking tour
Sulphur Mountain
Sulphur Mountain is popular because it caters to all abilities. Experienced hikers can hike up and down while beginner hikers can take a Banff Gondola up and then hike down. Hiking poles and ice cleats are recommended for the switchbacks and hikers must stay on the marked path because of avalanche risk adjacent to the trail. At the top, make sure to visit the state-of-the-art Above Banff Interpretation Centre and grab a bite at Canada's most scenic restaurant, Sky Bistro.
Distance: 11km (up and down), 5.5km (down only)
Elevation: 655m
Rentals: Rent ice cleats and hiking poles from Ultimate Sports
Guided Tours: Self-guided
Best Lake Louise winter hikes for beginners
Lake Louise Lakeshore
When it comes to Lake Louise winter hikes, you cannot miss the Lake Louise Lakeshore. Starting at the footsteps of the Chateau Lake Louise, this mellow walking path winds softly through the trees and arrives at the end of the lake for a close-up view of the mighty Victoria Glacier.
The best part? If you're not up for the walk, you can take a cosy horse-drawn sleigh ride instead. If you're hiking, stay on the lakeshore trail and don't take the uphill path to the Lake Agnes Tea House which has avalanche risk.
Distance: 4km return
Elevation: 0m
Rentals: None required
Guided tours: Book a winter sleigh ride with Brewster Adventures
Fairview Lookout
If you're an intermediate hiker, the short Fairview Lookout snowshoe trail offers steep spurts that will fire up your quads! The well-marked trail starts on the left side of Lake Louise and winds in S-shaped curves through snow-laden evergreens. Ending at 100m, the viewpoint offers sweeping views of the Chateau and a horizon of icy peaks.
Avalanche risk exists beyond the viewpoint, so stay on the marked trail.
Distance: 2km return
Elevation: 100m
Rentals: Rent snowshoes from Chateau Mountain Sports
Guided Tours: Book with White Mountain Adventures to combine snowshoeing, ice skating, and afternoon tea!
Bow Lake Lakeshore
Pack your camera! The Bow Lake Lakeshore is one of the most breathtaking Lake Louise winter hikes. From the towering rock face of Crowfoot Mountain to the immense hanging glaciers, there is no shortage of shots to take while hiking or snowshoeing.
This trail is easy and safe, but as you approach the end of the lake, be extremely mindful of signage and do not hike into avalanche-risk areas.
Distance: 8km return
Elevation: 80m
Rentals: Rent snowshoes from Wilson Mountain Sports
Guided tours: Book a snowshoe tour with Great Divide Nature Interpretation to learn about winter wildlife.
Best Lake Louise winter hikes for experienced hikers
Taylor Lake
The Taylor Lake trail exists below the treeline, meaning it has a low avalanche risk and it's safe for the everyday winter hiker. Follow the packed down path to the lakeshore for a picnic, avoiding trails that lead towards O'Brien Lake or Panorama Ridge (both avalanche-risk areas). It's a full-day trek, so pack plenty of warm layers, food, and water.
Distance: 12.6km
Elevation: 585m
Rentals: Rent ice cleats from Snowtips Bactrax, Banff Adventures, or Ultimate Sports
Guided tours: Book a custom hike with Banff Hiking Company. They offer tours in English, French and Spanish!
Boom Lake
If you're an experienced hiker, Boom Lake is a long but relatively low-elevation hike. Wander across wooden bridges while spotting Boom Mountain playing peek-a-boo through the trees. When you arrive at the lakeshore, sit on a boulder and soak in the impressive glaciers atop Quadra and Bident Mountains.
Do not explore the north side or far west end of Boom Lake because doing so means traversing active avalanche areas.
Distance: 11.5km return
Elevation: 250m
Rentals: Rent snowshoes from Snowtips-Bactrax, White Mountain Adventures or Ultimate Sports.
Guided tours: Plan a custom full-day hiking tour with Original Path Guiding
How to Dress for Winter Hikes in Banff National Park
Winters in Banff and Lake Louise are cool and dry, with average lows of -15C and cold snaps as low as -30C. Plus, mountain weather can change on a dime! Layering is essential to keep you comfortable.
What to wear for Winter Hiking:
Thermal baselayer top and pants
Quick-dry fleece sweater
Insulated puffer jacket
Waterproof outer jacket
Waterproof, insulated snow pants
Merino wool socks
Waterproof winter or hiking boots
Waterproof insulated mittens
Thin "liner" gloves
Neck tube
Warm toque
Polarised sunglasses
If you need something, you can always visit one of Banff's outdoor retail shops which will help make sure you stay warm on your next winter hike in Banff.
How to Stay Warm While Hiking in Winter:
Layer, layer, layer. Add or remove layers as you hike to avoid sweating or shivering.
Don't wear cotton!
Tuck your top layers into your bottom layers to create a warm seal.
Bring extra socks and gloves in case they get lost or wet.
Pack hand and foot warmers for extra comfort.
Bring a thermos with a warm drink for lunch.
Safety tips for winter hikes in Banff
When hiking in winter, weather, temperature, and avalanche awareness become extra important, in addition to universal hiking safety tips. Before you leave home, remember to be prepared, take steps to prevent uncertainty, and always make safety a priority.
Parks Canada offers excellent resources on what to pack and how to plan before you hike in winter, including:
Weather forecasts
Avalanche information
Trail conditions
Winter driving tips
Wildlife awareness
Emergency contact details
Safety equipment packing list
Visit their website for hiking safety tips and winter walking safety information before you hit the trail.