6 Romantic Experiences in Banff and Lake Louise
Jan 17, 2023

|

Active Travel, Wellness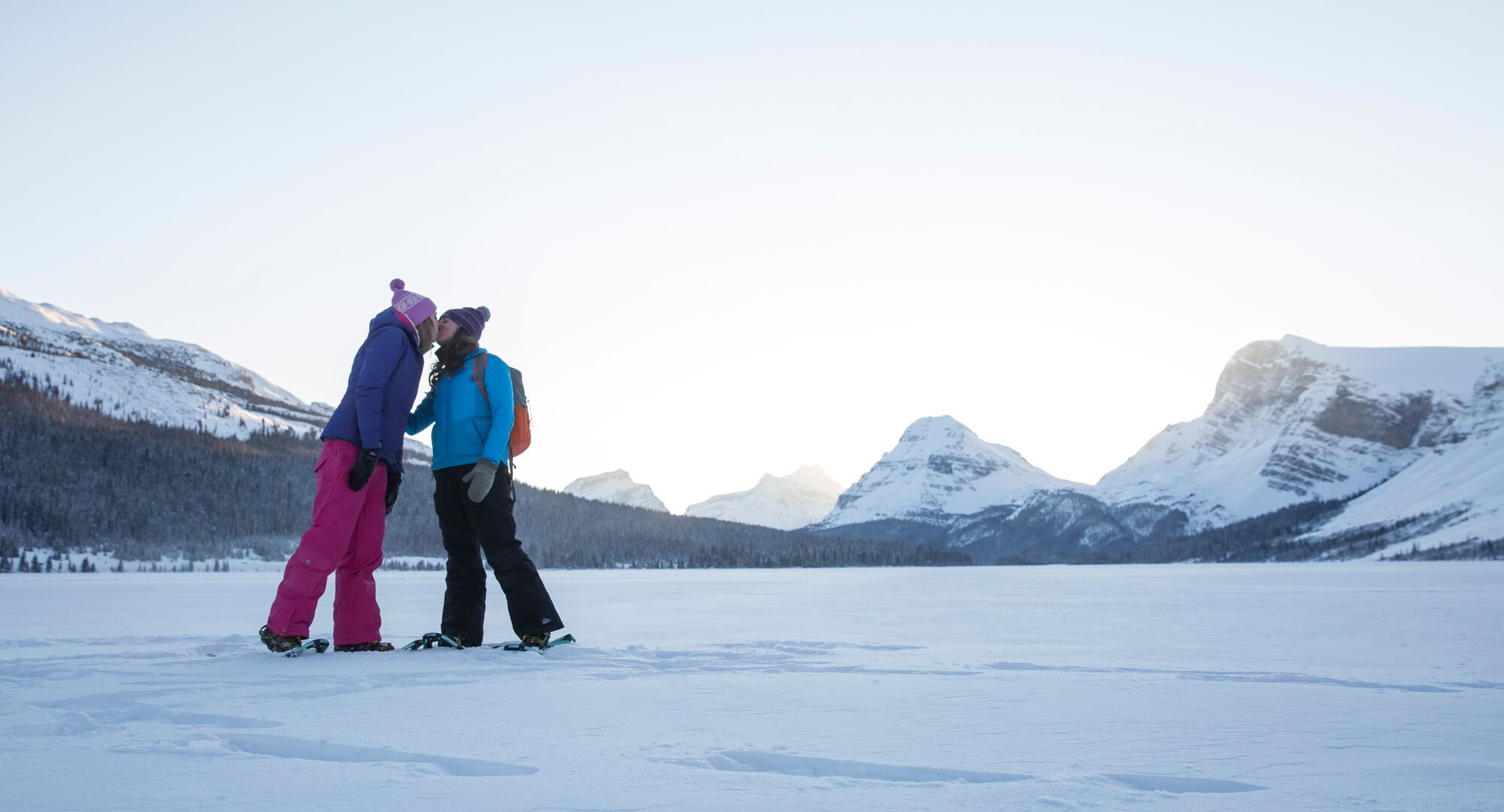 Butterflies bloom in your stomach as you dash through a snow-dusted forest, warmly nestled into the shoulder of your loved one as sparkling snowflakes swirl around you. That first savoured bite of your succulent meal inspires all the senses - so mouth-watering, it borders on mythical. Your body and mind feel featherlight as you share a hot tub soak under the blanket of the milky way.
It's said that sharing new and unique experiences are a great way to bond with your significant other. A visit to Banff and Lake Louise is the perfect way to spark the romance flame, where the possibility of magically romantic moments are waiting to fill the pages of your next fairy tale adventure. Whether you're looking for the perfect Valentine's Day surprise or simply planning a romantic getaway, consider these unique experiences sure to light up the soul of you and your loved one.
1. Sink Into a Starry Soak
At day's end, what better way to wrap up a romantic outing for two than with a cozy soak and unparalleled views? Some of the best vistas in the Rockies are only steps away from your hotel room. The Moose Hotel & Suites, Hidden Ridge Resort, Deer Lodge, and Mount Royal Hotel all offer prime seats in the park. Or, head up to the Banff Upper Hot Springs on Sulphur Mountain and treat yourself to natural hot spring thermal waters with views of the Rundle range. Consider these locations offering relaxing outdoor hot tubs when booking accommodation for your next getaway.
2. Share a Romantic Meal
Some meals simply taste better when shared. Many cozy locales in the Banff townsite and Lake Louise village offer ample options to indulge in the experience of a magical meal. Enjoy the intimate, inviting atmosphere of the Walliser Stube as you share fondue and wine in your own little nook of heaven. Ticino, Waldhaus, and Grizzly House also serve up classic European-inspired fondue for two. Or if charcuterie is more your style, Grapes has a similar cozy, and quaint atmosphere, like a secret gem tucked away from the world. Several other restaurants offer family-style dining with plates that are meant to be shared, such as Lupo, Park, Masala, and Nourish,.
3. Spend a Day In Lake Louise
Whether as a day trip from Banff or a home base for your winter getaway, you won't want to miss a visit to Lake Louise. A journey here is nothing short of magical, with a fairy tale castle and historic hotels, enchanted winter forests, and neighbourly taverns. While you're there, lace up a pair of skates and head out to the wild ice of Lake Louise. It's the perfect way to truly immerse in the presence of your special someone and the beauty of Banff National Park as you glide across the frozen surface hand-in-hand with your partner, enveloped in the panoramic views of the mountains. Get cozy afterward around the lakeside campfire, and explore the enchanting ice castle. Don't forget to treat yourself to a cup of hot chocolate and a bite from a local bakery or cafe afterwards!
4. Book a Couples Spa Date
There's no shortage of spa experiences in Banff and Lake Louise to bring that special "us day" to the next level. From couples massage to his or her spa treatments to relaxing poolside lounges, make sure to book some time to unwind with your special someone.
5. Cozy Up With a Sleigh Ride
Bring your very own "happily ever after" to life as you're whisked away by a carriage into the depths of a whimsical forest - this may be the epitome of romance. With ample options for horse-drawn sleigh and dogsled rides, you and your partner will be dashing through the snow in no time. Visit some of the most enchanting locations in Banff National Park as you're cozied up with that special someone under a blanket on a journey through a real-life snow globe. This classic romantic experience is sure to create unforgettable memories to last a lifetime.
6. Take a Tube Ride for Two
Look no further than Mt. Norquay tube park for a ride with a couple of extra twists and thrills. Glide down Alberta's longest laneways in a tube for two with your significant other. For an extra special experience, enjoy the exhilaration of a tube ride by starlight! Night tubing (and skiing!) is available on Fridays and Saturdays beginning in January. Afterward, visit the Lone Pine Pub to share an après-tube bite and cocktail or local brew on tap. Learn more about the ultimate winter thrill for your next winter date night.