Top 10 Reasons to Go to Banff Pride
Sep 5, 2023

|

Events & Festivals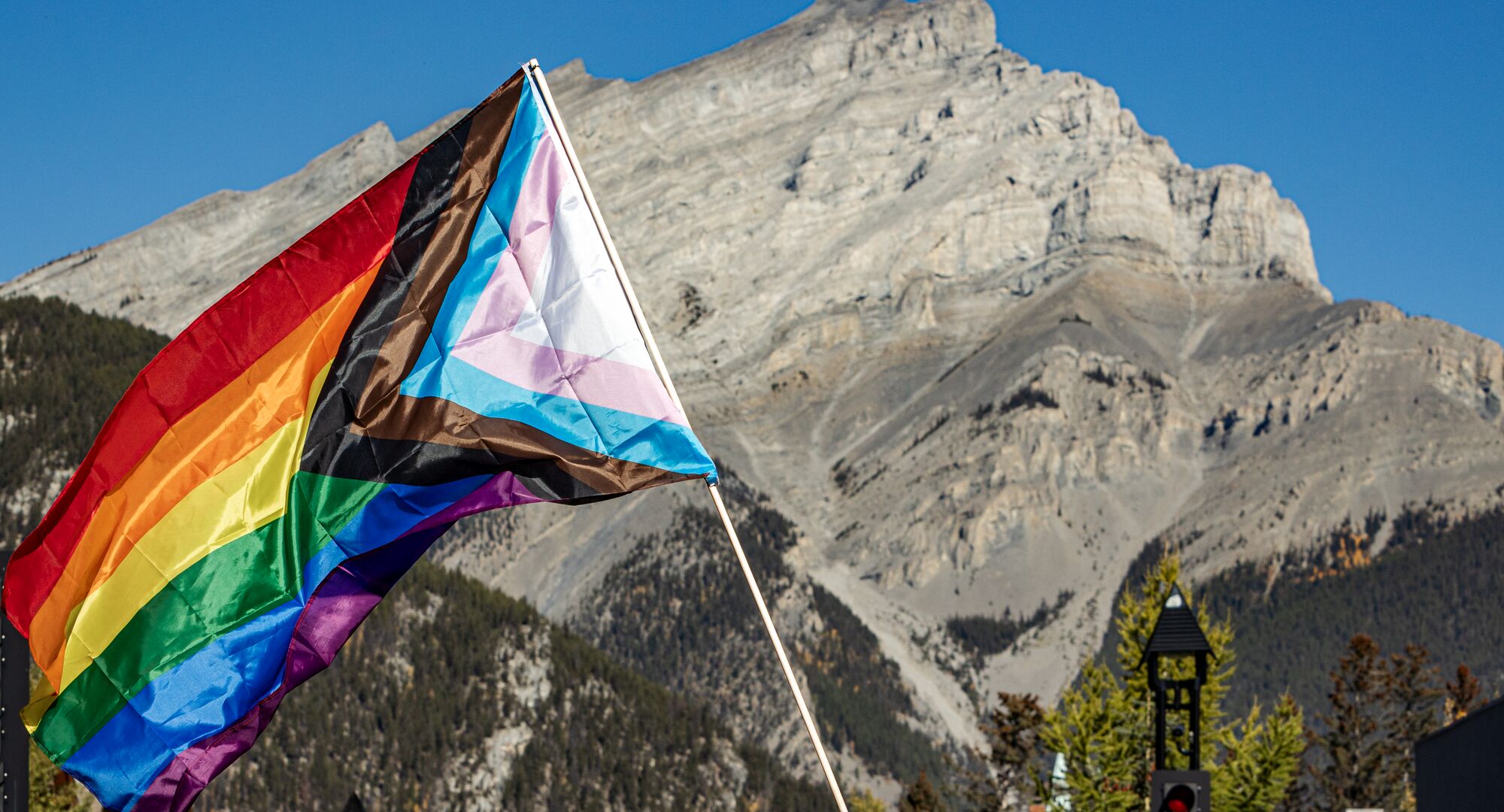 Get ready for an anniversary bash in the mountains! Banff Pride is celebrating its 10th year, and guess what? It's getting bigger and better with each passing year.
From October 6th to 15th, 2023, the charming Banff Townsite is all set to transform into a hub of vibrant celebrations.
Live music, dazzling drag shows, a bustling Pride Market, and an enlightening Speaker Series are lined up, along with loads of fun indoor and outdoor activities. So, let's dive into the top 10 reasons that'll make you want to be a part of Banff Pride this year!
Celebrating a Decade of Diversity
In 2013, the seeds of Banff Pride were sown, and over the past ten years, they have flourished into a resplendent 10-day celebration. When you come to Banff Pride, you'll be part of a legacy that has transformed into a monumental expression of love and acceptance.
Each year, the festivities have grown in scope and significance, embracing a spirit of unity that has become an integral part of the Banff community. From its modest beginnings, Banff Pride has evolved into a celebration that engulfs the town, with stores and businesses joining to mark this special milestone.

An Award-Winning Gay Travel Destination
In 2022, Gay Travel recognized Banff as one of the world's top destinations for LGBTQ2S+ travel. What sets Banff apart is its core—the people, the establishments, and the surroundings all create a warm and inviting town where a sense of belonging flourishes.
This recognition isn't just a nod; it's a heartfelt acknowledgment of Banff's dedication to providing a space where visitors can wholeheartedly be themselves.
So, as you wander its quaint streets or connect with its friendly residents, you'll find Banff's identity as an award-winning LGBTQ2S+ destination woven into every experience.

Sashay with Drag Royalty
You won't believe your eyes when you witness the mind-blowing performances by Canadian drag superstars like Kaos, Synthia Kiss, Kendall Gender, Stephanie Prince, and Juice Boxx. They're dancing into Banff this fall, putting on electric drag shows that'll have you jumping out of your seat.
And don't miss the drag shows on the mountaintop at the Banff Gondola on Sulphur Mountain, along with the fabulous Drag Brunches throughout town!

Unbelievable Accommodation Deals
This one's a no-brainer. Book your stay between October 1st and 18th, 2023, with Banff Lodging Co., and you'll score a fantastic 20% discount on the best available rates. That's not all! You'll also get a welcome swag bag with Banff Pride essentials and an exclusive invite to rooftop pool parties at the Moose Hotel on October 14th. Talk about living it up!
Banff Lodging Co. has 11 properties in and around the Banff townsite, giving you ample opportunity to find exactly the right room and amenities that you need for the perfect Banff Pride experience.
Every Shade of Celebration
Banff Pride caters to every shade of celebration. From the Flag-Raising and Pride March on October 6th to the inspiring Speaker Series from October 9th to 12th, there's an event for every heart.
March down the heart of Banff towards iconic Cascade Mountain while waiving your flag high to kick off the celebration. Explore the Banff Pride Market at the historic Mason Hall, where you can support local 2SLGBTQ+ artists and creators.
With vibrant artworks, crafts, fashion, and more, the market is a treasure trove of talent. This diverse array of events ensures that everyone finds a space to connect, learn, and celebrate regardless of their interests.
Sip on Rainbow Magic
Raise your glass to colourful concoctions! Dive into a rainbow-themed tasting menu at select Banff restaurants. It's not just about the taste—it's an artful celebration of the rainbow, adding a dash of colour to your sips.
This culinary delight doesn't just tantalize your taste buds; it's a visual and gustatory celebration of the LGBTQ+ community's vibrant and diverse spectrum.
Embrace Nature
Before the snowflakes start dancing, take advantage of the crisp air and embrace the outdoors. Hike, bike, or paddle to your heart's content. This is your chance to soak up the stunning scenery before winter takes over.
The changing seasons offer a unique opportunity to connect with Banff's natural beauty. Whether navigating lush hiking trails, pedalling through picturesque landscapes, or gliding across serene waters, the outdoors becomes an extension of the festivities, offering a refreshing and invigorating dimension to your Banff Pride experience.
Strike a Pose at Iconic Spots
Time to flash those pearly whites against some of the most stunning backdrops you've ever seen. Banff is a treasure trove of Insta-worthy places, with icons like Lake Louise and Peyto Lake, the super-relaxing Banff Upper Hot Springs, and the canyon walk in Johnston Canyon.
And remember to share, and claim those epic bragging rights using #mybanff.
New Friends, New Adventures
Banff is like a big friendly hug. Meeting new people is practically inevitable, and you're bound to make mountain-loving friends who are just as excited about exploring as you are. Whether it's a casual chat on a hike or a dance-off at a party, you're in for some unforgettable connections.
Pride in the Canadian Rockies
Celebrate Pride right in the heart of the Canadian Rockies. At Banff Pride, the stunning backdrop of the Canadian Rockies adds a touch of magic to every moment.
You'll have dinners with views of Mount Rundle, walks where Cascade Mountain towers over you and the chance to step off the pavement and feel your feet touch the ground while surrounded by trees.
The landscapes effortlessly blend with the festivities, creating an atmosphere that's both celebratory and refreshingly serene.
Celebrate Pride in the Rockies
Banff Pride's 10th anniversary is your invitation to join a party that's been a decade in the making. From outdoor adventures to colourful festivities, Banff Pride delivers it all.
So, what are you waiting for? Head to the Banff Pride website, check out the incredible lineup of events and book your spot. Get ready to be part of an experience that's not just a celebration of Pride but also a celebration of love, acceptance, and the stunning Banff National Park.
It's time to celebrate, explore, and make memories that'll last a lifetime!
Play Your Trip to Banff and Lake Louise
Start planning your dream trip to Banff and Lake Louise today with our easy to use Trip Builder. Curate you perfect trip from start to finish with accommodation, dining, activities, sightseeing adventures and more!
Build Your Trip