Things to do in Banff and Lake Louise in October
Sep 19, 2023

|

Adventure, Food & Drink, Events & Festivals, Culture & Art, Sports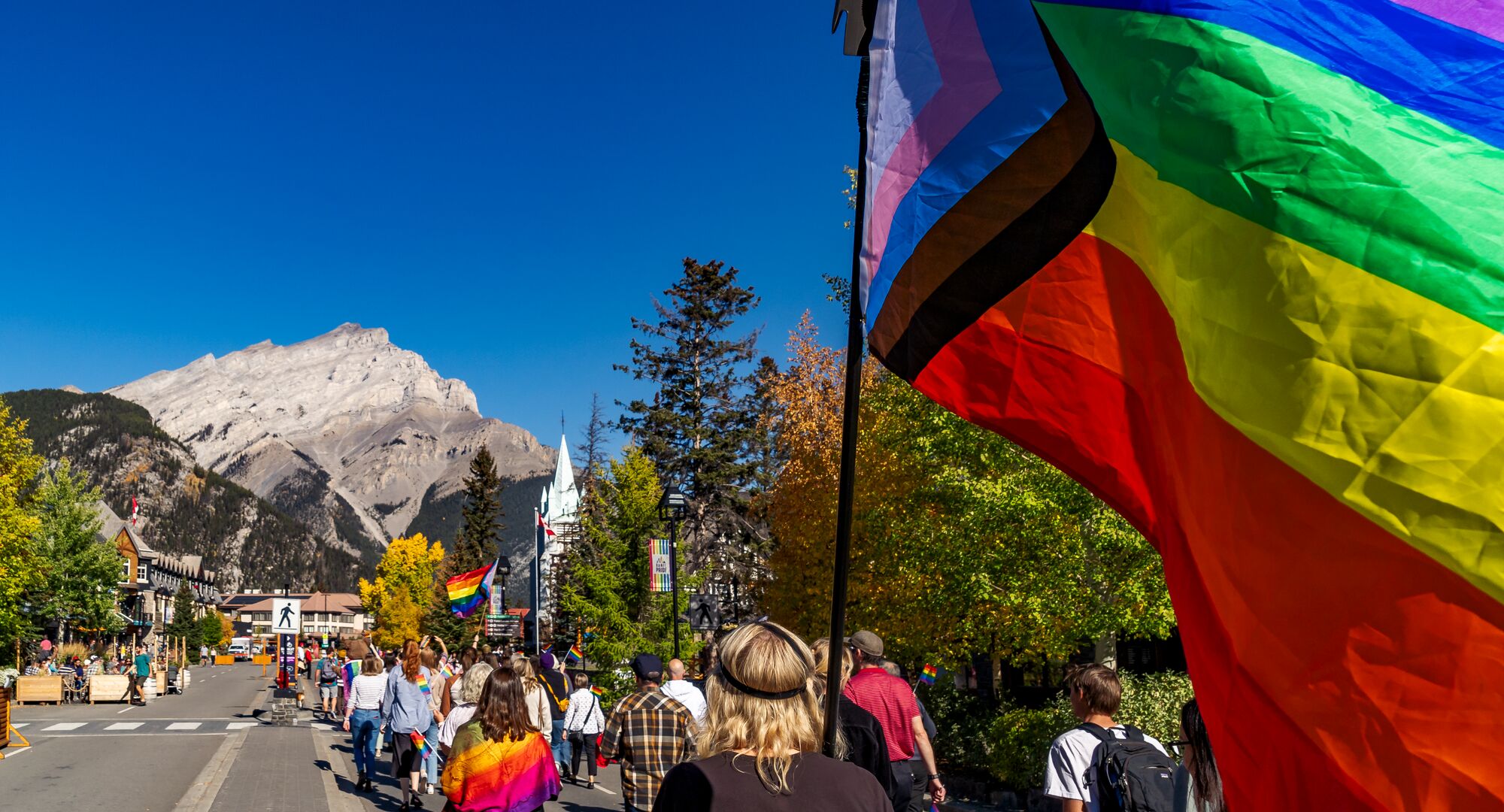 Autumn in the mountains isn't so much a season but a few-week window, and it just happens to fall in October.
The warm summer months come to a halt and make way for crisp, cool days that may be graced with a dusting of snow or even a snowstorm. This makes it an ideal month for last-minute adventures before winter settles in and stakes its claim for the remainder of the year.
The hiking and biking trails are often quieter, the temperatures are milder, and the rewards are just as big!
Here's what you can expect to see, do, and experience in Banff and Lake Louise in October.
The Weather
Wrap your hands around a piping hot latte and cover your ears with a knit toque before heading out to 8 to 10 degrees Celcius weather. The overnight temperatures average around -2 to -5 degrees Celcius, so you're less likely to see wildflowers along the roadsides and more likely to smell fresh pine as the morning frost melts off the needles.
Banff Daytime 10°C (50°F)
Banff Overnight -2°C (28°F)
Lake Louise Daytime 8°C (46°F)
Lake Louise Overnight -5°C (23°F)
Depending on September's weather, you may even be lucky enough to catch the tail end of the larches as they turn yellow.
What to Pack
It wouldn't be Canada without the chance of encountering all four seasons in a day. October continues to be shoulder season and is when the weather can be the most delightfully unpredictable.
Pack layers and be prepared for warm sunshine, chilled rain, and even snow. As the joke goes, "if you don't like the weather in Banff, wait five minutes."
Many locals wear long underwear or lined pants, pants, a shirt, a sweater, and a light jacket. Hats and mitts start to make an appearance and are often carried just in case.
You may see the odd "crazy Canuck" in shorts and flip-flops, but we don't recommend that you follow suit.
Pack extra layers if you're heading up the mountains, including a warm winter coat and neck warmer. Bring something to cover your ears since the wind can be quite biting.
If you need something when you get to town, visit locally owned Monod Sports or Smartwool on Banff Ave or Wilson Mountain Sport in Lake Louise.
What to See and Do
Get your last glimpse of the turquoise blue waters of Lake Louise before it ices over for the winter. It is also your last chance to see Moraine Lake before the access road is closed to busses and shuttles, usually around Canadian Thanksgiving.
As the open water recedes and gives way to snow and ice, so do some of Banff's biggest animals. The bears begin to hunker down and look for a cozy spot to hibernate. While they may be making their way farther into the mountains, they can still be seen bulking up for winter, so know your bear safety in case of an encounter.
INstead of going up to a mountain peak, why not go underground with Canmore Cave Tours? After a short, uphill hike to the cave opening, you'll spelunk your way inside a mountain. If it sounds like it may be chilly, the inside of the cave holds steady at 5°C (41°F) every day of the year.
Larches!
The first week of October is typically the last chance to view larches in Banff National Park. These deciduous conifers turn yellow in the middle of September before losing their needles in early October.
During larch season, you get fall colours darting high up into the alpine, giving you mixtures of yellows and oranges that contrast beautifully with the blues and snow-topped peaks of the surrounding mountains. This makes for magical walks amongst the trees and along alpine lakes. For the most popular larch hikes, you will want to arrive before sunrise or for a better experience, book yourself onto a Parks Canada shuttle.
Check out our favourite larch hikes or find three alternative ways to see these natural beauties if you can't hike.
Bear Safety
As a reminder, when out exploring on the trails it is important to keep bear and wildlife safety in mind.
Carry bear spray and know how to use it
Stay on official marked paths and trails
Travel during daylight hours
Travel in a group
Watch for signs of a bear, such as tracks and droppings
Keep dogs on a leash at all times
Make noise
Learn more about bear safety from Parks Canada here.
Stroll Through a Gallery
Take a step inside on those cooler fall days and enjoy the local art of Banff National Park. Visit the Walter Phillips Gallery at the Banff Centre for Arts and Creativity or go head to downtown Banff and discover the history of the area and inspired art galleries at the Whyte Museum. Across the Bow River, visit the Buffalo Nations Luxton Museum to see an outstanding collection of First Nations artwork.
You can also take an art walk down Banff Ave and Bear Street to explore the many galleries from local artisans.
October Events
The vistas in Banff and Lake Louise get a little less colourful as winter approaches, but the town centres do not! Pride parades through town and leaves a wake of vibrant rainbows and expressions of love and welcoming on Banff Ave windows.
Parties and drag shows fill the evenings into the early hours of the morning, presenting you with countless options to celebrate. And then again at brunch the following morning.
Canadian Thanksgiving
Banff is the perfect place to celebrate Thanksgiving with the family. Snow-topped mountains, changing colours, and larches make for a picturesque backdrop to a day's adventure. And the chilly weather makes cuddling up in front of a fire with a warm drink the ideal ending to the day. Many of Banff's hotels and restaurants have special deals and meals for the weekend and the big celebration.
Banff Centre Mountain Film & Book Festival
The world-famous film festival returns with limited live in-person events and virtual screenings of action-packed films, world-class authors and guest speakers. The event starts the last weekend in October and runs for 9-days. Over nine days, you will hear stories of remote expeditions, thrilling achievements, and monumental stories as told by creative adventurers from around the world.
Learn more or get your tickets here.
Taste for Adventure
At the end of October, find the best of the meals in Banff at Taste for Adventure. Indulge your taste buds and spoil your senses with the flavours of Banff National Park. The region's top chefs and restaurants have cooked up exclusive menus, unique dishes, and irresistible specials in honour of the Taste for Adventure festival.
Ski Season
Depending on the year, ski season has started as early as October 24. Since the ski resorts are at a higher altitude, they often get snow first and make what snow doesn't fall from the sky.
If you want to be the first to ski this year, head to Banff and Lake Louise early to catch the first day. Bonus: we're usually the first in Canada to open, too.