Things to Do in Banff and Lake Louise in November 
Oct 25, 2022

|

Food & Drink, Adventure, Events & Festivals, Nature & Wildlife, Culture & Art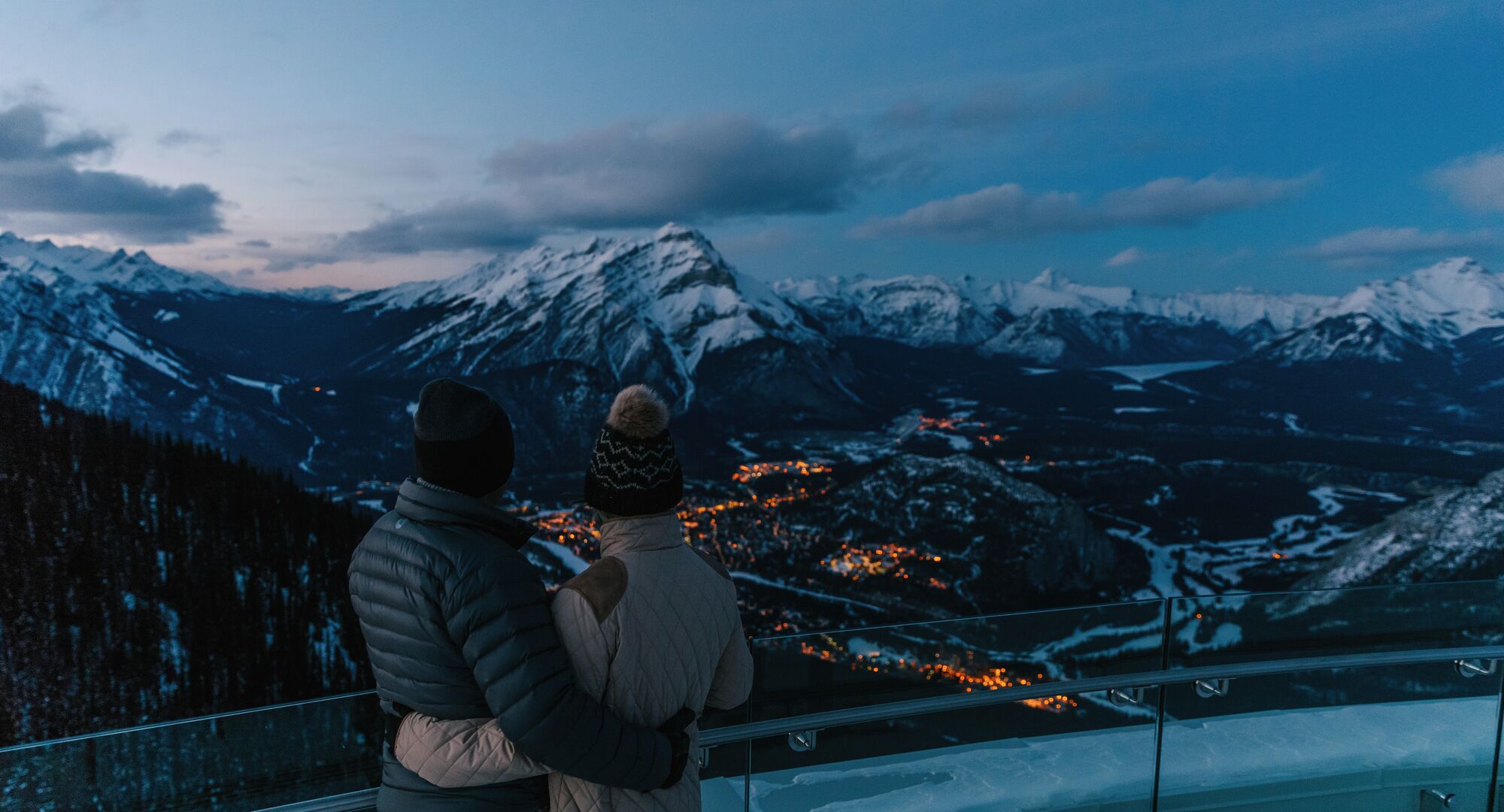 The mountains are snow-capped, the ski hills are open, and the cozy factor takes complete hold of these quaint alpine towns.
November is one of the quietest times in the Canadian Rockies, which gives you the most room to roam. Find wide-open trails, eat at exclusive restaurants, and see the wonder in an early-season snowfall.
Here's what you can expect to see, do, and experience in Banff and Lake Louise in November.
The Weather
If you're all about the sweater weather, now is the time to head to Banff and Lake Louise. While the snow is falling, the daytime temperatures haven't yet dropped consistently into the negatives, so you can still enjoy the great outdoors without bundling up from head-to-toe.
Banff Daytime 1°C (33.8°F)
Banff Overnight -8°C (17.6°F)
Lake Louise Daytime 1°C (33.8°F)
Lake Louise Overnight -13°C (8.6°F)
November usually offers more snow, so expect to see it creep down from the mountaintops and into the valleys below.
What to Pack
The days grow shorter as we approach the winter solstice, and the nights get cooler, so come prepared with layers.
You'll want to pack proper closed-toe footwear like boots with a good grip to stay warm and upright on your visit. Wool socks are a go-to to keep your feet dry, and we recommend bringing extra pairs in case there's wet snow.
In town, you'll want long pants, knit sweaters, warm jackets, a toque (beanie), mitts, and a scarf. Locals often wear multiple layers, including long underwear and undershirts. You could tough it out with less, but we would rather you enjoy your trip than spend it shivering in the streets, though there are lots of shops, restaurants, and cafés to warm up in.
On the trails or the ski hill, you'll want waterproof gear like snow pants, a winter coat (parka), a neck warmer, and gloves or mitts.
To get the comfiest of clothes to warm up in during apres, check out Big Bear Trading Co., Chateau Mountain Sports or Rocky Mountain Flannel Company.
What to See and Do
Longer nights lead to cooler temperatures that start to freeze moving water. Johnston Canyon is quietest at this time of year but also the most magical. The lower and upper falls begin to ice over, and you're still likely to see the water rushing through the glassy layers.
Wildlife can be harder to spot in November as they prepare for winter, so we recommend booking a tour at Yamnuska Wolfdog Sanctuary through Discover Banff Tours for guaranteed sightings. They rescue hybrid wolf-dogs (and some coyote mixes, too) and allow you to get up close and personal with them on their interactive tour — something that isn't possible with their wilder relatives.
Finally, if you want to get some of the most stunning views, take a helicopter ride. You'll soar high above the peaks, and, depending on the tour you choose, you may land and have time to explore areas rarely visited on foot.
November Events in Banff and Lake Louise
Banff Centre Mountain Film and Book Festival
Every fall, authors, photographers, adventurers, and filmmakers from around the world arrive in Banff ready to explore the best in adventure film and literature. With a rich history stretching back to 1976, the week-long festival hosted at the Banff Centre for Arts and Creativity has become the world's premier destination for all things mountain culture.
This year, the Banff Centre Mountain Film and Book Festival comes to you with select in-person screenings at both the Banff Centre and the Lux Theatre. Back by popular demand, you can also enjoy the festival virtually. If you choose to watch it virtually, we recommend watching it from your hotel while overlooking the mountains that inspired the adventures themselves.
Banff Hot Chocolate Trail
Some of Banff and Lake Louise's master baristas come up with exciting new hot chocolate concoctions every year. Follow the trail and see what specialty drinks they're serving up for a limited time only. Starting the last weekend in November and running through the holiday season.
Banff Craft Beer Festival
The Banff Craft Beer Festival takes place at the end of November and is the only festival featuring exclusively Albertan brewers. Enjoy local brews and local eats all while exploring Bear Street.
In 2023, the festival runs November 23-25 at the historic Cave and Basin.
Banff Christmas Market
The Banff Christmas Market is held at Warner Stables which transforms into a charming market venue, the perfect place to enjoy holiday shopping. Held starting in mid-November for three weekends, this is the perfect place to find that special gift for the right person in your life or that keepsake for yourself. With gifts, goods, and treats inspired by the Canadian Rocky Mountains and mountain culture, you're sure to find just the right gift.
Date: November 17 - Dec. 31, 2023
Cost: Free, but ticket required - Tickets will be released on October 23.
Discover the wonder of Christmas in Banff National Park this holiday season with In Search of Christmas Spirit. Bundle up for a walk through the Cascade of Time Garden, where you'll witness a live Christmas story told by the animals of Banff National Park.
Play Your Trip to Banff and Lake Louise
Start planning your dream trip to Banff and Lake Louise today with our easy to use Trip Builder. Curate you perfect trip from start to finish with accommodation, dining, activities, sightseeing adventures and more!
Build Your Trip