Things to Do in Banff and Lake Louise in December
Nov 23, 2023

|

Events & Festivals, Shopping, Food & Drink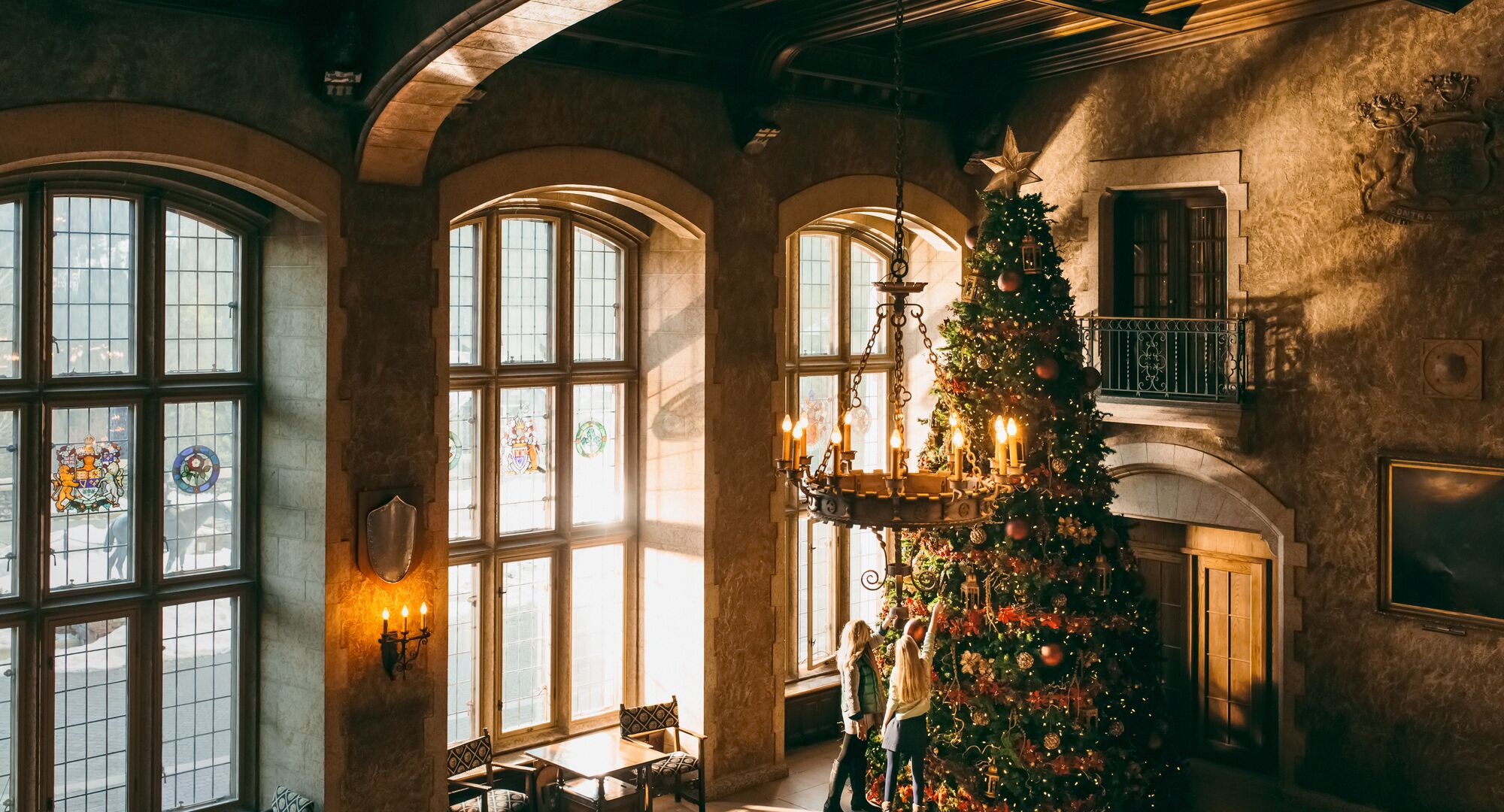 If you're in search of the quintessential Canadian holiday season, head to Banff and Lake Louise in December.
Frost hangs on the tips of evergreen trees, elk huddle low in the valley resembling real-life reindeer, and carolers spread cheer up and down Banff Avenue.
So, come celebrate Bodhi, Hanukkah, Christmas, Kwanzaa, and the New Year with us under dancing night skies streaked in purples and greens of the Northern Lights.
Here's what you can expect to see, do, and experience in Banff and Lake Louise in December.
The Weather
Old Man Winter can make an appearance any month of the year, but December is when he sets up camp and calls Banff and Lake Louise home for the season—just in time to usher in winter's official arrival on December 21.
Banff Daytime -5°C (23°F)
Banff Overnight -14°C (6.8°F)
Lake Louise Daytime -6°C (21.2°F)
Lake Louise Overnight -19°C (-2.2°F)
Expect snow and icy conditions in December. If you're driving, ensure you have winter tires, use caution, and be prepared to plan around weather conditions.
What to Pack
As temperatures consistently rest below freezing, you'll want to cover yourself from head to toe.
If you're not used to Canadian winters, we suggest packing extra layers (more than you might think reasonable). Wear a toque, neck warmer or scarf, mitts or gloves, a winter jacket, snow pants, and proper winter boots. Underneath, you'll want long pants, a long-sleeve shirt, and a sweater.
If you're exploring the park, add extra layers like long underwear and bring extra dry clothing with you. It's essential that you stay warm and dry during the winter, so opt for moisture-wicking fabrics and remove layers as you heat up to avoid sweating through your clothing, which makes you colder. Lastly, make sure that your outer layers are waterproof; precipitation can quickly soak through knit alternatives.
Banff has some amazing options for picking up your warm clothes.
What to See and Do
You have the best chance of seeing the Northern Lights (Aurora Borealis) during our coldest months from December through February. The best part is that the days are shorter, so there's no need to stay up all night to catch the show, though they sometimes peak well past dusk. Their visibility is based on weather conditions, so stay more than a couple of nights for better viewing opportunities.
Bring your camera and book a private tour with Brian Merry Photography.
To help your planning process, pick up local photographer Paul Zizka's Guide to Viewing and Photographing the Northern Lights.
During the day, strap on some snowshoes or cross-country skis and give winter sports a try now that there's a good base of snow! There are plenty of beginner, intermediate, and expert trails for you to try on your own with rentals or book a tour with an experienced guide.
The ski hills are also in full swing! Grab a board or a pair of skis and hit up Banff Sunshine, Lake Louise Ski Resort, or Mt. Norquay for some frosty fun! If that's not your thing, try tubing or join them for one of their many events.
Or rather, find something a little slower tempo and book a visit to the spa. Many hotels have in-house spas, or Banff and Lake Louise are home to excellent locally-owned options, too. While you're looking for a hotel, move "hot tub with a view" to the top of your list and soak in the mountains without spending more than a second switching between plush robes and hot water.
Finally, in true Hallmark holiday fashion, take a sleigh ride around Lake Louise drawn by horses. Snuggle up to your significant other and drink hot cocoa as you experience the wonder of Lake Louise in winter. To top it off, stop into The Spirit of Christmas to find the perfect souvenir for your tree or winter village set. 
December Events
In Search of Christmas Spirit
The holidays are a time for wonder, delight, and a little bit of magic. Reawaken your inner child and join us for In Search of Christmas Spirit—a live Christmas story told by the wildlife of Banff National Park and delivered by a sensory extravaganza of light and sound.
Tickets are free but must be reserved in advance.
Banff Hot Chocolate Trail
Some of Banff and Lake Louise's master baristas come up with exciting new hot chocolate concoctions every year. Follow the trail and see what specialty drinks they're serving up for a limited time only.
Nightrise
Starting December 2nd, the skies light up with more than just stars as the Banff Gondola hosts Nightrise in partnership with the Stoney Nakoda Nation. A combination of light, projections, and music cover Sulphur Mountain, telling the story of the First Peoples in this area.
Banff Christmas Market
The Banff Christmas Market is held at Warner Stables which transforms into a charming market venue, the perfect place to enjoy holiday shopping. Held starting in mid-November for three weekends, this is the perfect place to find that special gift for the right person in your life or that keepsake for yourself. With gifts, goods, and treats inspired by the Canadian Rocky Mountains and mountain culture, you're sure to find just the right gift.
Mountaintop Christmas at Banff Gondola
Ride to the top of Sulphur Mountain and visit Santa's Workshop, enjoy art and craft activities, or take a family Christmas photo. As the sun goes down and the stars come out, take a blanket and cozy up around the fire on the rooftop and enjoy an evening exploring the galaxies with a professional photographer on hand to help you get the perfect shot. All activities are free with Banff Gondola admission.