Top 9 Things to Do in Banff at Christmas
Aug 15, 2023

|

Events & Festivals, Adventure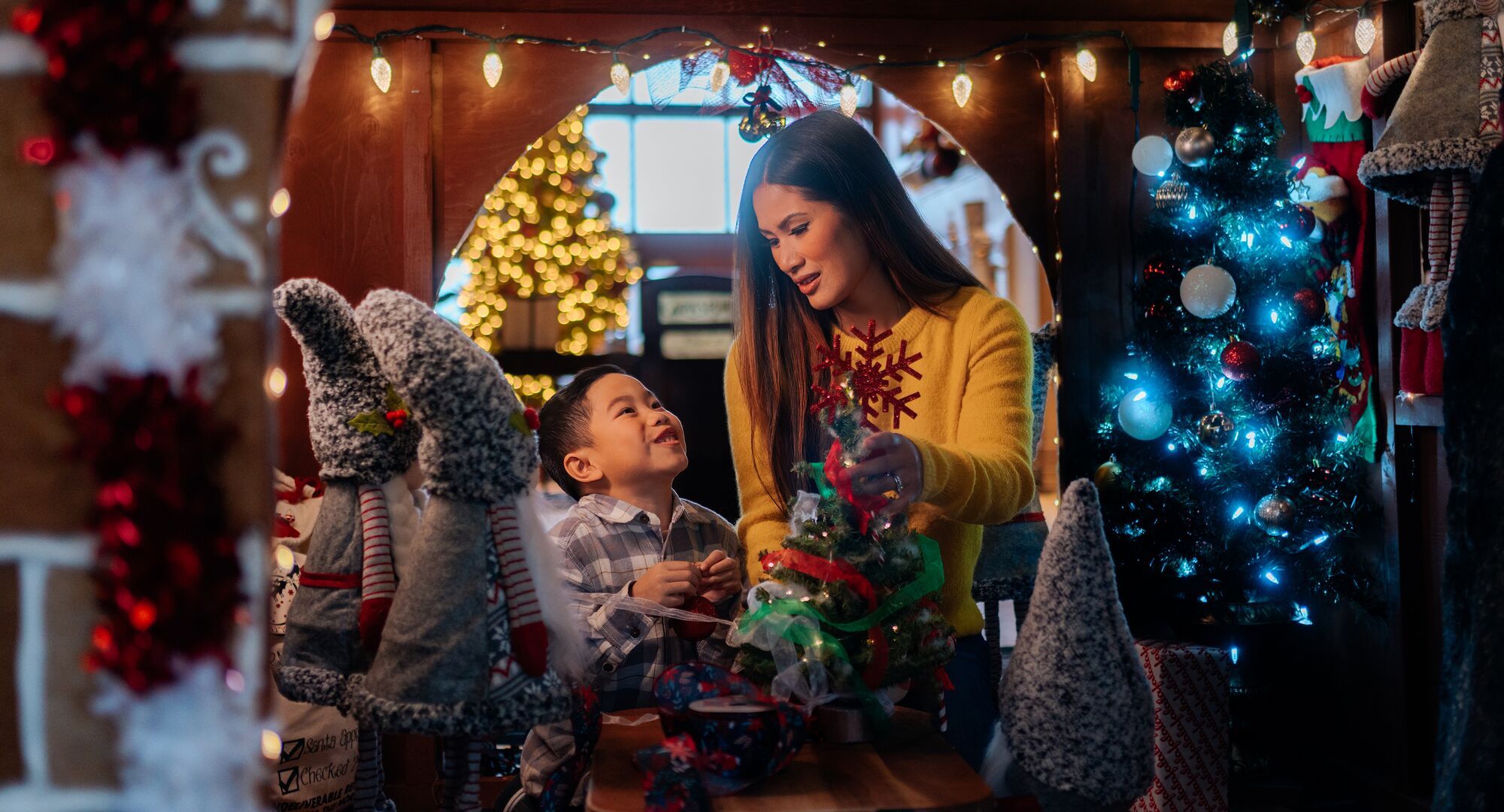 Snow-capped trees, cozy fires, Christmas lights and a village so picturesque you'd think you'd walked into a storybook. That's Banff at Christmas, where you're just waiting for the director to yell cut and the movie magic to come to a grinding halt, but it never does. Where the Christmas season casts a magical spell on the picturesque landscapes, making it the perfect Canadian holiday destination. Read on to find the top 9 things to do in Banff at Christmas.
Top 9 Things to Do in Banff at Christmas
Festive Events in Banff at Christmas
Hike a Mountain or Canyon
Scale a Frozen Waterfall
Magical Animal Adventures for the Whole Family
Ice Skating on Lake Louise
Delightful Family Feasts with Scenic Views
World-Class Skiing and Snowboarding
Relax in an Outdoor Hot Tub under the Stars
Revel in Banff's Holiday Decor
Festive Events in Banff at Christmas
In Search of Christmas Spirit
Embark on an enchanting journey through "In Search of Christmas Spirit," an outdoor holiday experience nestled in the scenic Cascade of Time Garden. This cherished event, available on select nights throughout the holiday season, unveils a mesmerizing tale through illuminated sculptures, enthralling sound effects, and an engaging narrative, all set against the backdrop of Banff National Park. The local wildlife tells a heartwarming story, weaving a tale of appreciation and harmony with nature and the season's joy.
To partake in this magical journey, reserve tickets when they are released. As the event takes place outdoors in winter, we recommend dressing appropriately for the weather. The trail might be icy, with uneven pathways and occasional irregular steps, so walking poles and shoe spikes are encouraged to ensure a safe and enjoyable adventure.
Immerse yourself in the spirit of the season at the Banff Christmas Market. A delightful holiday experience where local artisans and vendors showcase their handmade crafts, delicious treats, and unique gifts. Sip on hot cocoa as you browse the stalls and find the perfect souvenirs and Christmas gifts to take home. There's also a chance a certain jolly human will appear to delight those young and old.
Held at Warner Stables, the Banff Christmas Market transforms the historic barns into a charming festive venue. Inspired by classic European Holiday Markets, the Banff Christmas Market brings a distinct mountain twist with a flair of Canadiana to your holiday shopping experience.
Indulge in the ultimate winter treat on Banff and Lake Louise's Hot Chocolate Trail. What could surpass a steaming cup of hot chocolate on a chilly night? How about an expedition through over 20 delightful variations of this classic comfort drink? Consider the Hot Chocolate Trail your treasure map, guiding you to a diverse array of restaurants and cafes, each unveiling a limited-time, holiday-themed hot chocolate creation. Get ready to embark on a journey that will tantalize your taste buds and warm your soul.
Hike a Frozen Mountain or Canyon
For those seeking adventure, Banff and Lake Louise offers breathtaking winter hikes amidst frozen mountains and canyons. It's one of the best things to do in Banff at Christmas. Explore Johnston Canyon via the ice walks with White Mountain Adventures, Discover Banff Tours, and Radventures. This magical canyon transforms in winter with frozen waterfalls and snow-laden trees.
Or challenge your lungs with a walk-up Sulphur Mountain to overlook the Banff townsite and explore the top of the gondola and the adjoining boardwalk. Make the most of your time and ride the gondola back down (or go both ways!) Remember to dress warmly and embrace the winter wonderland that surrounds you.
Scale a Frozen Waterfall
Embark on a thrilling winter adventure like no other by joining a guided ice-climbing tour to conquer frozen waterfalls. Step onto some of Banff's and the surrounding area's iconic ice features and scale high into the air while experiencing a classic winter activity.
Guided by experienced instructors, you'll receive expert guidance and all the necessary equipment to ensure your safety and enjoyment. There are routes available for all ice climbing experience levels, so don't worry if you've never swung an ice axe. Book your adventure with Yamnuska Mountain Adventures, Alpine Air Adventures, or Banff Adventures.
Magical Animal Adventures for the Whole Family
Treat your family to a quintessential Canadian experience by hopping onto a sleigh or sled and embarking on a magical ride through Banff's winter wonderland. These beautiful animals will pull you along some of the park's best views while you relax and take in the sights.
Embrace the nostalgia of a classic winter activity with a horse-drawn sleigh ride in Banff or on the shore of Lake Louise. Snuggle up under warm blankets as you glide through the snow-covered landscapes, taking in the breathtaking views of mountains. You may even spot a frozen waterfall and walk on an iconic frozen lake.
Feel the thrill of mushing your own team of huskies through the snow-covered trails. Dog sledding offers a unique and unforgettable experience as you navigate the winter wonderland with these friendly and energetic furry companions.
One of the top things to do in Banff National Park in winter is ice skating on Lake Louise. Lace-up your skates and glide on the frozen surface of Lake Louise, surrounded by iconic mountains and the Victoria Glacier. The massive ice castle, which appears just before Christmas each year, is a feat of creativity by the team at the Fairmont Chateau Lake Louise. This enchanting ice sculpture provides a magical backdrop as you twirl and whirl on the wild ice of Lake Louise.
Don't worry if you don't have your own skates; Fairmont Chateau Lake Louise, Chateau Mountain Sports, and Wilson Mountain Sports (in Samson Mall in the Lake Louise Village) offer ice skate rentals, making it convenient for everyone to enjoy this quintessential Canadian winter experience.
Delightful Family Feasts with Scenic Views
Share moments of holiday joy with your family through unique dining experiences while soaking in breathtaking views of the winter wonderland. Many Banff and Lake Louise restaurants offer holiday-themed meals – and décor - with delicious local cuisine and stunning vistas.
Check out mountain-view dining from a steakhouse like Chucks, experience immersive views of Bear Street's incredible light display from Lupo or take in a full 180 view of the Bow Valley from the Fairmont Banff Springs.
Or, head into a backcountry lodge for an adventure and delectable dining experience. No matter your destination in Banff, you'll find restaurants where the food's excellence rivals the view beyond the window.
Banff boasts three premier resorts – Mt. Norquay, Banff-Sunshine Village, and Lake Louise Ski Resort. Three hills, with three very different experiences, are all ready for you. With one of the world's longest non-glacial ski seasons, you can start skiing before mid-November and not stop until May (and some years, we are famously skiing right up until Canada Day on July 1). You can have a few different experiences at the Banff resorts during the holiday season.
Hit the Slopes on Christmas Day
Create unforgettable memories by spending an action-packed Christmas Day on the slopes, skiing or snowboarding down the pristine powder of Banff National Park's world-renowned ski resorts. Enjoy the festive atmosphere as you hit the runs and create unforgettable memories.
You'll find plenty of people dressed up as Santa Claus or in other holiday-themed décor, so don't be afraid to pull out your best elf costume. The hills are typically a little quieter on Christmas Day, making for the perfect moment between opening gifts and Christmas Dinner.
Relax in an Outdoor Hot Tub under the Stars
Banff's winter nights provide the perfect setting to unwind and relax in an outdoor hot tub. Immerse yourself in the warm waters while gazing at the starry skies above—it's a magical experience not to be missed. You'll find incredible views from the rooftops of the Moose Hotel, and Deer Lodge, to give you some ideas.
Revel in Banff's Holiday Decor
Take a leisurely walk through Banff's charming streets and revel in the festive decorations that adorn the town. From twinkling lights to beautifully decorated storefronts, the holiday ambiance will leave you with cherished memories of Christmas in Banff.
Try getting your Christmas shopping done while exploring the lights and pick up a new ornament from Banff's year-round Christmas store. The hotels and restaurants throughout town also go all out decorating inside, so stop in and explore every nook of town; who knows what magical surprise you'll find around the next corner.
Banff and Lake Louise are the magical setting for your Christmas holiday. Whether you seek adventure, holiday shopping, or want to soak up the Christmas spirit, these top things to do in Banff at Christmas will ensure an unforgettable experience. Embrace the festive season in this winter wonderland, where breathtaking landscapes and warm holiday traditions create a truly magical experience. Happy holidays in Banff!